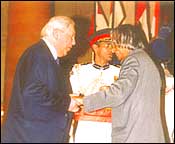 Dr. Y.K. Hamied
Chairman & Managing Director
Mahatma Gandhi visits Cipla



THE WORLD OF CIPLA

There'll always be a healthier way to live, a warmer way to care, a surer way to heal, a calmer way to sleep. There'll always be a better world, for those who have the passion to create it. That's been Cipla's belief since 1935, when we began as a small Indian enterprise committed to the nation's quest for self-sufficiency. The War that followed saw Cipla rise to the challenge of meeting the alarming shortage of essential medicines.

And by the 1960's Cipla pioneered Bulk Drug manufacturing in the country, which truly laid the foundation for the Pharmaceutical industry in India. Over the years our commitment to heal, protect and enrich lives has only grown, and so have our capabilities.


CIPLA TODAY


Today we have 31 world-class manufacturing facilities spread across the country, with dedicated plants for Oncology products, Hormones, Inhalers, Carbapenems, and Cephlosporins, among others. They more than meet the stringent international standards, such as that of US FDA, MHRA–UK, TGA Australia, BFarm–Germany MCC–South Africa, WHO, TPD- Canada.
Our API manufacturing plants are today among the most sophisticated in the world, capable of complex multi-stage syntheses, and produce over 120 API's from high potency actives in grams to those made in several tonnes.
Cipla produces one of the widest range of products and dosage forms in the world today, everything from metered-dose inhalers, pre-filled syringes, trans-dermal spray patches, lyophilized injections, nasal sprays, medical devices, and thermolabile foams. Whether it is constantly extending our product range or consistently introducing innovations, the mission is always to make the life of the patient better.


CIPLA RESEARCH & DEVELOPMENT

While our skills are among the best in the world, what makes us different is our multi-disciplinary approach to research.
Our research capabilities are extensive, from Chemical Synthesis, Delivery Systems and Medical Devices to Process Engineering, Animal Health Products, Neutraceuticals and Biotechnology.
We believe there's no use in developing life-saving medicines if we can't make them affordable for the patient.
Today, across 170 countries, there are millions of patients who get to use a Cipla product to prevent, to cure, or for relief from suffering. In their cure and relief lies the ultimate purpose of what we do.

At Cipla, this has been the driving force behind our continuous quest for quality. And quality is an obsession here for the 7000 people who walk into work every morning.
World-class quality is reflected in everything we do – from start to finish.
You'll see concern for the environment in our manufacturing processes, air and water systems, safety practices, and above all, in our people.
We strive not just to meet international specifications, but to exceed, to excel, to meet what we call the Cipla benchmark. In fact, we have set standards for the world to follow and have contributed to more than 125 monographs in the last 15 years - to British, European, US and international pharmacopoeia.
Today companies from around the world seek strategic alliances with Cipla for product development, technical support and marketing. In a small way, we even help countries set up their pharmaceutical infrastructure and train their professionals, contributing to their quest for self-reliance just the way we began healing India, seven decades ago.
Over the years, we have taken on the challenges facing the world, tackling the newer dimensions of diseases, like AIDS. At a time when it was a death sentence and medication was unaffordable to most, Cipla opened the doors of hope to millions and millions of patients by becoming the first company in the world to offer the Triple-Drug AIDS Cocktail for less than a dollar a day. One out of every three HIV-AIDS patients under treatment in Africa uses a Cipla drug.

Equally inspiring has been Cipla's fight against asthma. We partnered with the medical fraternity to shatter myths, spread awareness and empowered asthma patients to lead a fuller life. We have the world's largest range of asthma medication and delivery systems. This relentless commitment to asthma inspired us to set up the Chest Research Foundation. It's one of the few Institutes in the world that's dedicated to clinical and allied research in the field of Chronic Respiratory Diseases.


CARE BEYOND CURE


While there'll be patients who are beyond cure, they should be never beyond care. The Cancer Palliative Care Centre for the terminally ill is Cipla's labour of love for the patients and their families. A training institute for the medical community, arising from a belief that if we can't heal their disease, we must try and heal their pain.

OUR VISION

Cipla started with a vision to build a healthy India. And along the way realised, that in our own small way, we could contribute to making the world a healthier place. We'll continue to bring a smile on as many faces as we can to heal the world as much as we can.
Because there'll always be a better world out there for those who have the passion to create it.

At Cipla we enjoy challenges and creating change for the better – for patients and doctors, and for our own people. Some of our most successful managers are in their 20s and 30s, and still rising because they work with energy and passion. If you are looking for a mission for life, look up our Careers section