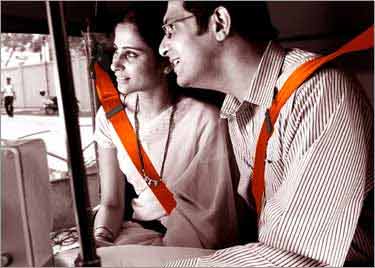 ING Life Insurance entered the private life insurance industry in India in September 2001, and in a short span of 6 years has established itself as a distinctive life insurance brand with an innovative, attractive and customer friendly product portfolio. ING Life has a dedicated and committed advisor sales force of over 35,000 people, working from over 270 branches located in over 180 major cities and towns across the country and employs over 5,500 employees. It also distributes products in close cooperation with the ING Vysya Bank network. The Company has a customer base of over 4,50,000 & is headquartered at Bangalore. In 2007, ING Life earned a total income in excess of Rs. 1000 crore and has a share capital of Rs. 440 crore.
The Company aims to make customers look at life insurance afresh, not just as a tax saving device but as a means to add protection to life. The one thing we hold in highest esteem is 'life' itself. We believe in enhancing the very quality of life, in addition to safeguarding an individual's security. Our core values are therefore defined as Professional, Entrepreneurial, Trustworthy, Approachable and Caring.
The Company's portfolio offers products that cater to every financial requirement, at any life stage. We believe in continuously developing customer-driven products; and services and value being accessible and responsive to the needs of our customers.