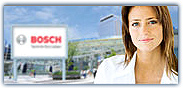 The Bosch Group is a leading global supplier of technology and services. In the areas of automotive and industrial technology, consumer goods, and building technology, some 275,000 associates generated sales of 38.2 billion euros in fiscal 2009. The Bosch Group comprises Robert Bosch GmbH and its more than 300 subsidiaries and regional companies in over 60 countries. If its sales and service partners are included, then Bosch is represented in roughly 150 countries. This worldwide development, manufacturing, and sales network is the foundation for growth. Each year, Bosch spends more than 3.5 billion euros for research and development, and applies for some 3,800 patents worldwide. With all its products and services, Bosch enhances the quality of life by providing solutions which are both innovative and beneficial.

In India, the Bosch Group operates through its six subsidiaries, viz, Bosch Limited, Bosch Chassis Systems India Limited, Bosch Rexroth India Limited, Bosch Automotive Electronics India Pvt. Ltd., Bosch Electrical Drives India Pvt. Ltd. and Robert Bosch Engineering and Business Solutions Limited. The current employee strength of Bosch Group in India is nearly 20000 with a group turnover of Rs. 6400 Cr. in 2009.

Bosch Limited, the flagship of Bosch Group in India is the largest auto component supplier in the country. It has to its credit many laurels that set the industry standards.

We invite promising dynamic professional for a long term rewarding career with Bosch.



Content provided by Bosch. Info Edge India Limited disclaims all warranties against infringement.