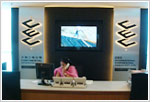 CEC International Corporation India Pvt. Ltd. (CICI) is 100% subsidiary of Continental Engineering Corporation (CEC) Taiwan, founded in 1945 and headquartered at Taiwan. We are a Civil Engineering Construction Company operating in the fields of MTRS, Highways, Bridges, High Speed Railway, Townships, SEZs, Real Estate and Environment sectors.
Being a socially responsible corporate, CICI works in improving the quality of life of the communities it serves whether it be within the organization, industry or society, we have a strong sense of social responsibility, which is reflected in our values and actions.
Within a short span, we have been entrusted with the construction of high value projects across segments like Delhi Metro, National Highways, Bridges, Urban Roads, Railways and SEZ projects. The exponential growth in order booking to the tune of US$ 700 million has resulted in rapid expansion of the company in terms of human resources, equipment & machinery. We currently have more than 800 employees with 50+ International experts from UK, Spain, Hong Kong, Malaysia, Thailand and Taiwan to deliver International quality standards of project execution in India.
CICI works including design, stands out as the gateway for Technological and Engineering excellence in Civil Engineering fields with 9 offices in India, CICI is fully equipped to contribute their expertise and turn vision into reality.
We follow standard operation procedures which allow us to be certified for ISO 9001, ISO 14001 and OHSAS 18001 for its Quality, Environmental and Occupational Health & Safety Management System.
Our parent company, CEC is the largest company of Taiwan operating as Developer & Contractor in Infrastructure arena and listed in Taiwan Stock Exchange. You can reach them at
www.cec.com.tw/english
Mission
To Develop, Build and Service Physical Infrastructure for better living, work environment and transportation.
Vision
CICI shall be a professionally managed Indian International company, committed to total client satisfaction.
CICI shall be innovative, entrepreneurial and empowered team constantly creating value and attaining global benchmarks.
CICI shall foster a culture of caring, trust and continuous learning while meeting expectations of employees, stakeholders and society.