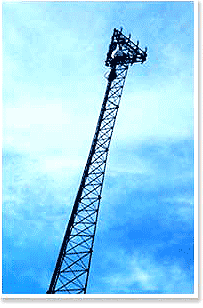 GIPL manufactures and supplies Tower for Telecommunications, Windmills and Power Transmission & Distribution. The Company has earned the reputation for timely delivery,Quality and total reliability of its tower installations. At the core of its reputation lie GIPL's team of committed, skilled and experience professionals who will oversee the A-Z of your tower installation. In it, you will find the ceaseless pursuit of continuous quality improvements.
GIPL has a production capacity of 36,000 MT per annum and galvanising capacity of 45,000 MT per annum. The Company has been approved by BSNL for 40 meters height Narrow Base Light Weight Towers and 60 Meters Height Triangular Tubular Towers.
GIPL has colloberation with reputed with European designers to supply thier branded towers in india strictly as per European quality.These towers are approved by SERC Chennai and offer 30% savings on Installation cost.