About Us
No matter what its line of business, a company's pedigree is the one core value that readily shines through and helps distinguish it from the competition. The 10 years that RMC has spent in the manufacture and marketing of Ready Mixed Concrete, have helped reinforce and sharpen certain traits that the Company has become known and respected for.

Such as setting benchmarks in Best Practices, Quality Assurance and Customer Service. Or driving up standards in Health, Safety and Environmental Protection. Plus a high degree of integrity, transparency and courtesy.

Which is why, whether lofty skyscraper, bridge, pipeline, highway or humble garden path, RMC is always at the leading edge of concrete technology. From design, strength, consistency and durability to consultancy and customer care, every RMC endeavour is the result of advanced research and development coupled with long years of experience.


Shaping the future, yesterday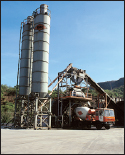 A venture of Hathway Investments Pvt. Ltd., RMC Readymix (India) Pvt. Limited began commercial production in 1996. Under the guidance of RMC UK, the world's largest producer of ready mixed concrete, RMC India broke new ground when it set up India's first Ready Mixed Concrete plant using the world's best machinery, quality assurance & quality control systems. As well as fully qualified engineers instead of semi-skilled staff as was the practice prevalent in the industry at that time.
What's more, via the medium of educational seminars featuring international experts, RMC India took upon itself the task of creating general awareness of the benefits, right practices and optimal use of ready mixed concrete. Not only among users in the private sector but also at government projects throughout India.
Payback time

Over the years, this small step rapidly became a giant leap. Today, RMC possesses the country's largest installed capacity for commercial ready mixed concrete. 35 networked plants in 15 cities each with a capacity varying from 60 to 120 cubic metres, are fully computerized and equipped with the world's latest control systems. Ensuring consistent batching of concrete, batch after batch. To the tune of over 5 million cubic metres. Moreover with 6 plants being commissioned every other month, RMC is determined to keep up this scorching pace of growth. Concrete is transported by meticulously maintained transit mixers, boom and line pumps to ensure that RMC's high quality product reaches customers via high speed delivery systems. On time, every time.
Good input, great output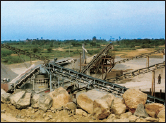 With the right raw material, you cannot go far wrong. RMC purchases Cement, Admixture and Aggregates from single sources. These materials are approved only after rigorous testing. Which minimizes variability in quality and ensures more consistent concrete.
Added advantage
In fact today, RMC has already diversified into Aggregate Production by setting up state of the art units at Mumbai, Bangalore, Mysore and Hyderabad. Where, the highest international standards are rigorously implemented. Similar units will soon be commissioned at Pune, Kolkata, Goa, Mangalore and Chennai.


Setting international standards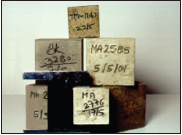 The Quality Assurance procedures practiced by RMC are based on United Kingdom's QSRMC (Quality Scheme for Ready Mixed Concrete). This scheme strictly monitors every stage of the entire business. From order processing, purchase/control of materials and concrete mix design to production, sales, delivery and control of concrete. As well as analysis of results.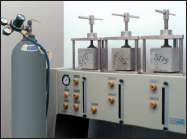 A prime instance of RMC's quality assurance system is the concept of Retrospective Control. Cube results obtained are further analysed by the CUSUM (cumulative sum) METHOD. CUSUM based on a complex statistical model, predicts the ultimate strength of the concrete supplied, by continuously monitoring performance of the mix, picking up trends from early strength results (instead of a 28-day wait) and suggesting immediate corrective action. As a matter of fact, RMC was the first and is still the only manufacturer in India to implement the CUSUM method to ensure batch-wise consistency in concrete quality.
In true RMC tradition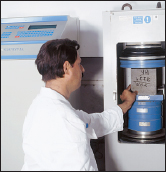 In addition to the normal testing apparatus for concrete and aggregates, RMC's Central Laboratories at Mumbai and Chennai possess the most advanced Concrete Testing facilities in the country. For example, the Water Permeability and ISAT apparatus measures durability of concrete. The Quick Binder Test establishes cement and admixture quality and compatibility. And the Computerised Compression Testing Machine ensures accurate cube results.
These sophisticated and ingenious testing devices are the best in the world and have been imported from reputed international manufacturers. While the personnel who operate them have received advanced training in concrete technology as well as testing.
Establishing new frontiers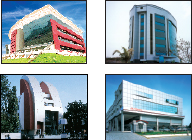 In keeping with its role of pioneer, RMC has successfully introduced special concretes such as:
Fibre-reinforced Concrete which prevents Plastic Shrinkage Cracking and improves the abrasion and impact resistance of concrete.
Coloured Concretes brighten up any environment.
Temperature Modified Concrete minimises thermal cracking in mass concrete.
Slurrified Microsilica Concrete is a high performance material for corrosive marine conditions, and in India, yet another RMC first.
In addition, RMC produces concrete that incorporates GGBS and PFA to enhance durability.
Our people, our pride

One of RMC's greatest strengths is its people. RMC boasts of personnel who are not only highly qualified, but also richly experienced in all kinds of situations. Whether engineer, office assistant or transit mixer operator, they bring to their work a passion for quality and service that is in harmony with the Company's commitment to excellence. In fact, all of RMC's technical and sales personnel undergo preliminary as well as advanced courses conducted by the prestigious City & Guilds of London Institute (CGLI). And certain key members of the staff also receive training abroad. As a matter of interest, it was RMC's experts who were invited to participate in the drafting of the Revised Indian Code for Ready Mixed Concrete: IS 4926. An eloquent testimonial of industry recognition.
Health, Safety and Environment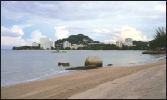 The Company has always accorded high priority to this area of global concern insisting that HSE begin from the word go. Right from selection of a location, plant and machinery to the protection of people within the plant layout, this preoccupation with safety steers every aspect of RMC's operations.
When it comes to the environment RMC leads the way. Setting precedents in the greening of plant premises, covering of storage bays and provision of water sprinklers, dust filters and extractors at critical points. All aimed at reducing the spread of dust emissions. The Company has also installed a waste water utilization system, whereby all water is recycled. And an annual contest has departments vying with each other for the RMC Safety Trophy.
Creating added customer delight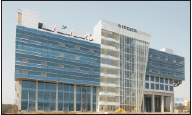 Today all of us at RMC have a single magnificent obsession. Namely, the building of a meaningful and enduring equation with a large segment of genuinely satisfied customers. In terms of product quality, we are more than willing to go the extra mile. As for product range, we shall be happy to reinvent the wheel for every customer, large or small. And as far as offering guidance on concrete technology goes, we eagerly look forward to every call. Now isn't that the way all durable relationships begin ?
A highly treasured testimonial from Col. C.V. Krishna, Vice-President ( Infrastructure) of Infosys affirms this belief. ".......RMC Readymix had put up a captive setup .....at our Mysore Campus,.....consisting of two 30 cm3/hour Batching Plants with 4 concrete pumps and 14 transit mixers. It is important to note that initially the project required only one Concrete Batching Plant but seeing the increased requirement.....RMC had put up another Batching Plant with allied structures in just 3 weeks time.....RMC has supplied and pumped in excess of 80,000 cm3 concrete at the above project......and this involved various grades of concrete from M7.5 to M 45......."