2022 is finally here! After the ups and downs of 2021, everyone is looking forward to what the new year has in store. We are sure that most of you readers must have decided on your New Year resolutions. But do you have any career-related resolutions on the list too?
We wondered what would be some unique career resolutions for 2022 and found many answers, the best of which are here in this blog. Read on to find out 10 interesting career resolutions for the year 2022 that will help you get your work affairs in order and give you an insight into the future.
1. Focus on "Why" before "How"
Most of us get a project and start working on it, but do you ever stop to wonder why? If the answer is no, then this should be the first resolution you make this year. It is crucial to know what you are doing and how it affects you and your organization in the long run.
Answering the "Why" will help you understand which projects can prove to be helpful for you in the long run and deserve a spot in your interesting career experiences. You can add these projects to your portfolio, showcase them as your work samples, or maybe use them to answer interview questions in the future.
So, the next time you take up a new project or assignment, spare a minute to ask important questions like:
Why are you working on this project?
How does this impact your professional growth?
What impact will said project have on your career?
Will it benefit you in the long run? Or is it just another work assignment?
So, the next time you get an assignment, ask yourself some of these crucial questions before getting started.
2. Define future goals
Almost all of us have answered interview questions like "Where do you see yourself in 5 years?", and in doing so, we talk about how we see ourselves with a certain organization, job role, etc. But have you ever tried to answer this question honestly for yourself?
One of the more important resolutions you must commit to this year is answering difficult questions about your future. Make a list of questions that are vital for your career development and find the final answers to help you draw a career path. Some of these questions could be:
What is your ultimate goal? Is your current job role helping you grow towards it?
What do you see yourself doing 5 years from now?
Is a career switch needed shortly?
Do you need to upskill for your desired aim?
Is it time to make a job switch?
The traditional approach is to pave your way to the final stop, but knowing the destination can make it easier for you to find a quick and easy route. So, spend some time and envision your future, and find answers to questions that make you wonder.
3. Prioritise career aspects
Being a professional means dealing with several aspects of professional life like salary, work-life balance, career growth, upskilling, etc. Striking the perfect balance with so many aspects in play may seem difficult. It is about time to make it easy!
For the 2022 career resolution, prioritize career aspects based on what's most crucial for you and focus on achieving the same. For instance, if work-life balance trumps competitive salary on your list, make a move towards establishing the former and find effective ways to draw a line between your personal and professional life. This takes us to our next resolution.
4. Aim at cracking work-life balance
We talk a lot about work-life balance, but very few manage to establish it well. With most of us working from home in the current scenario, we need to understand the concept of work-life balance now more than ever.
So, begin the new year by incorporating practices in your routine that will help you establish a healthy work-life balance. Your new years' resolution can be to strike the right balance between your professional and personal life. Here are a few ways to do it:
Divide your day hour-wise for personal and professional chores
Make a place for family time on your schedule
Avoid personal conversations or distractions during office hours
Use leave balance optimally, don't just save it all up for the end of the year
Find time for hobbies
To learn more about it in detail, please read our blog 16 ways to maintain work-life balance.
5. Focus on upskilling
With the rapid growth across industries, it is crucial today to stay on top of the developments in your field. For the year 2022, one of the best resolutions for you could be to focus on career advancement by upskilling and adding to your existing skill set.
Find your niche and work towards excelling it by following this resolution in the new year.
Upskilling is one of the best ways to fill gaps in your skill set and find growth opportunities in your industry. Even recruiters favor candidates who are curious to learn and advance in their career as they can prove to be great assets to their organization.
The best way to upskill is to take up remote training, digital certifications, and online courses that focus on concepts relevant to your field. Not only will this be helpful for you in your current job role, but upskilling can also help you land your dream job.
You can explore courses best suited for your career growth at NaukriLearning, so check it out!
6. Build your professional network
Networking is vital now more than ever! Even with all the hard work and efforts you put into your work, it is crucial to stay visible and well-connected.
With remote and hybrid work models coming into the picture, knowing the who's who of your workplace and field maybe a little more challenging than before, leading to a scarcity of opportunities to build professional relations.
So this year, make a resolution to build your professional network. If you are thinking of ideas to get started, let us help you out with a few:
Schedule bi-weekly virtual watercooler meetings with colleagues
Organize remote get-togethers, cocktails, or coffee meetups with your peers, clients, and higher-ups
Connect with people on professional networking sites
Join business networking groups like Business Network International (BNI) and find people across various industries
7. Tweak your resume before applying to every job posting
If looking for a new job is your goal this year, then this resolution is perfect for you. One of the most common mistakes job seekers make is to apply for all job openings with the same resume.
So this year, start by reviewing and editing your resume, even if you don't plan on applying anywhere, followed by the general practice of tweaking your resume to suit the job role. The best way to do it is to identify your skill set from those in the job description and mention them on your resume.
Add skills, experience, education, and hobbies that are relevant to the position in question and mend your resume objective accordingly too.
These little practices can help you get your dream job and make 2022 the best year for your career so far.
8. Explore your interests and hobbies
Nothing is more important than finding happiness in your work. But sometimes it is a good idea to explore interests and aspirations out of your workspace. As the new year begins, make a resolution to find time for your hobbies and interests.
One of the best ways to explore your aspirations is with a weekend side project or freelancing gigs. Focus on your career, find time to learn a new instrument, develop new skills, enhance existing skills with side projects or just start a blog!
9. Make a career map
To build a good career, we must understand where we started, where we have reached, and the final destination. As 2022 begins, make a resolution to find time and assess the past, present, and future- draw a career map.
On the career map, add a timeline of your education, job history, courses you took to upskill, how they helped you get better opportunities, and the potential goals for the future. A career map would look something like this: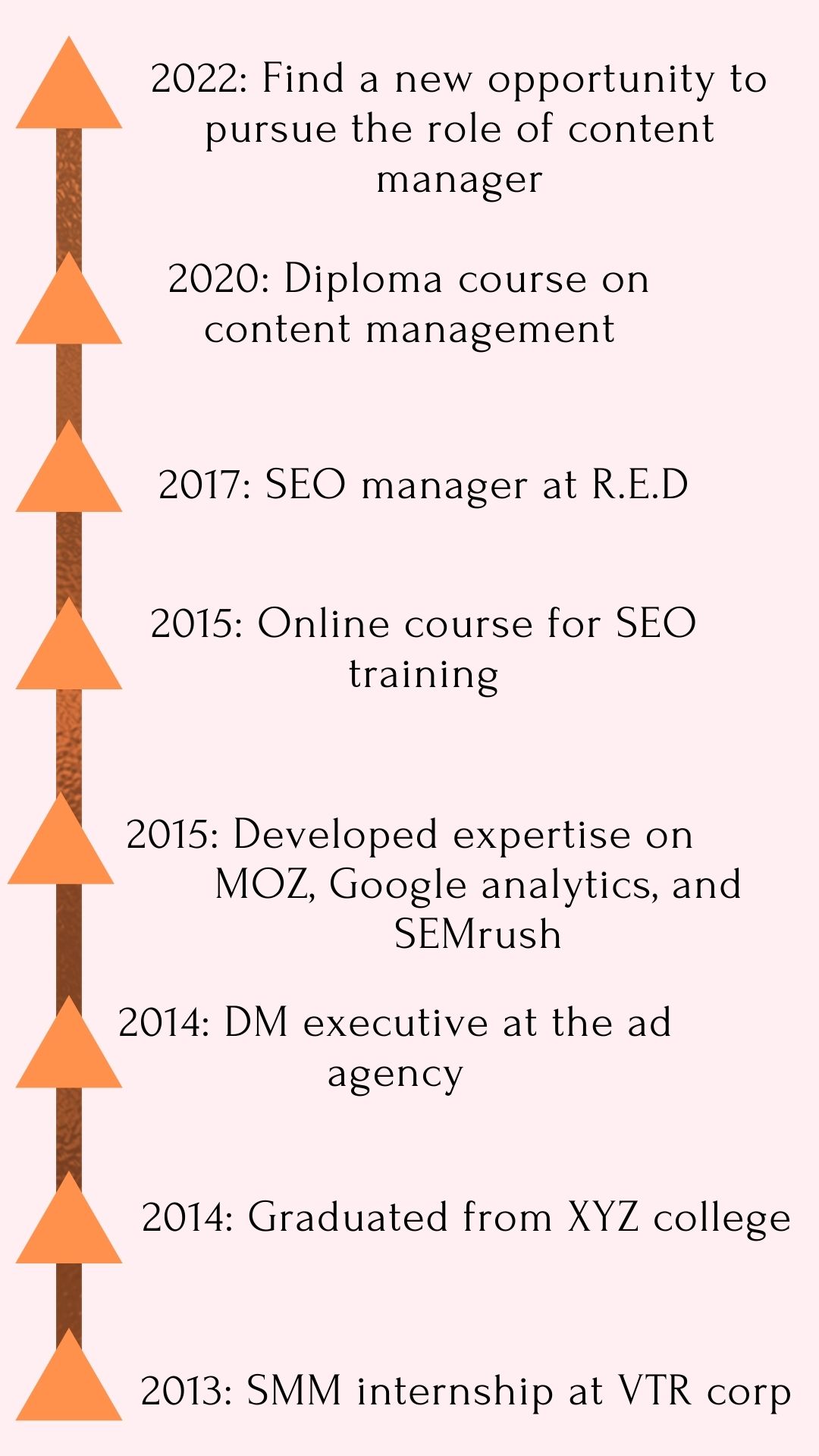 With a career map, you will be able to realize what worked for you in the past, the pattern of your job switch, and the potential aspects you can focus on in the future.
10. Bring wellness at the workplace
This resolution is a must for people who spend a major part of their day in front of the laptop. Whether you are working from home, or in the office, start including physical activities in your work time.
Focus on personal wellness and implement healthy habits like:
Taking a 2-minute walk every 30 minutes
Keeping a water bottle at your disposal all the time to stay hydrated
Replace your snacks with healthy food options and fruits
Take screen breaks where you get away from your phone and laptop for 10 minutes at least twice a day.
You can align your day with practices specific to your routine and work type, but these are a few that can help you get started.
Conclusion
Each year we take up too many resolutions that we forget about by the end of January. If studies are to be believed, only about 16% of people follow their resolutions while a majority of people give up within 1-6 weeks.
So let's try to make some realistic resolutions this year and decide on some career resolutions that will put you on the right path of your career journey.
All the best!