There's a reason why our current era is referred to as "Information Age", as it indeed is the age of information.
And in the age of information, technology is king!
IT or Information Technology has become the go-to industry for many newbie professionals. Many students are taking up courses based on their individual IT interests.
There are many jobs in IT and with the way technology trends are emerging, it's safe to say that IT is here to stay… No wonder it rhymes!
But as rapid as the IT industry's growth is, it can sometimes be difficult to stay up to date with the current in-demand roles organizations are looking for in their future candidates.
So, let's dig into these high demand fields in IT and how they can help you stay relevant in such a fast-paced and ever-growing industry.
AI & Machine Learning
From Sci-Fi movies to reality, AI is a crucial part of IT and with the development of technology, AI is becoming more and more of a reality.
According to a forecast by Statista, the global AI market will reach over 126 billion U.S. dollars by 2025. This in itself is a testament to the growth and scope of AI.
AI and Machine Learning are like two peas in a pod since they have similarities and generally fall under the same umbrella.
Machine Learning has been crucial in understanding human behaviour patterns that are hard to assess by, ironically… humans.
The 2020 IT Industry and Salary Report by Global Knowledge indicates that AI & Machine Learning are the second weakest area in the global IT industry, which makes it an in-demand computer science skill.
Cloud Computing
While Cloud Computing in itself is an IT skill, yet it still stands at crossroads with other IT skills such as AI and IoT.
As an enabler, Cloud Computing has helped create multiple channels of revenue by leveraging technologies like AI and IoT but also in assisting data analytics, cybersecurity and networking.
Cloud Computing is the second highest investment area according to The 2020 IT Skills and Salary Report by Global Knowledge.
So, it creates a lot of software cloud computing jobs in this sector.
Data Science & Data Analytics
Data is one of the most important aspects of the IT industry. The data is needed to be captured and analyzed for better understanding of the industry and market trends.
Data Analysts are always in high demand as almost every organization needs someone who can gather, store and manage data.
Data Scientists are needed to dig in the data and help companies make informed decisions.
According to the IDC (International Data Corporation), the world will create and replicate over 163 Zettabytes of data by 2025 which is 10 times what it was in 2016.
Data is crucial for companies that are getting through rough economic patches. So, IT professionals are in high demand to manage all the data that is getting accumulated.
Programming
Even though computer programming jobs are going to decline by 2028 by7%, coding jobs which are a subset of programming are expected to rise and create more and more jobs.
Python has been one of the most in-demand programming languages of 2020. Whereas Javascript and Java are not far behind.
Even C# had seen some demand as one of the most in-demand programming languages of 2019. But currently, Python rules this space.
These languages are also one of the highest paying programming languages apart from being in demand.
Cyber Security
Always in demand, Cyber Security is the most in-demand IT skill in the pandemic year of 2020.
Because of lockdowns and work from home policies, organizations have been forced to rethink and prioritize their IT projects and investments.
A survey conducted by IDC showed that organizations worldwide are prioritizing Cyber Security skills regardless of economic turndown or slow growth.
Cyber Security is always a must-have for organizations no matter how tight the budget gets. The virtual world is filled with cyber crimes and it has increased a lot since the lockdown took place.
Phishing email attacks have up over 665% since February.
Cyber Security is and will always remain a heavily invested area of the IT industry and so, will always require professionals with the skills to fill these positions.
So if you're a student or in between IT professions, Cyber Security is one domain that is a must to look at.
Mobile App Development
This category can be clubbed under programming, but given how big mobile app development has become, it deserves its own point.
Since the boom of smartphones, mobile app development has been on an exponential rise and it has not stopped since then.
As more and more businesses try to fight to get into people's smartphones, more and more mobile app developers are needed to develop apps.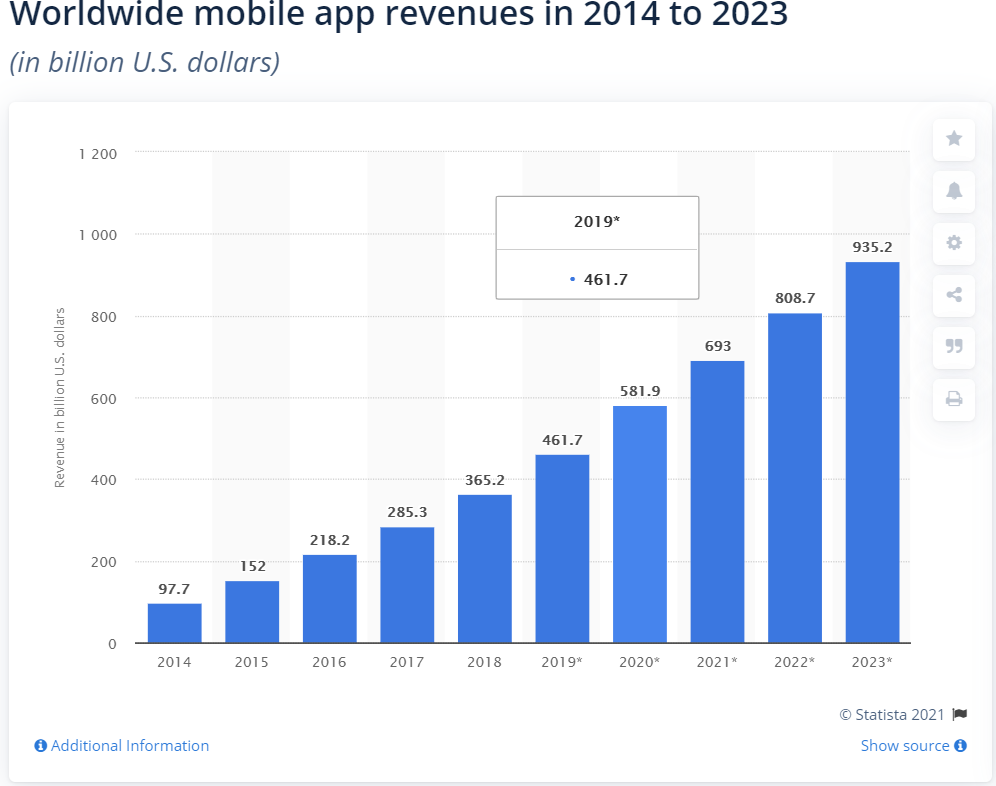 The infographic shows the growth in revenues of mobile apps in the U.S. alone which hints at the growth of this industry.
India is one of the hubs of mobile app development as most of the app development is sourced out from major countries like the U.S. to India.
As per the listing on Clutch, several top-rated companies hail from India.
This makes this role a very attractive option for IT professionals in India.
Networking
Cisco reported that by 2023, the number of devices connected to IP networks will be triple the population of the world.
This astounding rise will only mean more demand for network engineers and administrators.
Cisco, as the leaders in networking and wireless technology have been offering certifications in networking.
The 2020 IT Skills and Salary Report by Global Knowledge, shows that over 22% of respondents have one or more certification from Cisco.
The overall demand for networking and more devices getting hooked to the internet only means more roles for IT professionals in the field.
Virtual Reality
With VR sets being sold online like clothes, you can be assured that VR is here to stay.
From being used for entertainment to even slowly being adopted in e-learning, Virtual Reality is taking over the world as the latest tech boom after smartphones.
According to Statista, following is the prediction of the growth of jobs in VR and AR industry: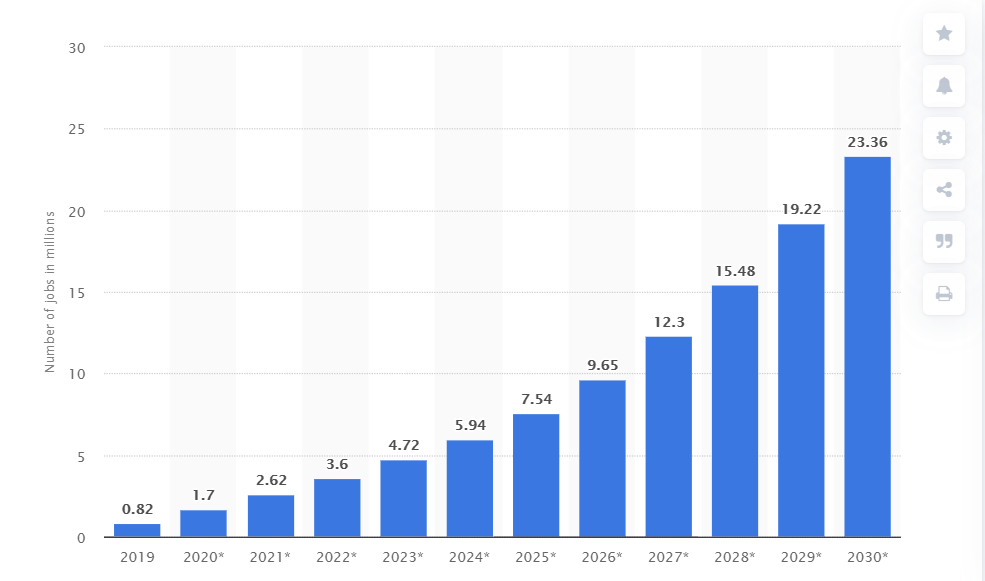 As per the infographic, it's easy to understand the modern trend and how VR is slowly becoming one of the most in-demand roles for IT professionals.
IT Support
As more and more sectors of IT grow, inevitably, the need for IT support will only increase with the growth of the IT industry itself.
Being the support staff, IT Support will be crucial in ensuring smooth operations of all the different aspects of the IT world. And so, the need for IT professionals seasoned in the skill of support will also be essential.
IoT (Internet of Things)
With rapid technological shifts, it's reasonable to say that the reach of IoT will only increase with time.
As the concept of "Smart Homes" becomes more and more prevalent, it's more likely that the need for IT professionals in the field will be crucial.
Technology has become an important luxury for people which is being further refined via IoT.
The need for software engineers to create more efficient software for such products is also increasing and so, it's one of the most in-demand IOT job roles for IT professionals.
In conclusion, there are many facets of the IT industry which are growing. The industry in itself is ever-changing, which is why professionals working in the IT profession should always stay up to date with the current trends.
Also, many roles are always in demand in the IT industry, which can always help new IT professionals or even experienced ones to get better jobs, newer projects and different challenges in their career.