The nationwide relaxations and re-opening of critical industries has paved the way for slight recovery in the job market.
It's a great relief to see hiring activity improve Month-on-Month according to the Naukri JobSpeak Index.
However, the Year-on-Year hiring trend is still down across all industries, functional areas and cities wise.
As per Naukri JobSpeak Report, hiring activity recorded a marginal recovery of 5% in July 2020 as compared to June 2020 that brings some delight to the jobseeker community.
Referring to the report, Pawan Goyal, Chief Business Officer, Naukri.com said,

"July'20 marks marginal recovery in month-on-month hiring activities.

Industries such as Recruitment /Employment, Media/Entertainment and Construction/Engineering bounce back with positive signs in hiring M-O-M as lockdown restrictions are eased further.

While the Y-O-Y hiring is still impacted leading to a decline of 47% in July' 20, it is interesting to see emerging cities leading the way in job market recovery versus metros which are declining by more than 50%."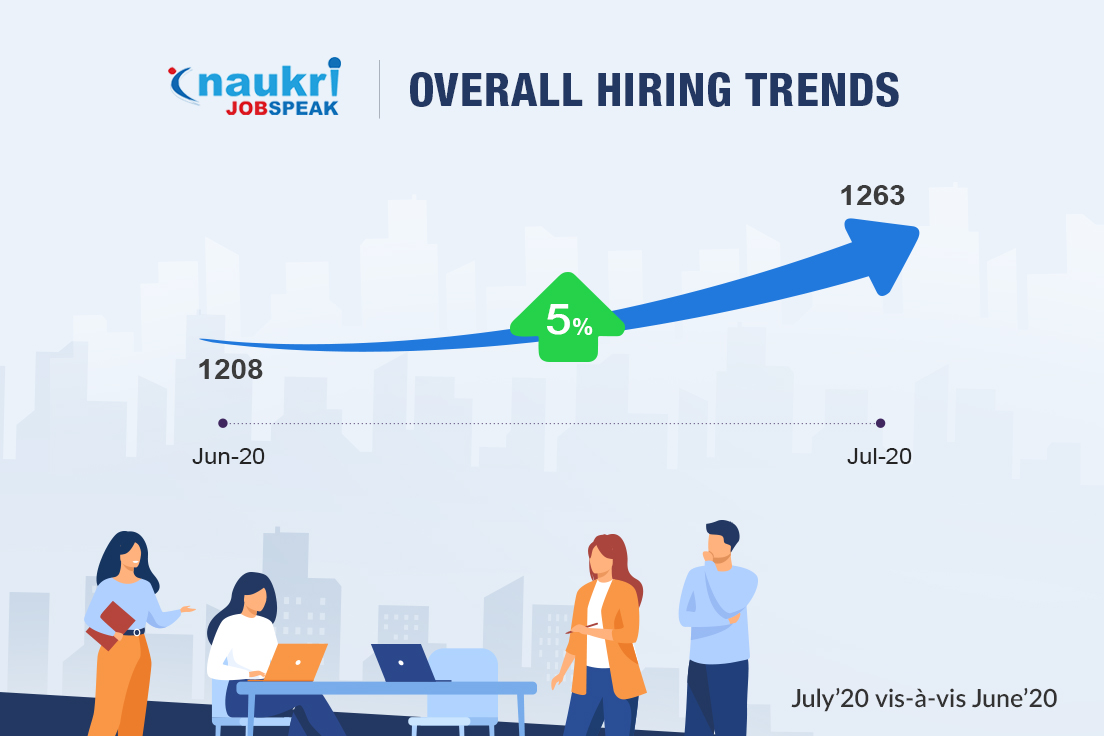 Here are some quick hiring trends that will help job seekers to understand how the job market is shaping up now across the key functional areas, Industries, Cities, and experience levels.
Hiring trend across Industries
For jobseekers, it is important to know which industries are hiring now and how some of these industries are responding to the current pandemic.
This latest hiring trend by Naukri JobSpeak Report will help you gain some useful insights and plan your job search accordingly.
Seeing the month-on-month activity, there is a growth in hiring activity in industries such as BPO/ITES, Auto & Auto Ancillary, Accounting/Taxation and BFSI in July'20, while in some sectors such as Retail and Hospitality/Travel, we see a drop in recruitment activities slightly.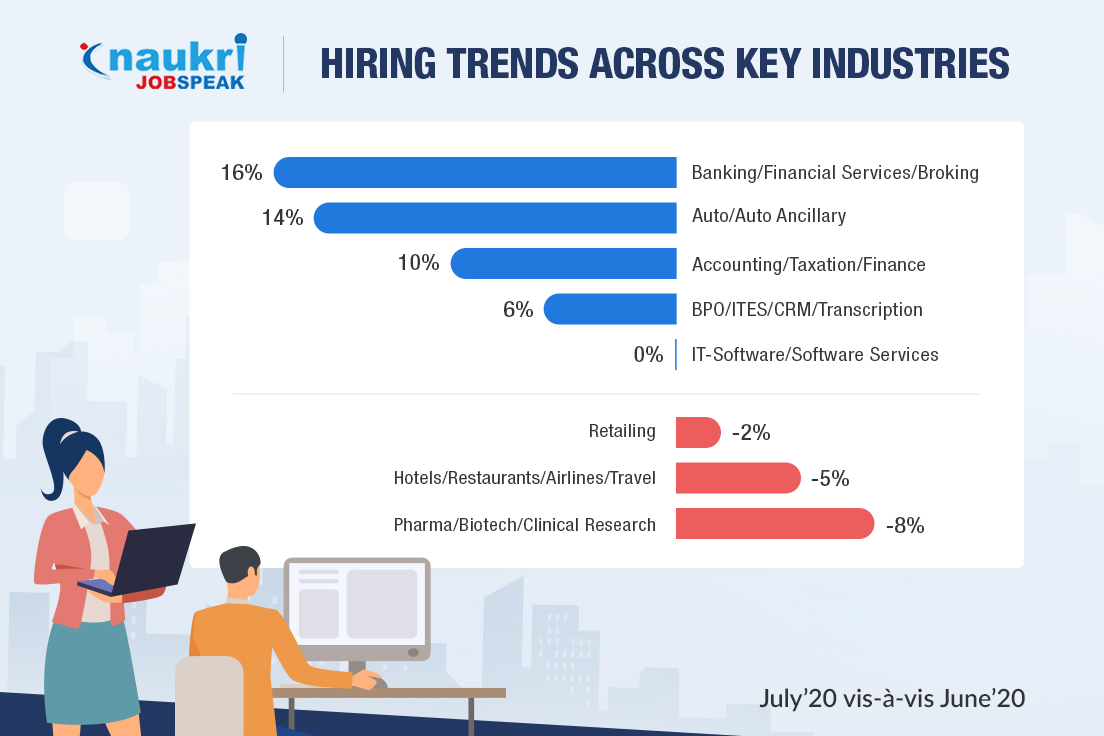 Hiring trend across cities- Metro & Emerging cities
From a city perspective, there is sequential growth in hiring across key metro cities like Delhi/NCR (10%), Mumbai (8%) and Chennai (4%) in July'20 vis-à-vis June'20.
On the other hand, Bengaluru and Kolkata declined sequentially by 4% each.
Talking about emerging cities, Jaipur leads the pack with 40% growth followed by Chandigarh (14%).
Other cities like Coimbatore and Ahmedabad recorded a growth of 6% and 5%, respectively.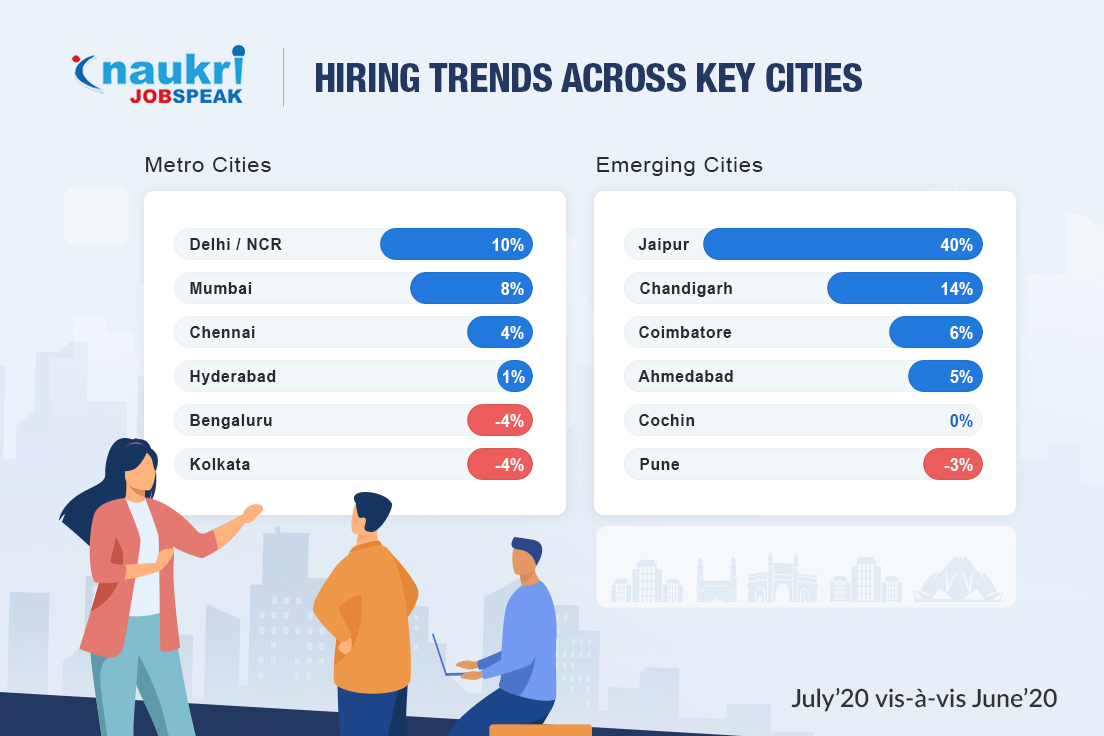 Hiring trend across experience level
Hiring across experience levels also grew by an average of 5% in July'20 as compared to June'20 for all experience levels.
This was led by a 6% increase in hiring for mid and senior management executives (8-16 yrs experience level.) while 3% for entry-level professionals.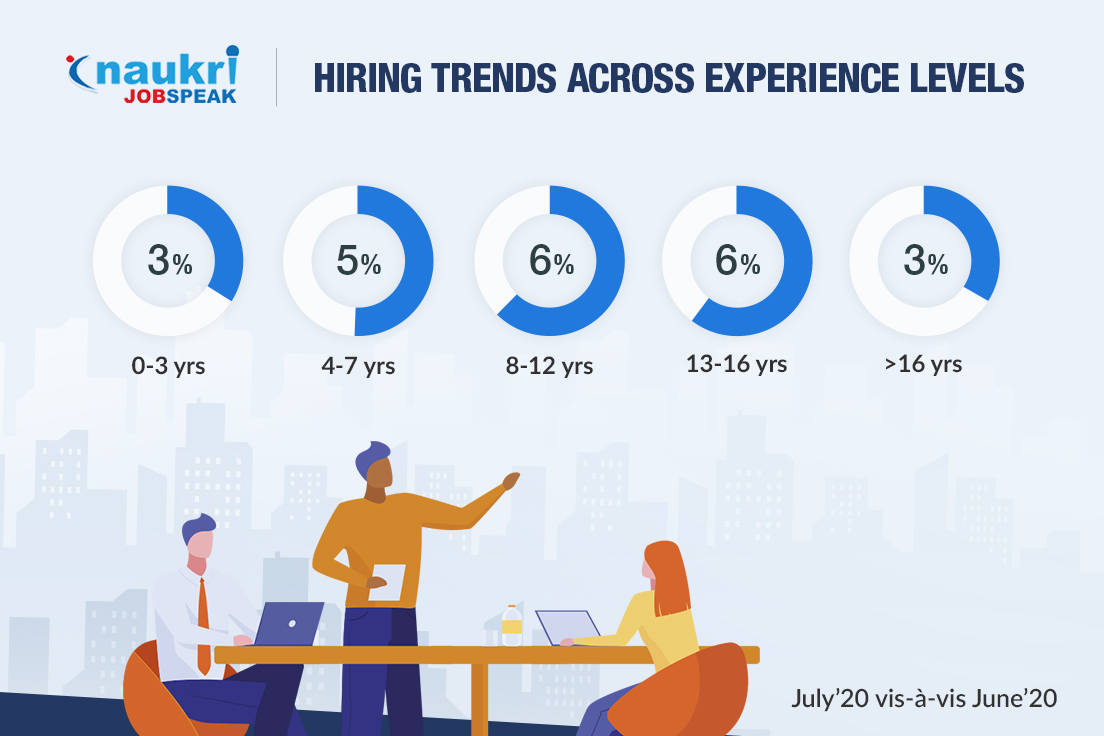 Hiring trend across functional areas
Functional roles in Banking, Travel/Ticketing and IT-Hardware saw a significant uptick in hiring activity in July'20 as compared to June'20, while the demand for roles in Hospitality and Teaching/Education sectors remained impacted.
The demand for roles in Production/Maintenance (6%), Pharma/Media (5%), Marketing/Advertising (4%) and Sales/Business Development (4%) saw a slight increase sequentially.
However, hiring for professionals in the Hospitality and Teaching/Education sector was most impacted.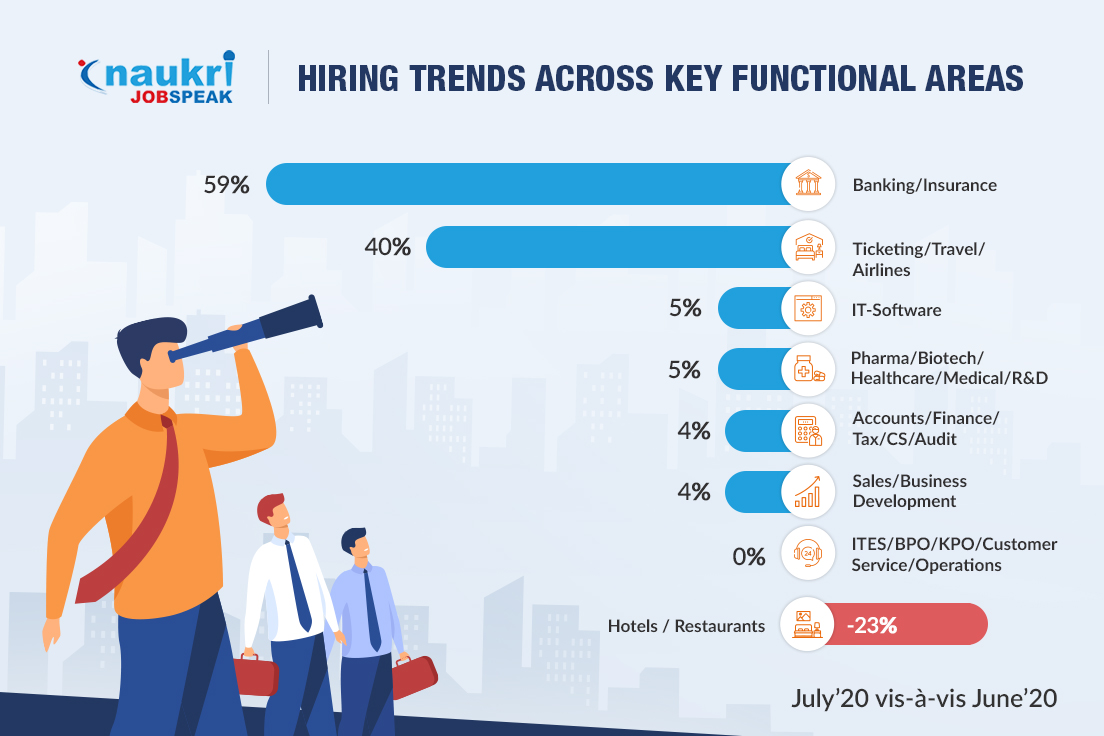 Y-O-Y Hiring Deepdive- July'20 Vs July 19
When we look at Y-O-Y developments, the overall hiring activity is still down by 47% in July'20 when compared to July'19.
Industries such as Hotel/Restaurant/Airlines/Travel (-80%), Retail (-71%), Real Estate (-60%) and Oil & Gas/Power (-58%) continue to struggle in the month of July'20 versus last year at the same time.
Given the intensity of COVID cases in metros and intermittent lockdown in few places, the hiring activity in metros declined more than the national average (-50% Vs -47%).
Metro cities such as Chennai (-55%), Mumbai (-54%) and Bangalore (-54%) led the decline in hiring.
Smaller cities such as Chandigarh (-28%), Jaipur (-25%) and Kochi (-33%) were least impacted.
Recruitment across the board declined at varied experience levels with the entry-level experience bands (0 to 3 yrs exp) witnessing the sharpest decline of 51%.
Stay informed with the latest hiring trends with Naukri JobSpeak Report every month.
You can also keep a track of companies hiring actively on Naukri.com with the help of our live company hiring tracker launched recently under the StepUp initiative.
All the best!