Digitization has taken the country by storm, especially more after the world was put into lockdown by the COVID crisis. Not being able to step out of the house, we all have heavily relied on e-commerce sites for the supply of daily necessities.
Now, to know about the products and services a business has to offer, every company has a digital marketing team to help in their publicity. These digital marketers are the ones who help the organization to draw revenue and sales through the digital space by creating a brand image, marketing their products, etc.
In this blog, we will take you through the details of the digital marketing scope and salary that the field has to offer in India.
Let's begin!
Who is a digital marketer?
A digital marketer is one who helps in the development, implementation, and managing of marketing campaigns of promoting the business.
They use tools like analytics to identify weak links and improve performances holistically.
Why is the salary high in the digital marketing industry?
In the past few years digitization has rapidly gained prominence. Ranging from e-payment to businesses focusing more on social media and other digital platforms, companies have shifted their focus on digital media to derive business and sales.
Currently, in comparison to traditional advertising, digital advertising has proven to be convenient and effective since a major demographic of the audience is online.
This has led to the growth and demand of digital marketing and since they play a major role in drawing revenue, business, and their extremely result-driven nature, their salaries are high.
However, the initial salary of a digital marketer fresher is basic and it increases as you gain experience and upskill yourself.
What qualifications are required to become a digital marketer?
Now, addressing the important question, what education qualification is required to pursue a career in digital marketing?
To become a digital marketer you need,
A graduation degree in any field (Arts, Marketing, etc)
Enroll in an online certification course, in case you are not from a Marketing background.
There are many certified online courses like Udemy, Coursera, Naukri Learning to enroll for a digital marketing certification.
Why is digital marketing a good career option?
With the audience moving towards the digital spectrum, companies are welcoming more digital marketers to help in growing their business.
According to Statista, India recorded nearly 700 million internet users in 2020. The number is said to increase to 974 million users by 2025 indicating a great market potential.
Goldman Sachs's report also highlights that by 2025, the Indian digital marketing career scope will reach $160 billion. With the current Covid crisis we can anticipate that in times to come, businesses will need to have a digital presence to survive in the market.
All these data prove that the demand for a digital marketing career will only increase in the future.
Career opportunities in digital marketing
Now that we know of the immense scope and rising demand for digital marketing, it is important to know the career opportunities you can opt for in the field.
Here are some career opportunities in digital marketing to consider.
Digital marketing manager
The field of digital marketing includes monitoring and having knowledge in analytics and the requirement to monitor multiple campaigns (sometimes at the same time).
However, to reach the position of a Digital marketing manager, you need to begin as a Digital marketing executive, then a digital marketing analyst, and then a digital marketing manager.
The average salary of a digital marketing executive starts from 2LPA and goes up to 6 LPA as you gain experience.
Whereas the salary of a digital marketing analyst receives a package of an average 3.6LPA and a maximum of 9.4LPA.
Finally, a Digital marketing manager salary is an average of 6.2LPA, which goes up to 18LPA with experience.
A digital marketing manager's responsibilities include;
Designing and implementing a holistic digital marketing strategy that includes email campaigns, ad campaigns, etc.
Working and designing the digital presence of the brand on various social media sites
Monitoring and deriving data of the campaign performances via Analytics
Staying abreast of the trends which optimize campaigns based on the data received
Also, check Digital marketing manager jobs.
Content strategist
A content strategist's basic task is to develop a content plan keeping in mind the business objectives and the needs of their respective target audience.
In order to do so, a content strategist shoulders the following responsibilities,
Managing the editorial calendar and ensuring timely publishing
Managing the team by assigning the members with blogs
Drawing up guidelines to help the team with references
Creating the content calendar with the help of SEO optimization
The average salary of a content strategist starts from 2.5LPA and goes up to 16.2LPA as you gain experience.
Check: Content strategist jobs.
SEO & SEM specialist
Search Engine Marketing (SEM) and Search Engine Optimization (SEO) specialists have to overlook and manage paid campaigns on the social engines. Also, they handle display ads on Google.
Apart from this, here are the other responsibilities that SEM and SEO specialists have,
Researching and creating reports on the market trends
Collating data and analyzing them for campaigns
Monitoring and optimizing campaigns
Looking up keywords of strong strength for the website content
Salary of SEO specialists starts from approximately 3.4LPA which can go up to 8 LPA. While Salary of SEM specialists ranges from 13.5 LPA which can rise up to 37.1 LPA.
Email marketing specialist
Email marketing specialists are the ones who create and launch campaigns via emails. Also, they are required to maintain customer information databases and coming up with newsletters.
In addition to these primary responsibilities an email marketing specialist also need to perform the following tasks,
Helping in the growth of email list by identifying the target audience
Curating email campaigns and implementing the same
Helping in the reduction of unsubscribes
Making sure that the emails are accurate and prompt
Curating email copies and generating templates for mobiles
Monitoring campaign performances and working on improvements as per necessity
The salary of anemail marketing specialist ranges from 4.8-12.5 LPA.
Also, check email marketing specialist jobs.
Social media marketer
In order to remain relevant and prominent in the digital space, a company requires a social media marketer to market and manage the company's social media handles.
To perform these tasks, a social media marketer needs to perform the following responsibilities.
Designing marketing and social media campaigns
Outlining the budget, ideating content, and scheduling their implementation
Monitoring and ensuring social media messages by working with interdepartmental members and maintaining brand consistency
Interacts with customers on social media pages and promoting brand-focused interactive and engaging content
Looks out for expanding brand presence by monitoring the competition's
Guides the marketing and social media teams about the best practices for social media implementations
The average salary of a social media marketer is approximately 2.2-5LPA.
Do check social media marketer jobs.
What is the salary of a Digital marketer?
AmbitionBox records that the Digital Marketer salary on average is 3LPA which can range up to 10.9LPA.
However, there are various factors affecting the salary of a digital marketer, namely, Location, Company, Experience, etc.
So, let's see how much salary a digital marketer earns based on these factors.
What is the salary of a digital marketer based on location?
When creating a budget for the salaries of each department, every company keeps in mind the following factors,
Cost of living in the city
The demand of the job role
For example, the cost of living in Bengaluru and Mumbai is comparatively higher than that of other metropolitans. So, naturally, the salaries offered will also be higher than those offered in other cities.
Based on these factors, let's find out what the top 3 metropolitans of the country have to offer as the salary of a digital marketer.
What is the salary of a digital marketer based on experience?
Another factor that plays an important role in the salaries offered is the years of experience you have gathered.
What is the salary of a digital marketer based on the company?
Every company has its respective budget allocated for particular job roles, based on which they offer salaries to their employees.
Now, there are some companies that may offer a higher salary for a digital marketer position as compared to others. Take for example Cybage pays much more salary to a digital marketer on average in comparison to others.
Here are some companies and what they offer to digital marketers on average.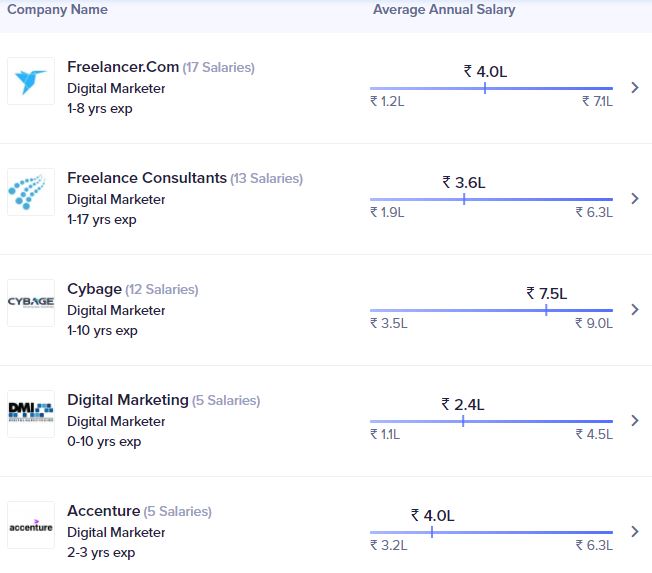 Conclusion
To conclude it can be said that the digital marketer scope is here to stay and only skyrocket in the upcoming times. With its dynamic nature and immense learning opportunities, it is sure to become a dream field for the youth.
However, do keep in mind that it is only with experience and how well you stay abreast with the current trends through upskilling that your salary as a digital marketer will depend.
Hope you find this blog helpful.
All the best!