Ever wonder how much a graphic designer makes in a year? This is a crucial question for those planning to pursue graphic designing, and if you are curious about it too, you are in the right place.
In this blog, we will take a close look at graphic designer salary insights based on experience, location, and industries. But before we do that, let's take a look at the roles and responsibilities of a graphic designer.
Who are graphic designers & what do they do?
If a picture is worth a thousand words, then graphic designers are writers in disguise.
They design creative images and visual concepts using various computer software to establish a brand identity and aesthetic that inspires, captivates, and appeals to the audiences.
The responsibilities of a graphic designer vary depending on their employer but here are some of the most common aspects of a graphic designer's job.
Communication with clients/potential clients about their requirement
Collaborate closely with brand owners/clients to develop unique designs
Conceptualize, design, format, and handle print production while maintaining deadlines
Finalize each detail, from font face and font size to color scheme and typography
Use a plethora of software to deliver creative, on-brand designs, graphic illustrations, logos, and other deliverables
Graphic designers can work as freelancers or get a job with advertising agencies, multimedia companies, print houses, etc.
Average graphic designer salary in India
Coming to the question of the hour- What is a graphic designer's salary in India?
Graphic Designer's salary in India ranges between ₹ 0.7 Lacs to ₹ 6.6 Lacs with an average annual salary of ₹ 3.0 Lacs.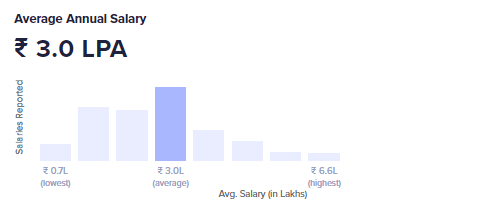 Graphic designer salary across experience bands
Source: AmbitionBox
Average graphic designer salary based on location
Source: AmbitionBox
Average graphic designer salary based on industry
The salary of a graphic designer varies based on the industry in which they are working. Here are insights of average graphic designer salary across industries:
Conclusion
With the advent of social media and the increasing need for online marketing, the demand for graphic designers is constantly increasing. With the field gaining such popularity, more and more people wish to pursue graphic design.
Easy access to online graphic design courses and certifications has made life easy for everyone aiming to excel in the field of graphic design.
Also read: Top 6 Graphic Design Skills You Need to Get Hired!
With this blog, we hope you will get a clear understanding of the graphic designer salary and compensation across industries, locations, and experience bands, and make informed career choices.
All the best!