The new and improved Communication and Privacy settings will allow you to control what messages, emails and notifications you receive from Naukri.com and how often you receive them.
Communication and Privacy Settings
The Communication and Privacy page offers 3 default settings depending on whether you are-
1. Immediately looking for a job
In this setting, your profile is visible in Naukri database to over 2.5 lakh recruiters. You will receive daily job recommendations from Naukri, jobs from recruiters, and promotional emails from Naukri.com.
2. Not actively looking but open for opportunities
Here, your profile is not visible to recruiters in Naukri database. You will not receive job emails from recruiters or promotional emails from Naukri.com. However, you will receive weekly job recommendations from Naukri.
3. Not looking for a job change
Here, your profile is not visible to recruiters in Naukri database. You will also not get any kind of communication from Naukri.
We also allow you to customize your communication settings. You can now control how often you receive each type of message or email sent by Naukri. You can choose to get emails or SMS from Naukri daily, weekly or never.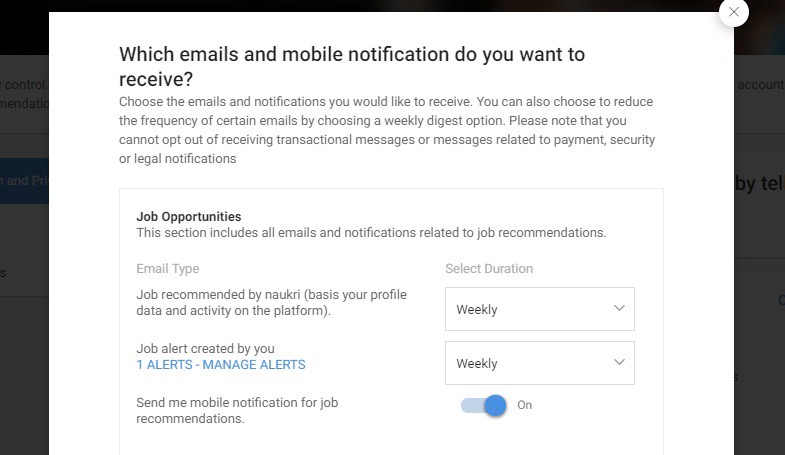 On mobile site and on Android App, these settings are available under the hamburger menu under "Settings" option. Navigate to Settings->Communication & Privacy. Click on "Manage" to edit individual email settings.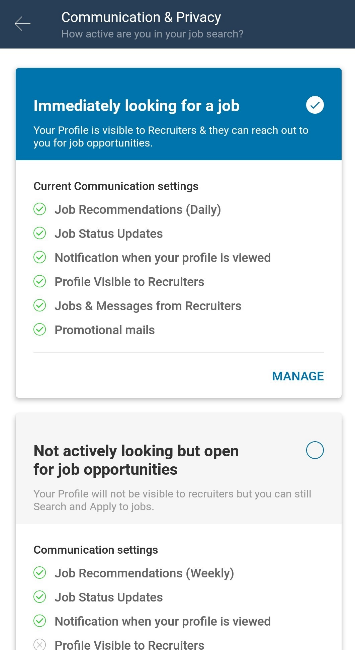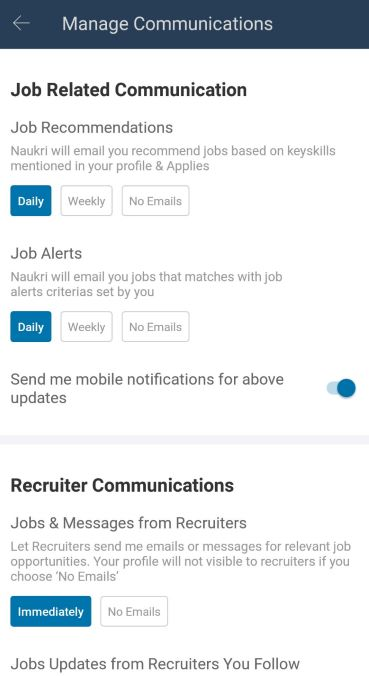 Naukri sends the following types of emails and messages
1. Job opportunities
These are jobs recommended for you by Naukri depending on your profile information and your activity on the website. You can also create custom job alerts that notify you of jobs that meet your specific criteria.
2. Communication from recruiters
Recruiters may send you job opportunities when they see your profile on Naukri. You can also follow recruiters from companies you are interested in or recruiters who are hiring for positions you are looking for. This will allow us to notify you about jobs posted by these recruiters. You can search for recruiters here.
3. Job status information
These alerts are sent to you through email or SMS when you apply for a job. You can also get alerts when a recruiter views your application or shortlists your CV for a job.
See what happened to your job applications in the Applied Jobs section.
4. Profile related alerts
Everyday recruiters perform over 1 million candidate searches in Naukri database. It is important to keep your profile updated to feature more regularly in the search results and let recruiters see the latest relevant information on your profile.
We might send you emails or messages asking you to complete important information on your profile so that you can have a better chance of getting an interview. We can also notify you when a recruiter has viewed your profile.
Check who viewed your profile recently in the Profile Performance section.
5. Promotions
We might send emails and SMS on Naukri paid services related to resume writing, courses, recruiter connection, etc. from our partner websites that can help you progress in your career.
Please be assured, Naukri.com will not disclose your account details or information to any third party site.
Click here to review your current communication settings on Naukri.com