The times we live in make finding the right job a full-time job in itself.
As per a study, for every job posting on the web in India, at least 250 online job applications are sent by aspirants.
What chances do you have to stand out while you apply for jobs online? Well, be my guest & do the maths here.
To make things even worse, we are standing amidst a global pandemic worse than the world has ever seen.
The economy of even the most developed nations is spiraling out of control.
Millions have lost their jobs & many more are staring at a bleak future.
Looking at current situation, if you have lost your job during this pandemic, then What to Do If You Are Laid off During the COVID-19 Pandemic? is a must read for you.
Surely we all know the generic ways.
However, in these times of COVID 19 pandemic, here are a few useful hacks that will help you find the right jobs online & even get you one.
Here are two categories in which your job search can be divided.
Finding a job online
Hacks to get that job
Finding a job online
1. Use social media the right way
Ever wondered why LinkedIn, Twitter & Facebook, etc., are known as social media?
Well, I am sure you have the right answer! Its time you use social media the right way.
Let us take the example of Linkedin. Make sure you have a profile on LinkedIn & rather than just being there, keep an eye on openings posted within your network.
The moment you catch one, reach out to your Linkedin connection to help you with recommendations.
You can also send personalized messages to your network, finding out if they can help you with any job opening.
2. Target the right job portals
Gone are the days when you would walk into offices & persuade the HR to get you a job in the firm.
Countless job portals appear all over the internet. However, just because there are many portals doesn't mean all of them are genuine.
Choose the job portal correctly. Naukri.com is undoubtedly the best job portal in India today.
3. Keep updating your resume on job portals
If you have made a profile on a job portal, uploaded a resume & you think your work is done, guess what?
You couldn't have been more wrong.
The longer your profile stays on job portals without any activity on it, the chances of it being visible to recruiters drastically declines.
Keep on updating your resume on job portals regularly to maximize your chances of catching the recruiter's eye. It's a must!
4. Reach out to your professional circle
Scroll through your phone contacts & identify contacts that could help you with some leads.
Don't shy away from asking them for help to find a job. What is the use of these contacts if they can't help in the time of need?
Ask for help, don't plead.
5. Apply through the company website
Most of the companies list job openings on their websites. Every company has a career section on the website itself.
Send your resume to the mentioned email address. It is still one of the most effective ways to apply for jobs online.
6. Research well about the company
Applying to firms just for the sake of employment is so old school. Research about the company to ensure a bright career.
Use AmbitionBox platform to find great places to work. Read reviews from current & previous employees & make an informed decision.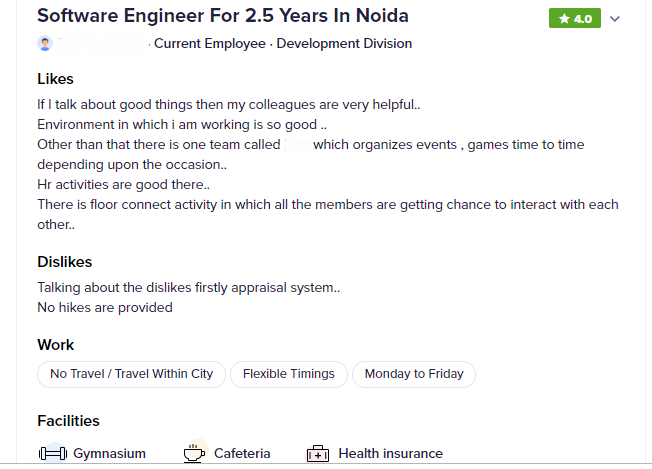 Above is a review on AmbitionBox, an example of how reviews can be helpful in making an informed decision.
To further understand how company reviews can help you in choosing the right career path? Read Why Should You Read Reviews Before Joining a Company?".
2. Hacks to get that job.
1. Erase the negative content about you
Ever wondered what most of the HRs do to find more about you than the regular resume?
Well, some of the firms have a practice of typing your name or initials in various search engines & finding any relevant information.
Before you apply for jobs online, ensure that you have looked up your name on search engines.
Wipeout any information that you think is inappropriate.
Keep monitoring these search engines while you send online job applications across.
2. Don't apply randomly
Every job is not meant for everyone. An engineer can't fit in the shoes of a nurse & vice versa.
Align your skillset & experience before applying for a job and find a job that suits your experience, and skill.
This would brighten your chances of getting selected. Don't apply randomly, just because you see an opening in a firm.
3. Do not sound desperate in your online job application
Of course, you are looking for a job, but the more you sound desperate, the more chances are that you might not be considered or paid less than normal.
Put your best foot forward & be deserving, not desperate.
4. Tailor your resume
Before you apply for a job online, make sure you have gone through your resume thoroughly.
Read the job description of the company & if it falls within your skills, tailor your resume according to the required skillset.
Highlight these points in your resume for maximum visibility.
5. Be clear about what do you bring to the firm
While you send your job application online, make sure you also send a cover letter with it.
Write a descriptive summary of what shall you bring to the firm.
Also, explain why you would be an asset to the firm.
Believe me, it works!
6. Make your resume stand apart
Everyone who applies for a job has a resume, what makes your resume different?
Don't stuff too much information. Make sure you provide first-hand links to your previous work.
Make sure you are crisp but provide all the required relevant information. Not to forget, take care of any spelling or grammatical errors.
7. Sell your achievements wisely
"I have worked on a social campaign which was popular & profitable"
and
"I worked on a social campaign which got a brand x number of leads thus boosting sales exponentially."
These two mean the same, but it's the way you choose to highlight your achievements is what matters.
Be smart about it!
8. Bring something different than usual
These days every candidate who applies for a job has expertise in basic office software.
Stand apart!
Learn some more software that will add to your skillset. Highlight these skills to describe how this knowledge can be useful for the firm.
Times are tough indeed, but in times like these, usual doesn't work.
Try these hacks before you start finding jobs online & send online job applications.
Best of luck!