How to get a job referral? The solution to this problem lies in the words of Milton Berle - "If opportunity doesn't knock, build a door." Yes! Job referral is the key to get a hiring manager to consider your resume for the job you are applying for.
This blog will tell you 5 ways to get a job referral. Check them out!
1. Reach out to friends and family
As the expression goes - "If the mountain won't come to Mohammed, Mohammed must go to the mountain." First thing first, spread the word to your family, friends, and contacts. Simply call people in your social circle or drop them an email or text message. Most likely, you will find someone within your circle who will be able to connect you with their professional contacts.
Tip: Request the concerned person to share useful information about the company's recruitment process, interview pattern, salary, etc.
2. Leverage social media
Networking sites and social media channels like Facebook and Twitter are immensely beneficial for connecting with professionals from different fields.
Check out if there is a suitable person (a past co-worker, alumni, etc.) in your connections who can be reached out for a referral. Also, do not hesitate to connect with new and unknown connections.
You can use the following message template to connect with new connections:
Hi (Name),

I am a (Profile) at (Company). I must say that I am very impressed by your work profile and recent social media campaigns. I would love to add you to my connections and learn more about your professional career.

Looking forward to your acceptance!
(Your Name)
You can also try exploring Facebook. If you are looking to work for a particular company, type "people who work at XYZ" in the search section, select a person from the list, and click on the 'About' section.
Not only will you see his/her work details but you will also be able to see his/her friends who work at the company. Thus, with a click, you have a list of multiple people to reach out to.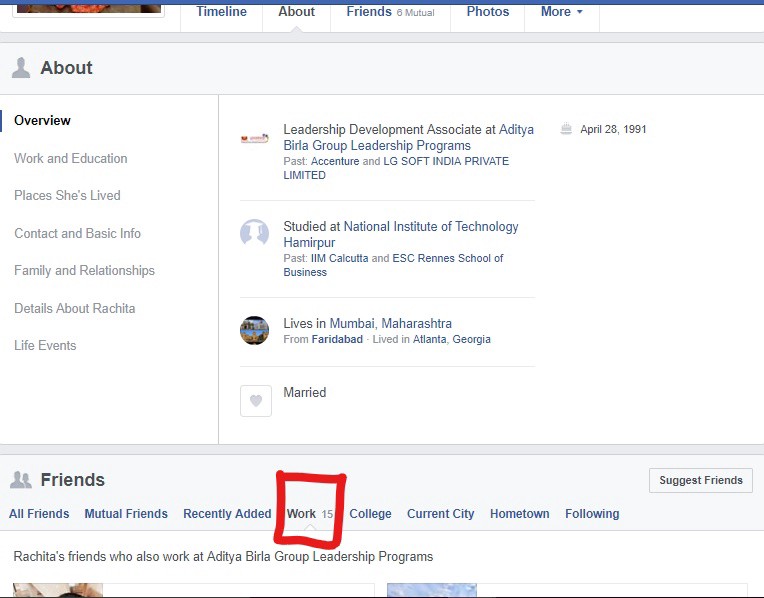 3. Expand in-person reach
Online medium is a great way to expand your network but meeting people in person is a totally different experience. This brings you closer to your connections on not only on a professional but personal level as well.
In order to expand your horizons even further, you can attend networking events, workshops, conferences, alumni meetings, and career fairs. This will connect you with industry experts and influencers.
Furthermore, consider finding more opportunities via networks such as Meetup, Opportunity, etc.
Tip: Find useful events on Facebook by going to the 'Events' tab on Homepage.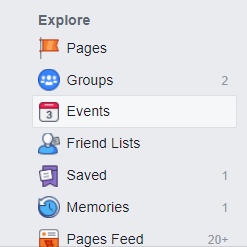 4. Volunteer or work as an intern
If you are fresher, chances are you do not have a good professional network yet. If this is the case, then work for it. For instance, you can volunteer to work for an NGO or take up an internship. At the end of the term, you can request for a job referral.
5. Cold emails
If you believe in the power of good old email, then send out emails to people who work in the companies you are targetting. When writing an email, mention a line or two of appreciation about the employee or the company, focussing on their achievements and progress.
Tip: Tools such as FindThatLead, Voilanorbet, Hunter, etc. let you find out the work emails of people from any organization. Just type in some basic details such as name, last name, company, etc. and you are good to go.
Related: Connect with important recruiters and send them personalized messages via Recruiter Connection.
Some important tips to follow when asking for a job referral:
KISS: Keep it short and simple. Write to the point and cut unnecessary details
Subject line: Use an attention-grabbing, yet precise and short headline.
Salutation: Address the person by their name.
Introduction: Mentioning the mutual acquaintance will give you an edge over other applicants.
Tone: Sound polite in your mail and do things at their convenience such as arranging a meeting.
Job referral templates
Below are some examples of how to ask for a job referral through different platforms.
Template 1: Asking for job referral via email
Subject: Referred by (Name of the Referrer), (His/her Profile and Company).

Dear (Name),

My friend (Referrer Name) recommended I contact you for any recommendations regarding employment in the (Profile/Industry Name) domain in Noida. We worked together in (Company Name) on many projects.

She told me that you're dedicated, reliable and believe in giving practical guidance to professionals. It would be my pleasure to get the advice from an industry expert like you.

I've attached my resume for your kind reference. I would be grateful if you take some time out to review it and provide me with your valuable insights.

I would be more than happy if you would like to arrange a meeting at your convenience and have a discussion at length to ensure that I'm a right fit for the job.

Thank you for your consideration.

I look forward to hearing from you.

Regards,
(Your Name)
Template 2: Asking for job referral (from a person in your social circle) via message
Hi (Name)

I'm looking for a job at (Company Name) XYZ Ltd. for the vacant position of (Profile Name). I remember you telling me once that a close friend of yours works there. I was looking forward to having a chat with him and show him my portfolio.

Would it be possible for you to connect me with him so that I could explore further opportunities?

I'll be waiting for your reply.

Thanks!
(Your Name)
Template 3: Asking for job referral via networking sites
Hi (Name),

Hope you are doing good! I noticed that you are currently working for (Company Name). I have been following the company for quite some time now. I truly appreciate their work culture and commitment to customer service.

After having finished my MBA in Marketing from (Institute Name), these days I am looking to work as a (Profile).

It would be great if you could refer my resume to the HR for the job opening of (Profile Name). For your reference, I have attached my resume and cover letter.

Let me know if you require any additional information.

Thanks!
(Your Name)
Template 4: Asking job referral via Facebook
Hi (Name),

I am pleased to connect with you. I noticed that you work for (Company Name). I am truly impressed by the company's product and services.

I would like to connect with you regarding the ongoing recruitment at the company and my interest in a vacant position. Let me know if you have a moment to talk about the same.

Looking forward to your response.

Have a good day!
(Your Name)
Template 5: Asking job referral via Twitter
Hi (Name),

I am a huge fan of your tweets and blogs on Digital Marketing. I am a Digital Marketing graduate myself, looking to get associated with an esteemed organization like yours.

Would love to get in touch with you to speak about the same. Let me know if you would like to have a word.

Best,
(Your Name)
Did you know about employee referral program?
Most of the organizations run employee referral programs. In this program, an employee of the company can refer his/her colleagues, friends, etc. for a vacant position in the organization. If the person referred gets selected, the employee receives benefits in form of cash, etc.
So, it is a win-win situation for all. Thus, the next time you feel that asking for a job referral is uncomfortable and awkward, think again. You might be just adding to someone's salary or company benefits.
Now that you know all about job referrals, it's time to start expanding your network and cultivate professional relationships in order to improve your chances of landing a good job.