So you have decided to look for a job.
You might be a seasoned professional who has used Naukri before, or you might just be starting your career and decided to check Naukri out to see what we have to offer.
Either way, this article will help you understand how Naukri really works – and what you can do to make the most of it.
But before we start, we highly recommend that you download the Naukri blog app to get best-in-business career advice & interview tips.
Download the App from the Playstore & App store .
There are two routes via which you can get a job through Naukri.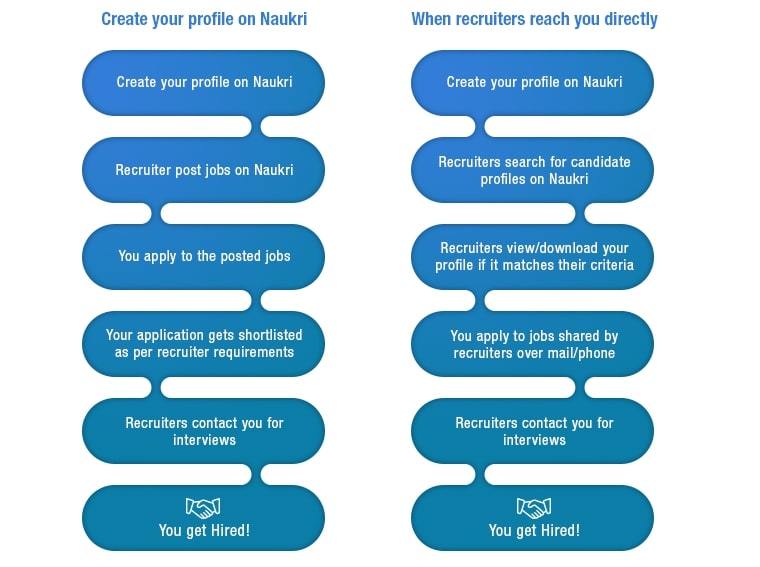 The first and more widely known option is where you create a profile on Naukri and apply to jobs posted by recruiters on the platform.
The second, less known option, is recruiter search. When a job seeker creates a detailed profile on Naukri, it gets added to the Naukri candidate database.
Recruiters have access to this database, where they can simply search for candidates based on their professional details, educational background, skills, etc. without posting a job.
Yes you read that right!
At any given time, there may be many recruiters who have an open position that they are looking to fill who don't post that job on Naukri.
As a job seeker, you will only find out about these roles when the recruiters reach out to you.
Every day, more than 7 lakh searches are carried out by recruiters on the Naukri database.
This accounts for around 50-60% of all hiring that happens through Naukri!
So, how can you ensure that you get visibility with these recruiters?
Here are 4 steps to ensure you don't miss out on relevant job opportunities:
Add important profile details
Fill essential profile details such as your work experience, educational background and key skills; only then will your profile become visible to recruiters.

Visit your account frequently
Log in to your account at least once a week. Recruiters are more likely to see candidates who are active on Naukri.

Keep your profile updated
Updating your information every few days increases your chances of appearing in searches by recruiters.

Reply to recruiter emails
Recruiters can reach you over email for job opportunities. You can check these mails in your inbox.