Why StepUp Campaign?
1. Information about companies which are actively hiring
2. List of courses to brighten your chances
3. Relevant blogs
4. Salary impact, hiring industry index & customized job opportunities
In these troubled times of global pandemic, millions of people around the world have lost their livelihood & have no idea how to get a job now.
Finding a job in these troubled times is no easy nut to crack.
According to a report by India Today, in India, more than 130 million jobs are threatened due to the pandemic.
In a time like these, if you have lost your job or thinking of how to get a job now, Naukri.com has launched a perfect campaign for you.
StepUp campaign helps job seekers to find jobs at the earliest without running around in circles.
How does StepUp campaign work?
There are companies which are still actively hiring during COVID 19 & then there are many of us, who are looking for jobs.
This campaign is a bridge that connects the two.
From a jobseeker's perspective, this campaign provides all the relevant information & opportunity during COVID 19, to shape their career.
StepUp is a live campaign that works on a realtime basis to provide a detailed career guide to job seekers.
This guide gives relevant job opportunities, online courses & high-quality career blogs to guide you better.
Why StepUp campaign?
1. Information about companies which are actively hiring
StepUp campaign helps you find companies that are actively hiring on a real-time basis.
It also provides you with live data on recruitment trends as of now.
These help the jobseeker get an idea about the hiring pattern around companies before applying for a job.
This may enable him/her to tailor his/her resume according to the need of an hour.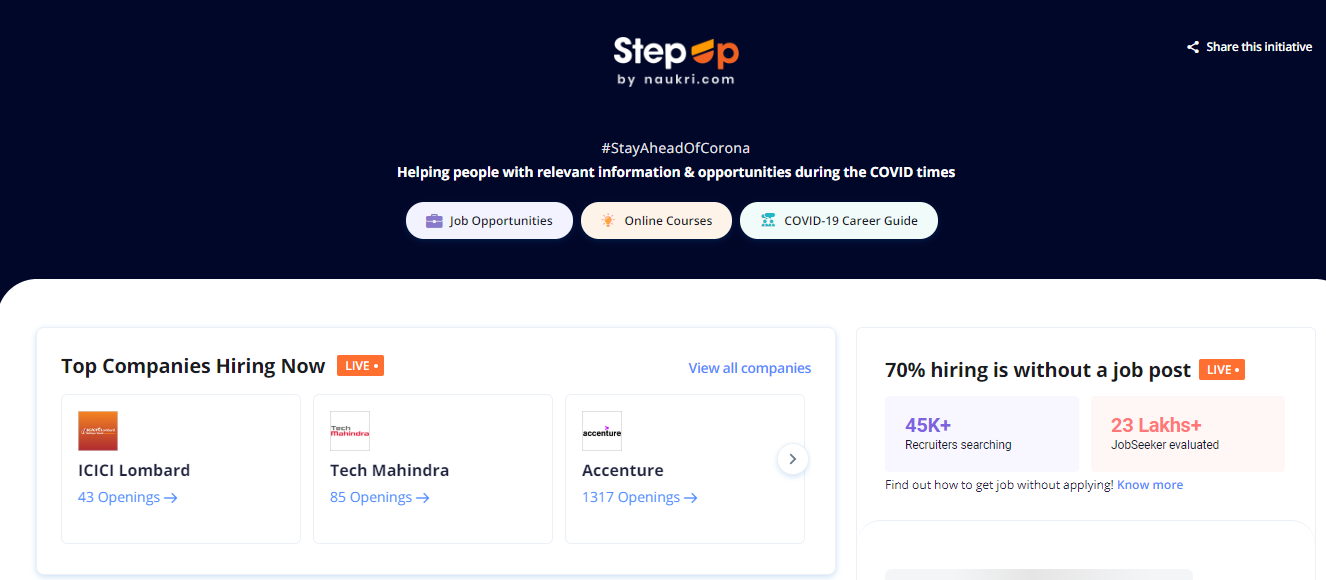 2. List of courses to brighten your chances
This campaign also aims towards providing the right information to jobseekers.
This includes providing information about various certification courses to maximize the chances of finding a job.
While the lockdown still looms large, these certification courses can be done from home & can help in getting the right job.
Digital media has brought so many courses right to our screens, that choosing the right course is all the more hard.
StepUp campaign helps in providing all the relevant information about various courses in the market, along with their scope for the future.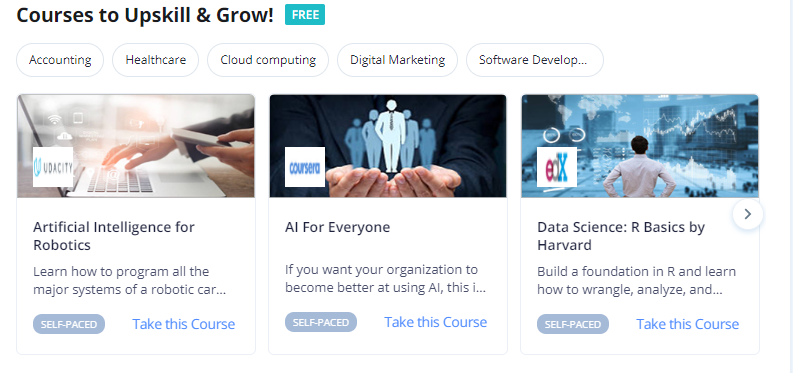 3. Relevant blogs
Naukri StepUp campaign provides job seekers a platform to read blogs which helps them to identify trends & hacks to outshine in interviews.
These blogs also help them in making a wise decision by recognizing the right opportunity.
We also recommend to read 56 frequently asked HR interview questions & answers, to be well prepared for your next interview.

4. Salary impact, hiring industry index & customized job opportunities
StepUp campaign helps a job seeker to understand the salary impact which has incurred in his/her professional domain.
This helps the jobseeker set realistic salary expectations before choosing an opportunity.
This campaign also highlights various industries or sectors which are actively hiring on a live basis.
This campaign is designed to provide tailored job openings according to the job profile of your choice.
You can also get a gist of impact on salary components for different departments in a widget on this page.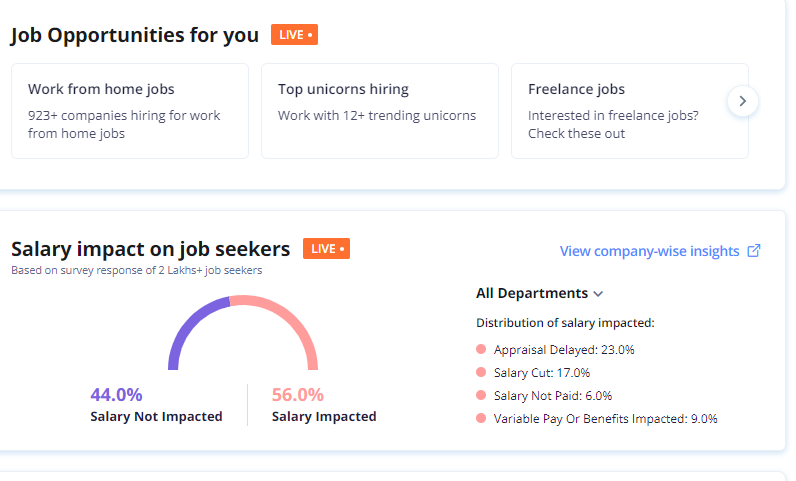 Steps to follow to get a job using Naukri StepUp campaign
Step 1:
Log on to Naukri.com.
Step 2:
Click on the "Visit Career Guide" tab on top of the home screen.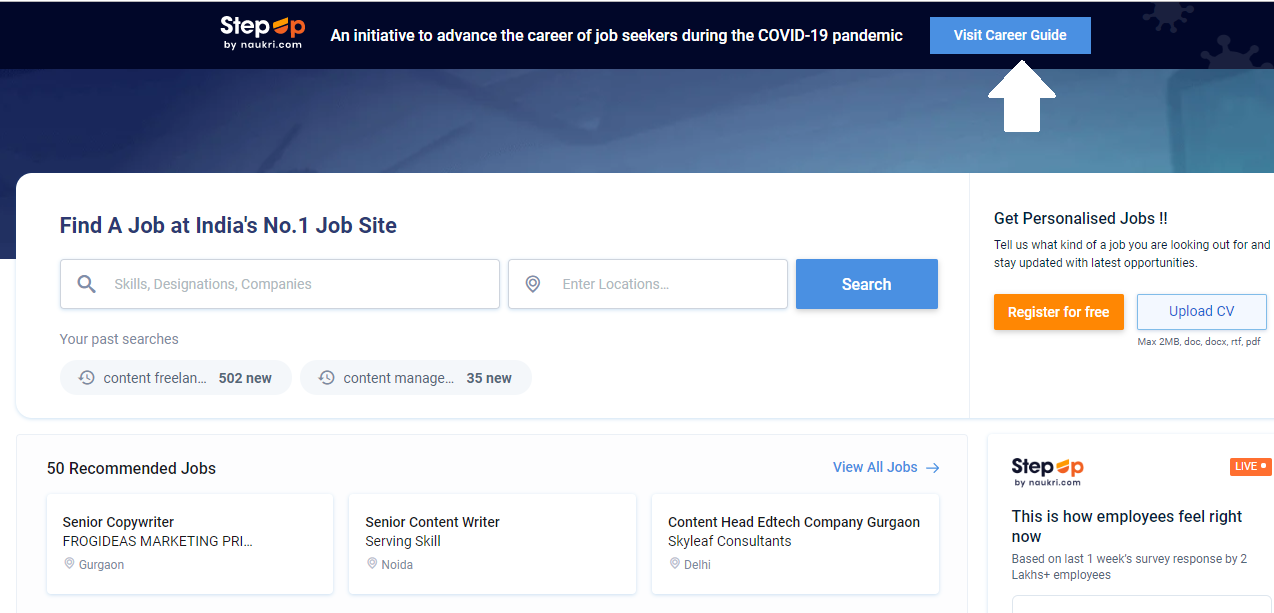 Step 3:
Click on the "Job opportunities" tab.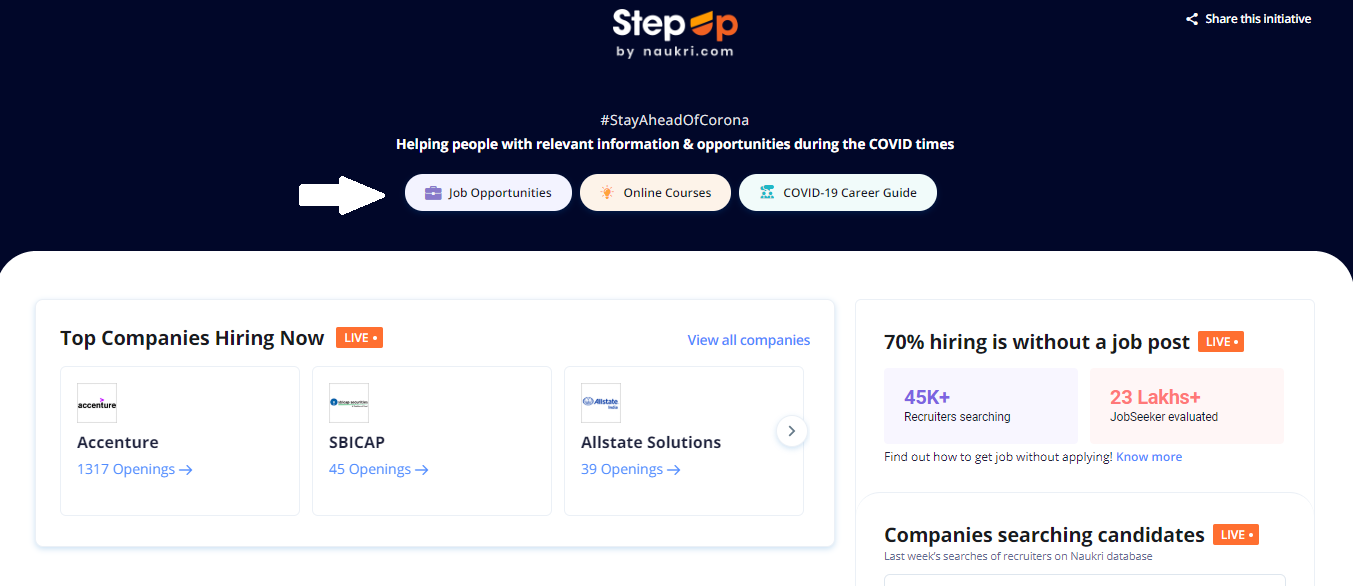 Step 4:
Choose a company of your choice & all the openings within this organization shall open in front of you.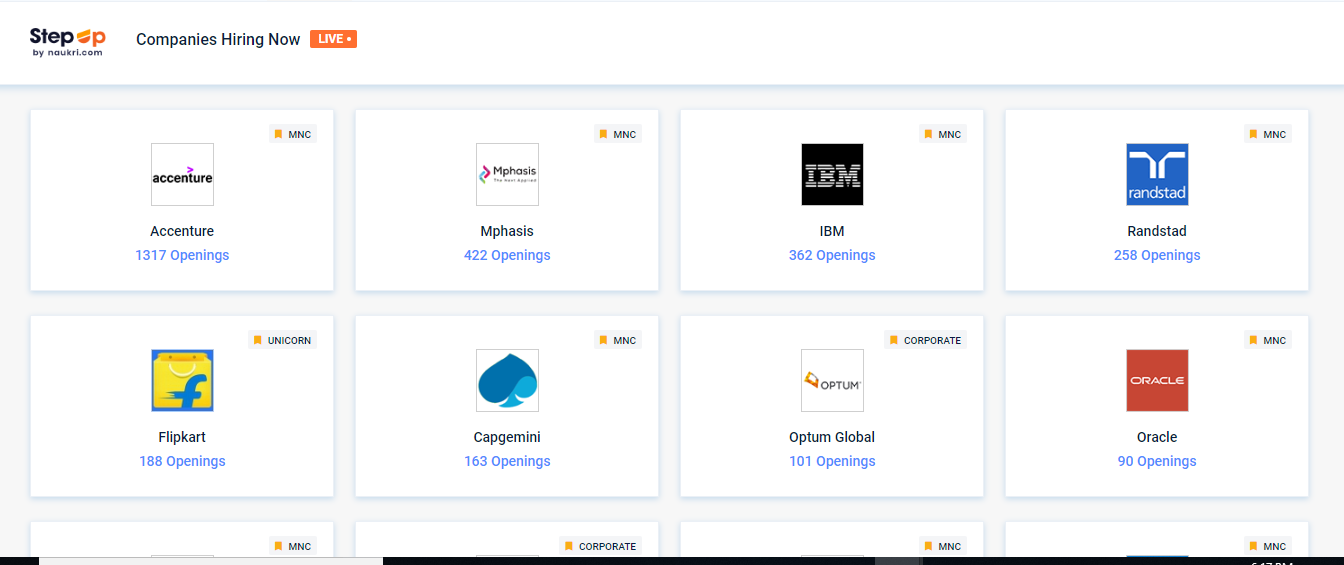 Step 5:
Apply for the job opening relevant to you. You can also narrow down your search according to location, salary, department, experience, etc, by applying filters available on the screen.
As per the survey on the impact of StepUp campaign, wherein 2.18 Lakh employees participated, 56% of employees say their salary got impacted.
78% of surveyors said that the hiring insights provided in the campaign were incredibly useful to them.
We understand that times are tough, however, we also believe that the true spirit of humanity lies in rising above the trouble.
We shall overcome, just have the belief. We stand with each one of you who are suffering in these tough times.
Looking at the global trends, we recognize the demand for normalcy & thus our hopes are high.
Hold on, this too shall pass!
Be safe!