2020 is a year which most of the people across the globe would remember as a year of the pandemic.
While literally, the whole world starts living virtually, even employment avenues had to be retorted to virtual mode.
Traditional face to face interviews seem to be an act of the past, nowadays its digital interviews which have taken over.
Thus the insights about how to write a resume have its important more than ever.
In this blog, we shall provide all you need to know insights about how to write a resume with resume/cv samples.
What is a resume?
A resume can be described as a document that provides an interviewer detailed information about the candidate.
This information is relevant to the position an applicant has applied for.
A resume carries details about previous professional experience, educational qualifications, achievements, personal details such as DOB, name, contact details, etc.
A resume is the first thing that any job seeker needs to work on before applying for a job position in a company.
How to write a resume in 2020
Usually, every job seeker already has a resume in place before he applies for jobs.
However, the point is if that resume really has what it takes to stand apart.
This has become more significant in 2020 as due to global job cuts the demand for jobs has grown exponentially.
Let's understand the best way to write a resume & make it stand apart in 2020.
1. Short & Crisp
Too much information may make an employer lose interest in your resume.
After all, he/she has to go through so many of them.
The whole focus should be on providing information that is crisp yet effective.
Discourage the use of graphics, too much cluttering & so on. Keep it neat.

Rather than writing the details of the whole project you worked on previously, target some of the key takeaways.

Be clear about your role & responsibilities in clear listicles.
2. Resume Summary
It's important that your resume says what you shall bring in if you are to be selected for the job.
This gives your resume an edge over the others.
Rather than explaining what you aim at professionally, it's better to say what you shall bring in for the company if hired.
This is unique & great for recruiters to read on a resume.
3. Skills
This section weighs a little more in your resume than the rest. Make sure the job position you are applying for fits your skill.
Every recruiter has a clear understanding of the skills required for a position they are hiring.
Thus, it's highlighting your skillset is of immense importance.
4. Professional experience
Mention your professional experience in descending order, starting from the latest, mention in clear liners what were in your responsibilities.
We advise you to be extra focused while writing this part of your resume.
Try to state all the job responsibilities you had in your previous position.
You never know which one of these responsibilities may be relevant to the position you apply for.
However, also keep in mind to be neat in this section. Don't clutter with too much information.
5. Strengths (Optional)
You may also mention your strengths. These strengths may also add to your chances of getting through as your strengths may coincidence with the requirement of the position.
Resume samples or CV samples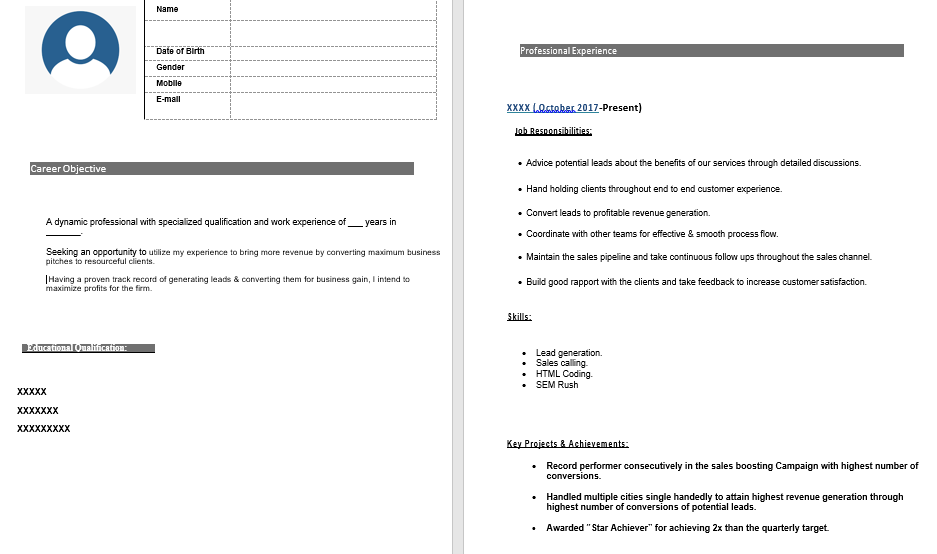 CV Sample 2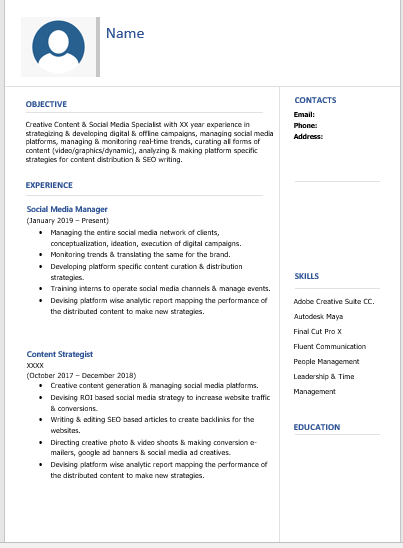 In these times of global recession indeed employment sector has taken a great hit.
However, now as the world is slowly opening up, the opportunity to go out there & find a happy career has also come up.
More companies are opening their doors for new recruits.
Since the demand shall also be high for getting through these jobs, its paramount that your resumes speaks for itself.
Every resume doesn't guarantee that you'll get shortlisted. The best ones will.
Remember to take in account the above mentioned points while you write your resume for your next job.
We are quite sure you should get shortlisted.
We hope for your successful career.
Best of luck!