One of the most relevant & crucial asset for a job seeker is a resume.
While every resume provides relevant information about the skillset, experience, etc of a job seeker, it's beneficial if an employer gets a glimpse of your intent to work & desired space to work in.
This can be achieved through a look in an objective for a resume section which is usually on the top section of the resume.
In this blog, we shall discuss about one of the most important parts of a perfect resume, an objective for a resume.
We shall understand how it can add value to your resume & highlight some resume objective examples for your reference.
What is an objective for a resume?
An objective for a resume usually can be seen on the top section of a resume.
A resume objective is a detailed statement of what a jobseeker intends to achieve, his/her goals for employment.
The objective for a resume is usually brief & to the point.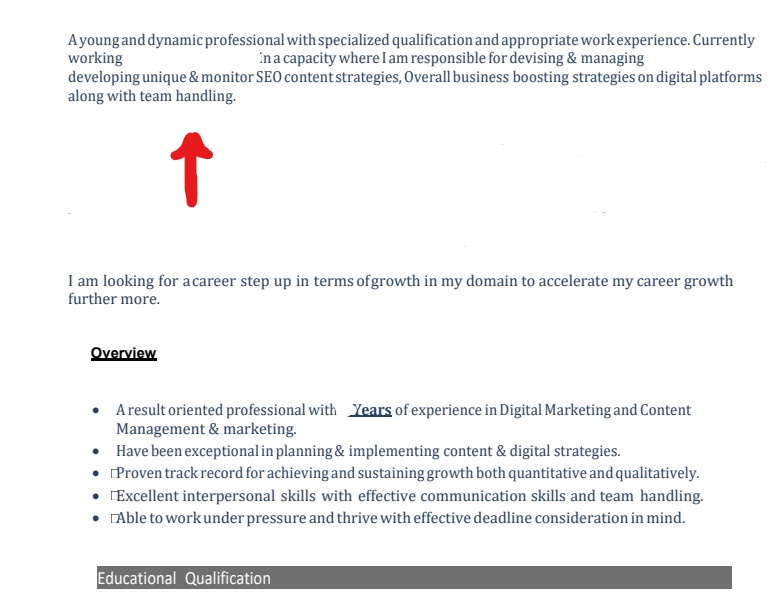 How to write a perfect objective for a resume?
Here are some important points to keep in mind while writing an objective for a resume.
1. Stick to the point
While writing an objective for a resume ensure that you stick to the point & at no point seed in vague statements.
Usually, an objective in a resume isn't more than 2-3 lines, however, no specific thumb rule applies for the same.
The more relevant & precise you are, the better it is.
2. Highlight your skillset
An ideal objective for a resume includes a wise declaration of a strong skillset.
A jobseeker must add its strongest skillset in the objective details with relevant keywords.
These keywords should be highlighted to ensure they are being noticed by an employer.
3. Professional goal
An objective for a resume must include a desired professional goal set for the near future.
A thought of, how you look at yourself a few years from now? Where do you intend to see yourself in this organization?
Answering such questions in a statement shall help you draft a strong objective for your resume.
4. What is in for them?
Rather than focusing too much on what you desire, strike a balance between how shall you be valuable to an employer as well as what professional goals you have set for yourself.
A perfect marriage of both shall always catch an employer's eye.
5. Understand organizations requirement
Draft an objective for resume keeping it in line with the requirement of the company.
This adds value to your resume besides brightens the chances of your resume being shortlisted.
Resume Objective Examples
Here are some resume objective examples demonstrating how an ideal career objective should look like.
Example 1
A dynamic professional with specialized qualifications and X years' of work experience.
Seeking a career wherein I can maximize my experience with my skills in team management, strategizing & business development.
Example 2
Seeking to use the best of my ability & X years of experience towards becoming a useful resource in the development of the company.
A self-driven, creative, and motivated individual who aspires to reach a management level role soon through hard work & effective utilization of my skills.
Example 3
Accomplished content producer with X years of experience in digital media writing and content operations. Seeking a full-time position in the field of content.
Hands-on experience in content management, content marketing which has proven effective in revenue generation in my past professional experience.
Example 4
An enthusiastic and high energy driven professional targeting every level assignments in the field of digital marketing. With experience of X years, I expertise in devising social campaigns & digital marketing strategies.
Seeking a position of X in XYZ Company to boost my career towards better growth & success.
The objective for resume holds the gist of the jobseekers intent to work & information about the relevant field of work.
While many professionals still argue about the relevance of resume objectives, we strongly advise adding a resume objective to your CV.
Best of luck!