A resume is the first point of contact between the recruiter & the candidate. A resume has the power to catch an eye of a recruiter within a few seconds.
Especially if you are a fresher, the prospect of getting shortlisted for a job is directly dependent on your CV.
Therefore resume for freshers looking for their first job needs to follow a proper direction & structure.
Although prescribed structure for freshers to draft their resume cant be universal, but keeping professional trends in mind, we shall discuss important tips to create the best resume for freshers along with a resume template.
What is a Resume?
A resume is a formal document that gives a recruiter detailed information about the candidate's education, professional experience & skills.
A resume or CV is the first piece of document that is produced while applying for a job. Resume is literally an image of the candidate put on paper.
Who is considered to be a Fresher?
Well as the name already suggest, a fresher is considered to be someone who hasn't professionally worked on a full time basis with any organization in the past.
Having said that, in many organizations candidates who are switching over to a new professional field are also considered to be freshers.
The question is, how to draft the best possible resume as a fresher? Well, here is how!
Resume Tips for Freshers
Here are some important resume tips for freshers to consider while drafting a resume.
1. Be On Point
A resume for freshers looking for the first job needs to be much more convincing than a normal resume. It needs to be apt & must give maximum information using minimum words.
An unstructured, exhaustive resume can lower the chances of a fresher getting shortlisted drastically.
Thus the most important thing to keep in mind before drafting a resume is that it should be precise & crisp.
2. Resume Headlines
A freshers resume should always have unique resume headlines which are aligned with the job responsibilities expected in an ideal candidate.
Highlight your key skills & in brief let the recruiter know why you would be a great choice for that position.
3. Customize your Resume as Per Requirement
Understand the job description of the position you applying for and customize your resume on the same lines to maximize your chances of getting shortlisted.
For example, if a job requirement gives paramount importance to teamwork, highlight attributes of teamwork in your resume which may brighten your chances of getting shortlisted.
4. Structured Information
A fresher resume format usually doesn't have too much professional experience to back up the CV, hence an intelligent approach is required.
Rather than filling your resume randomly, a proper structure should be maintained. A resume of a fresher should give details about the candidate's education, skills, technical skills, internships & so on.
5. Choose your Words Correctly
While modern day digital communication has literally ruined the basic aesthetics of our language, professionally it's important that professional ethics of language are followed.
The use of slang words in your resume will literally kill your chances of getting even considered.
Revise your resume once to find slang words if any before forwarding it for job consideration.
6. Check Grammar
Wrong grammar in any professional environment is unacceptable. Ensure that the grammar in your resume is correct & there are no spelling errors.
It creates quite a negative impression on the recruiter which can have terrible consequences on your job prospects.
7. Handpick Skills to Highlight
In a CV format for freshers, highlighting skills that may suit the required criteria which may prove hard to handpick.
Depending on the job description, highlight skills that may make sense to the recruiter.
Also read: Profile Summary For Freshers
Resume Template for Freshers
Here are a few resume formats for freshers for your reference.
Sample 1: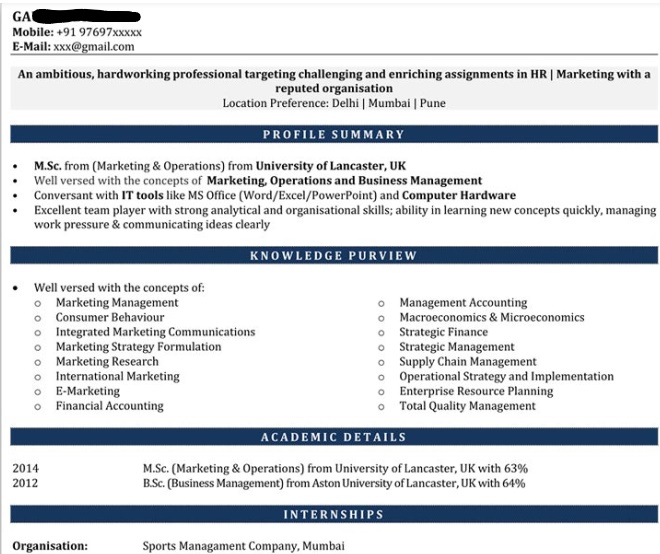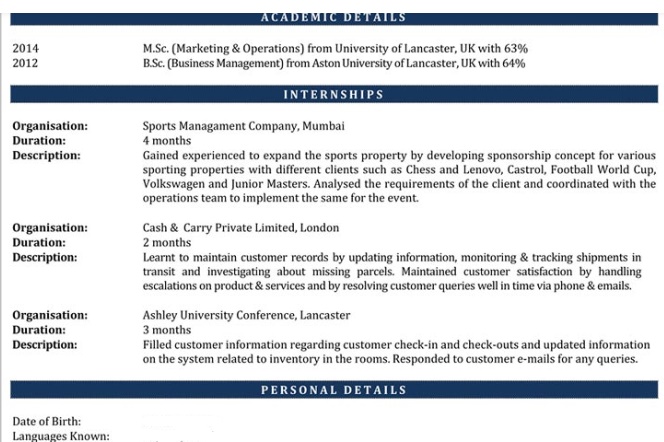 Sample 2: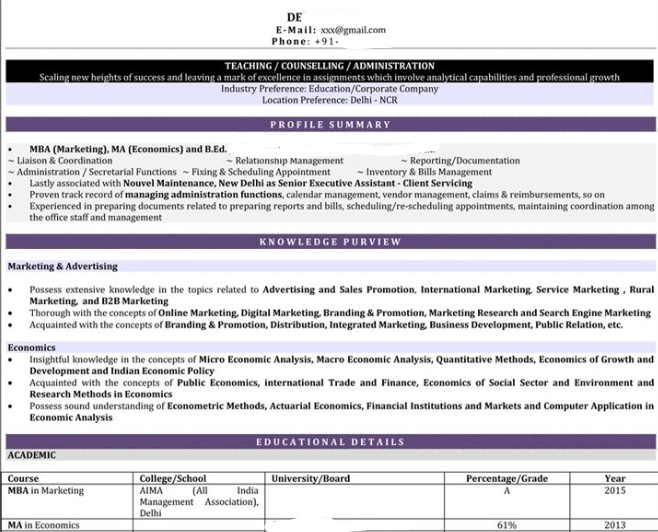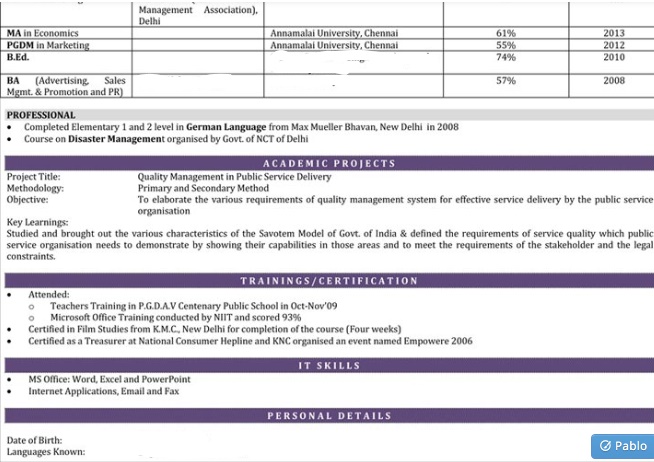 The best resume for a fresher has well collected & placed information for maximum visibility.
Since a resume creates a first impression on the recruiter, it needs to have a unique effect.
We hope that following above mentioned tips will help you get shortlisted for your next job interview.
Best of luck!