Naukri.com recently rolled out a survey to 50,000 active job seekers to get some useful insights on the job market, career progression, increment expectation, and much more.
As per the survey, the unwelcomed pause in the hiring activity has opened new avenues for jobseekers to up-skill themselves and enhance their domain expertise.
Here are some interesting findings:
1. Employees sentiment on job search: 70% of jobseekers are scouting new jobs for better career opportunities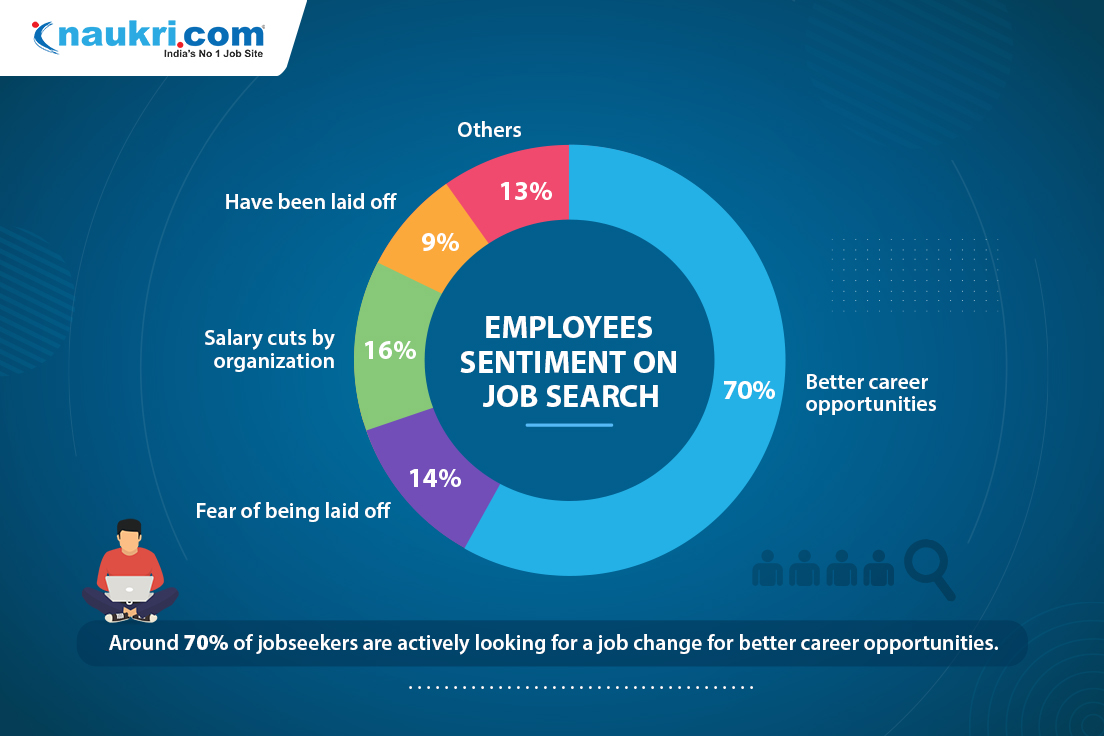 An interesting finding was to know that the fear of laying off or salary cuts are not the key drivers for job change in the current scenario.
Rather, job seekers are more focused to get better career opportunities in these uncertain times.
With the nationwide lockdown, uncertainties may have paved the way in the job market.
But over 50% jobseekers are utilizing this time to focus on self-development.
About 70% of jobseekers are looking for new jobs for better career opportunities followed by 16% due to salary cuts by their organization, and 14% due to the fear of being laid off by their companies.
2. Employees sentiments on up-skilling: About 51% jobseekers are utilizing this time to upskill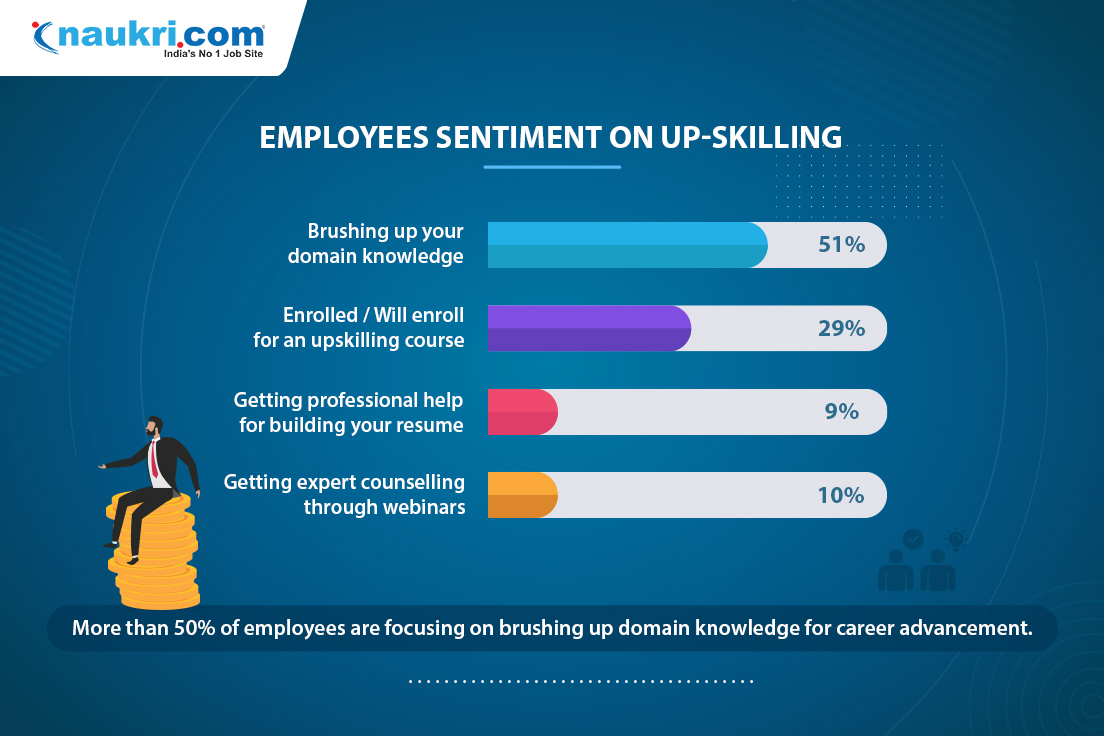 Majority of jobseekers are utilizing the time at hand due to the lockdown for self-development and career advancement.
Either the jobseekers have enrolled in for an upskilling course or are seeking professional help for building their resumes and brushing their domain knowledge.
Top online courses being picked up by most of the jobseekers to up-skill during these uncertain times are Data Science & Analytics courses (22%), followed by Digital Marketing (20%), and Finance and Risk Management (16%).
3. Employees sentiment on lay-offs: Around 59% employees confirmed that lay-offs have already been announced or most likely to happen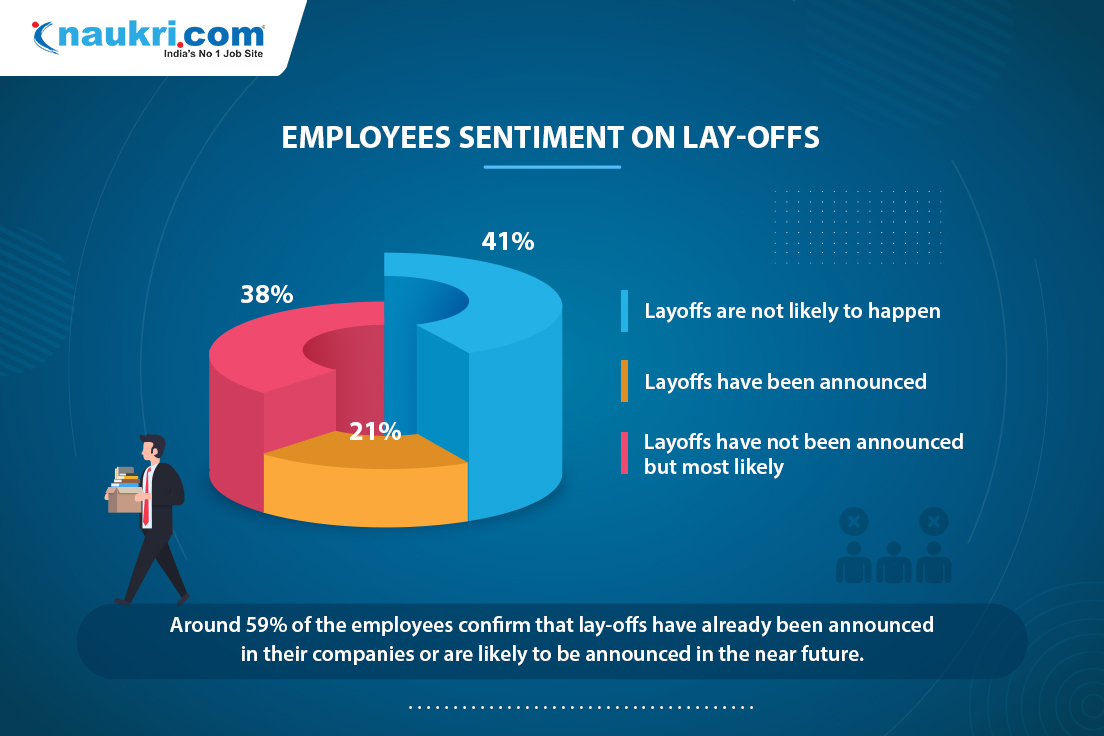 41% of the jobseekers were positive that layoffs are not likely to happen in their organization.
These jobseekers were mostly from the BFSI, IT and Pharma industries suggesting a relatively higher job security sentiment in these industries.
On the other hand, 59% of the jobseekers, mostly from the Airlines, Hospitality, Ecommerce and BPO/ITES industries, confirmed that the layoffs are either already announced or most likely to happen in the coming days.
As per the findings, the jobseekers from the IT, Pharma, Medical/Healthcare and BFSI industries were less impacted by layoffs and salary cuts as compared to their counterparts from other industries.
Around 13% of the laid-off employees were senior professionals with 11+ years of work experience and were working in either Sales (12%), HR & Admin (12%), Marketing (11%) or Operations/Supply Chain (11%) roles.
4. Employees sentiments on salary cuts: Only 38% employees said salary cuts are not likely to happen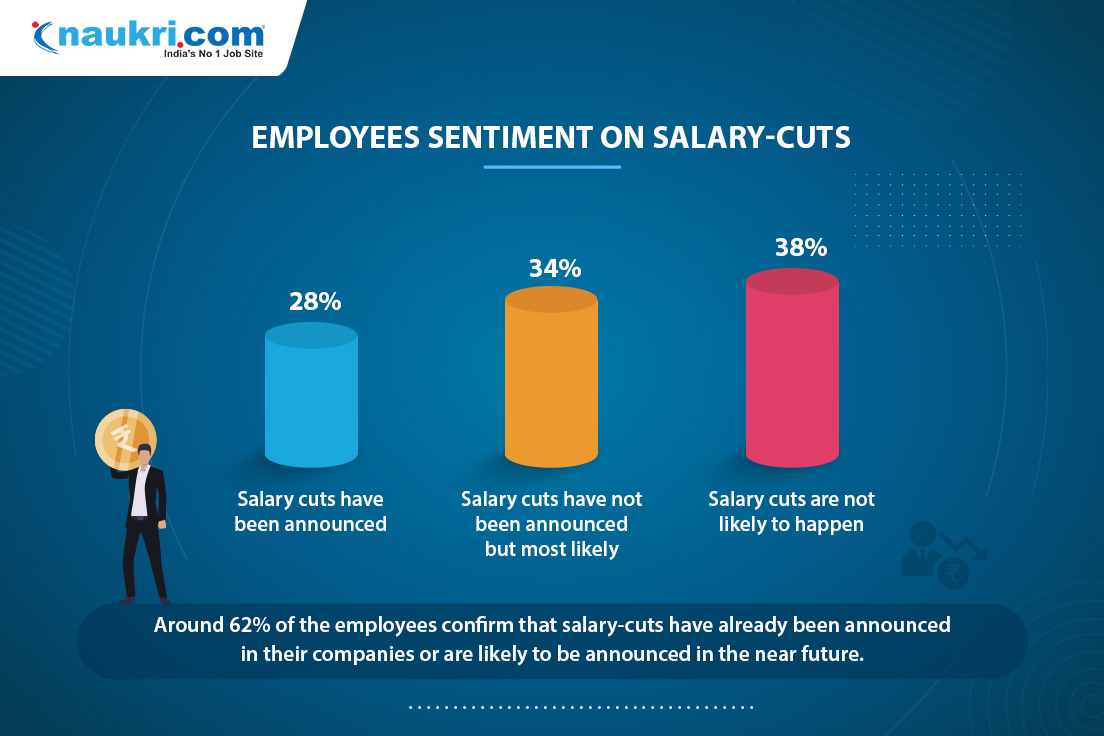 Like layoffs, there is a mixed feeling around salary cuts amongst jobseekers.
On the salary cut front, about one-third jobseekers indicated that salary cuts have not yet been announced but are most likely in the near future.
In the most impacted sectors such as Airlines, Hospitality, and E-commerce almost half of the jobseekers indicated that salary cuts have been announced in their companies.
5. Employee sentiments on increments: 49% of employees are expecting zero increment this year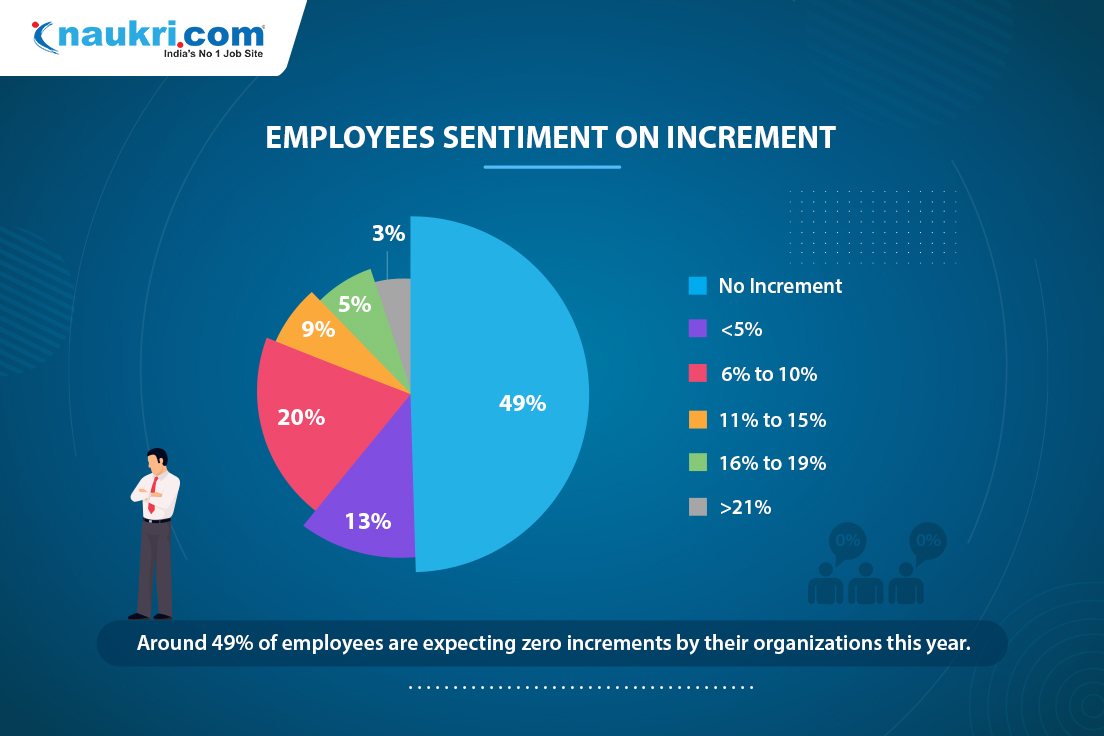 Comparing the results of a similar survey carried out pre COVID-19 in Feb 20 revealed that the jobseeker outlook on salary increments has changed drastically.
Just 18% of the jobseeker pre COVID 19 were expecting a modest hike of 0 to 5% but this number has now swelled to 63% given the conservative outlook of their companies.
Similarly 77% jobseeker were expecting an increment between 6-20% pre COVID 19 and this now has drastically reduced to just 34%.
Referring to the survey findings, Dr. Pawan Goyal, Chief Business Officer, Naukri.com said,
The survey gives a broad direction of maintaining caution towards the future outlook of the job market.

While only 10% jobseekers confirmed that they have been laid-off as per the survey, almost 34% fear that a layoff is imminent.

The Step-Up' initiative by Naukri.com aims to facilitate hiring of the laid off segment by improving their discovery by the recruiters & expense less access to their CV's.

On the positive side it is heartening to see that more than 50% of jobseekers are focusing on upskilling for better career opportunities and that is a sure shot way of long term career growth.