What is the salary of an operations manager in India? This is a crucial question if you are looking for a job as an operations manager and we know just the thing to help you figure it out.
In this blog, we will take a close look at operations manager salary insights based on experience, location, and industries. But before we do that, let's start by answering this simple question-
Who is an operations manager and what do they do?
An operations manager is a crucial part of the management team responsible for high-level decisions concerning budgeting, everyday operations, work procedures, and training methods.
They work towards improving processes in the organization and aim to optimize operations by increasing productivity and efficiency. Some of the key responsibilities of an operations manager are:
Establish effective communication with higher- management, staff, and clients to enable seamless operations
Define and maintain quality assurance protocols
Strategize to ensure the completion of operational activities in a defined time and budget
Manage the budgetary aspect of organizational operations
Work with internal teams to improve the software, tools, or systems owned by the organization
Lead and support teams to perform in time-sensitive and demanding situations and work on problem resolution.
Inventory management and conduct budget reviews to report budgetary plans to higher-management
Average operations manager salary in India
An operations manager's salary in India may vary based on several factors like experience, location, and industry. Let's take a deep dive into the salary trends and understand the average salary for someone in this position.
Based on 33k salary insights received from operations managers all over the country, the average salary of an operations manager in India is ₹ 7.0 LPA and ranges between ₹ 2.5 lacs to ₹ 18.1 lacs.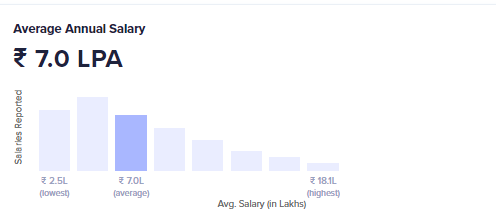 Operations manager salary across experience bands
Source: AmbitionBox
Average operations manager salary based on location
Source: AmbitionBox
Average operations manager salary based on industry
The salary of an operations manager varies based on the industry in which they are working. Here are insights of average operations manager salary across various industries:
Conclusion
Operations managers are always in demand. They are the people who keep things running and ensure optimal output and minimum error. Since they are so crucial to the holistic growth of an organization, it is a good career path to pursue as there will always be room for operations managers. With this blog on operations manager salary in India, we hope you will get a clear insight into the salary trends in India.
All the best!