Does a Project manager get paid well? What are the project manager salary trends in India? These are some of the most crucial questions as you pursue a career in project management.
Read this blog to find all about the project manager salary in India insights based on experience, location, and industries.
Let's start by answering this simple question-
Who is a project manager, and what does he do?
A project manager, as the name suggests, manages and oversees projects. They are responsible for the project development from planning to final execution through its six aspects- scope, schedule, finance, risk analysis, quality assurance, and resource procurement.
They lead teams, monitor, and control the project developments, and are responsible for the entire project cycle. Project managers are also the point of contact between the senior management and the team and share progress reports with the concerned stakeholders.
Here are some of the responsibilities a project manager has:
Analyze and mitigate the risk involved to enable seamless completion of the project
Outline the objective, scope, resource procurement, and allocation for the project
Establish the phases of the project and set the deadline for its completion
Coordinate with the clients, teams, and senior management to ensure project satisfaction
Sharing reports on any development in the project with the concerned stakeholders.
To become a project manager, you would need a Bachelor's degree in computer science or business and some years of experience in the relevant field. You can also consider pursuing Project Management Professional (PMP) online certification courses.
Also, read: What is Project Management? PMP Certification, Scope & more.
Average project manager salary in India
A project manager's salary in India may vary on several factors like experience, location, and industry. Let's take a deep dive into the salary trends and understand the average salary for someone in this position.
Based on 68.1k salary insights received from project managers all over the country, the average salary of a project manager in India is ₹ 13 lacs and ranges between ₹ 3.6 lacs to ₹ 25.3 lacs.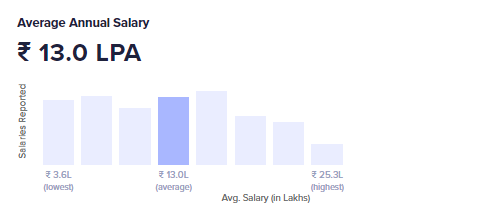 Project manager salary across experience bands
Source: AmbitionBox
Average project manager salary based on location
Source: AmbitionBox
Average project manager salary based on industry
The salary of a project manager varies based on the industry in which they are working. Here are insights of average project manager salary across various industries:
Conclusion
Project managers are in high demand today, making it one of the highest-paid professions. If you plan on pursuing a career in the field, the time is now. We hope that this blog gives you a clear insight into the trends of project manager salary in India.
Suggested reading: Project management interview questions
All the best!