Once you start applying for jobs, your resume becomes your face for the recruiters. You always want to put your best foot forward in cases involving your way of life. But how do you go about putting skills on a resume? Which skills to highlight? Which skills to loose? How much detail to provide?
In this blog, let us talk about the important skills for the resume.
Hard skills
Hard skills are tangible and specific abilities. They correspond directly to the knowledge and expertise required for the job at hand. They include technical, computer, and industry-specific skills. These skills are highly sought by recruiters while selecting a candidate.
Hard skills form the major part of job descriptions. These skills must be mentioned in the resume.
Soft Skills
Soft skills are mostly interpersonal qualities and characteristics, gained through experience. These mostly have to do with handling and managing the work related pressures & advances. They are a blend of communication, social, and people skills.
Soft skills are valuable irrespective of the job title or industry. Soft skills mixed with hard skills make the best Resume.
Examples of popular hard skills and soft skills
| Hard skills | Soft skills |
| --- | --- |
| Data Analysis | Interpersonal Communication |
| Programming | Negotiation/Persuation |
| Copywriting | Ability to Work Under Pressure |
| Foreign Languages | Decision Making |
| Accounting | Time Management |
| Computer Languages | Self-motivation |
| Graphic Design | Conflict Resolution |
| SEO / SEM Marketing | Leadership |
| Planning / Event Planning | Adaptability |
| Mathematics | Teamwork |
| Bookkeeping | Creativity |
| Email Management | Relationship Management |
How to highlight hard skills in a resume?
Hard skills take priority, that much is certain. After all, the job profile is created for hard skills.
1. Write it right
The way you present the skills on your resume requires some skill of its own.
Let's take this example:
"Proficient with Analytics tools including Alexa, Semrush, Moz, and Google Analytics."
is better than
"Have worked on analytics tools."
Here, the first example gives more concrete information than the second one. Also, words and phrases like 'Proficient' shows your confidence (an important soft skill) without you having to mention it.
2. Align skills with job description
Let us take an example of a job in the software industry with skills required in SQL, LAMP stack development, CakePHP 3x, etc.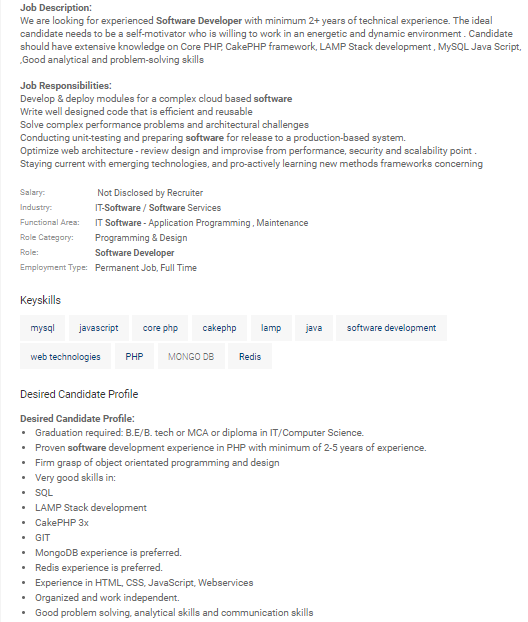 So in this case, your expertise in marketing or customer management will not be the right skill. The recruiter is clearly looking for skilled candidate in the above mentioned skills, and putting irrelevant skills gets you closer to the reject pile.
So, go with the skills that present you as the best candidate for the job. Take the skills as mentioned in the job description and use them in your resume.
3. Mention skills in order of priority
Before you start designing a resume, take a moment to go over your skills and your proficiency in the said skill that would suit the job description you are applying for. Make a list of these skills and put them on the resume accordingly.
The skills you start with should be the ones you are the best at. Then go down to the ones that you may not be proficient at but are familiar with.
4. Use numbers to improve focus
A couple of sentences about your past experiences are recommended. This can help you list out some achievement while at the job. Use this opportunity and use numbers to bring your achievements to light. Let's take these examples:
"Achieved 120% increase in magazine subscriptions."
"Consistent monthly growth rate of 10% for over 2 years."
How to highlight soft skills in a resume?
A job requires a set of hard skills for you to perform properly. However, it is the soft skills that keep you running.
Ability to work under pressure & time management show you as a skilled professional who is more than capable of just the technical aspect of the job.
In the above job description example, you can see that the recruiter expects the candidate to be a self-motivatior and energetic. So, incorporate such soft skills in your resume.
Other skills to include in the resume
There are other important skills that can be incorporated within the experience section or a separate skills section. Some of these skills are - analytical skills, people skills, communication skills, managerial skills, etc. Take a look at some examples of the same.
Analytical skills
Critical thinking
Problem solving
Diagnostics
Troubleshooting, etc.
People skills
Assertiveness
Client/customer satisfaction
Conflict resolution
Empathy
Negotiation
Persuasion
Team motivation, etc.
Communication skills
Active listening
Constructive criticism
Interpersonal communication
Public speaking
Verbal/Non-verbal communication
Written communication, etc.
Managerial skills
Decision-making
Project planning
Task delegation
Team communication
Team leadership, etc.
Where to put the skills in a resume?
Yes, the palcement of the skills matters!
Put a skills section in your resume & use the soft skills you have developed throughout your career to bring the hard skills to light.
Also, mention the skills in the experience section while elaborating your job roles.
Tips to use the best skills on your resume
Always use positive words and phrases. Positive words exude confidence that portray you as a go-getter.
Use keywords to bring attention to the skills and experiences that you are most confident about.
Ensure correct use of grammar and always proof-read the content.
The research that goes into designing a resume is time consuming, however that is the cost of designing a great one. Resumes designed with proper attention to detail, are the ones that pass the scrutiny of recruiters. Also, the effort behind a great resume, helps you circumvent automated software used by recruiters that look at specific words to target.