Your profile page on Naukri is your online resume. A golden opportunity to sell yourself to companies! Basing on this profile, companies will shortlist you for prospective jobs. Oftentimes you sign up and then sit back – waiting patiently for a swarm of jobs to appear in your mailbox. But you need to do slightly more than just upload a resume doc on Naukri.
Having a good Naukri profile is a zero-cost and easy way to get an assured job. Here are a few tips to help you improve your Naukri profile and polish your online resume. These will get you more interview calls for sure!
Write an attention grabbing resume headline
Well to start with, headlines in general provoke reactions. How you present yourself starts with your first words, which leave a lasting impression. So, the idea is to write a single sentence headline about yourself that is so captivating or creative that it breaks through the clutter and gets read. See these examples.
Login with your username and password on Naukri.com and then go to Edit profile. Over here, click on 'Resume Headline' to edit it.

Some good examples of powerful resume headlines are as follows:
Internal and external business communication specialist
Product Development | Integrations
DevOps Engineer, Track Lead and Release Manager
Sales and Marketing Manager
Add a relevant profile summary
Your profile summary is a window for the recruiter to look into your career. It should be packed with your most sought-after skills, accomplishments, and attributes. The words you use here will make you stand out in front of hiring managers. Create multiple versions in a word document and then copy paste the best one here.

Some good examples of profile summaries are as follows:
Administrative Assistant with >2 years of experience in a fast-paced corporate environment. Hardworking, outgoing and detail-oriented. I have great interpersonal skills and I am good at building and maintaining professional relationships. I have two Bachelor Degrees in Psychology and Office Administration respectively.
Research Desk Writer with good research and analytical thinking skills. 70% of my work is done in the content marketing team. I have excellent cultural sensitivity as I have worked in multi-cultural teams. I can handle high-stress projects with ease. I am a linguist and speak fluently in English, Hindi, and Tamil.
Carefully select your key skills
It's a known fact that recruiters and databases search for profiles using keywords. And there is a huge chance that yours won't get included in the search results if it's not embedded with key skills. Your skills act as target keywords that boost the ranking of your resume in a list of job applicants, as viewed by the recruiter.
Select all relevant skills, and place them in the right order, with the most relevant ones in the beginning. Keep the less important skills at the bottom.
For instance, if you are into content writing - then selecting keywords like editing, CMS and Wordpress should be perfect. If you are a developer, skills like C++, PL/SQL and J2EE should be selected. Read more about key skills and resume keywords here.

Complete your employment history
Most jobseekers complete only 40% of their profile the first time they log in on Naukri. After that they forget to update it. But we highly recommended that you invest time and complete your profile as close to 100% as possible. Complete your work history by adding all the companies that you worked for, one by one.
Details to be included include designation, organization, duration, job profile description, and notice period.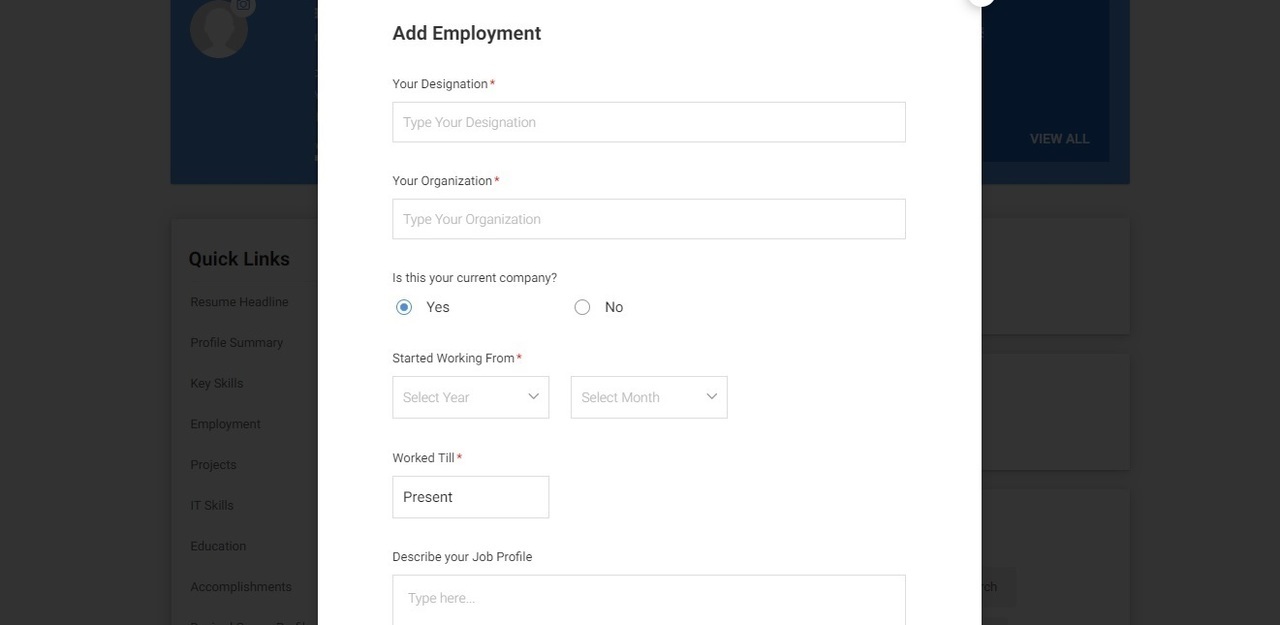 Your online profile is where employers read about your education, certifications, skill sets, and the brands you're associated with and how many people have liked your work. All this information definitely matters to people who are thinking of getting you on board.
Dont neglect other sections
Fill up relevant data under all other sections such as IT Skills, Projects, Education and Accomplishments, Desired Career Profile and Personal Details. These will add more weight to your resume.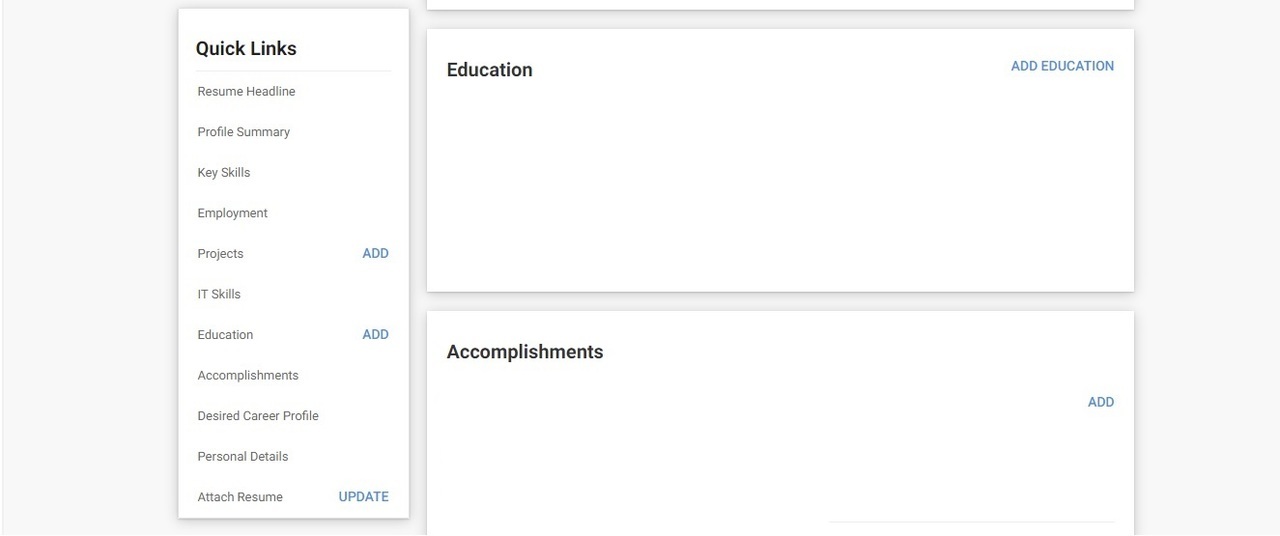 Attach your latest updated resume
Many employers still depend on online resumes to gather information about a candidate. They often use automated systems to scan resumes via electronic applications. These programs screen good candidates from the bad. That is why it is important that you upload or copy and paste a well written resume on Naukri.

Add your mobile number and email address
It might seem like the most obvious thing to do but not everyone does it! Make sure you verify your contact details to increase your chances to get shortlisted.
Simply go to Settings. Under Account, you can add your verified mobile number and email addresses.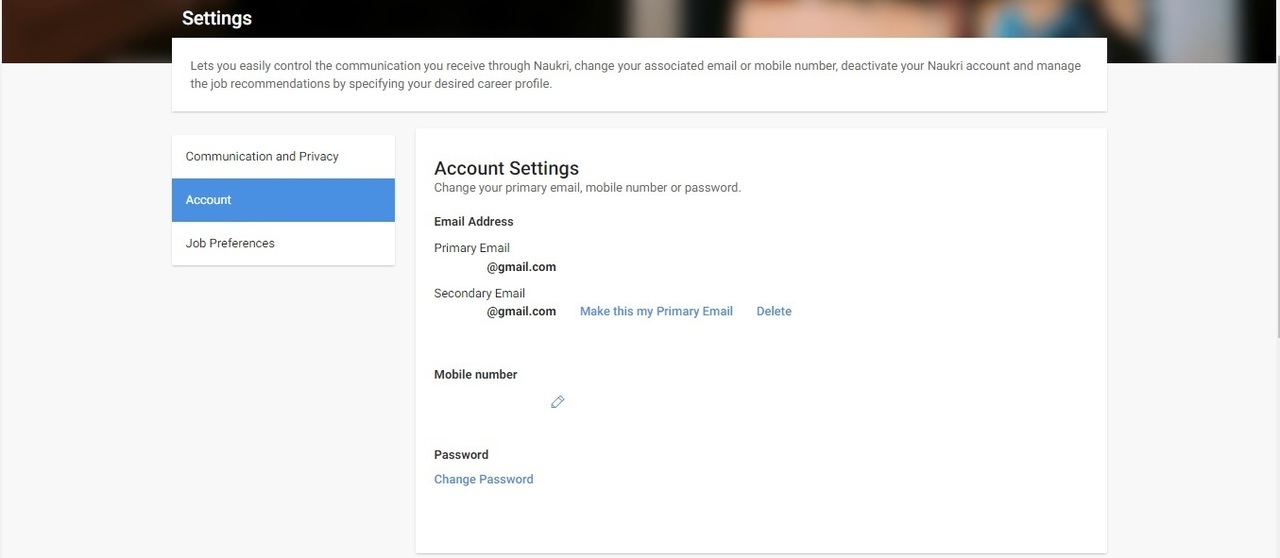 This exercise will add credibility to your Naukri profile. Including your contact details on every single page of your resume (which you attached earlier) can also prove to be a smart move. You never know if your CV might split up or a page might not load properly.
Include preferred location
A lot of companies these days have offices across multiple locations. All of them are constantly looking for candidates willing to relocate. So it is important that you clearly mention your preferred work location.
Simply go to Settings. Under Job Preferences, add your desired location.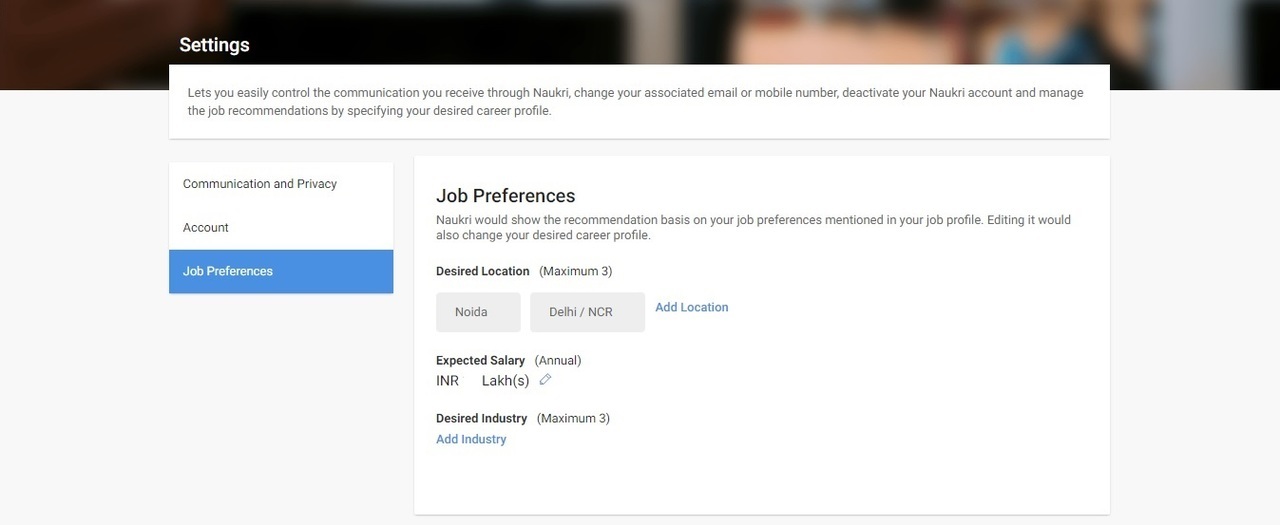 You can also add your expected salary and desired industry here. Mentioning them will send out a crystal clear message to the recruiter right from day 1.
Keep updating your profile regularly
When it comes to the job market, being 'prepared' isn't just a great career advice. It has multiple advantages too. You never know when a great career opportunity will knock your door! So keep your Naukri profile updated from time to time. This will ensure your readiness towards whatever comes your way! Highlight your new achievements and stay on top of search results.
If you implement these handy tips, not only will recruiters notice your Nauri profile more, but also ensure that your phone never stops ringing!