Understanding hiring patterns is crucial in this constantly evolving job market. For job seekers, the ultimate goal is to get hired, but where do you begin?
Naukri.com brings to you its monthly edition of the Naukri JobSpeak report to help you take the first step.
It is an index that measures the month-on-month hiring activities based on recruitment patterns on Naukri.com and offers insights across various industries, cities, and experience levels.
Make informed career choices with the major highlights from the the Naukri JobSpeak report for December 2022.
Overview of the Hiring Trends
With 4% growth, December hiring activity similar to last year base, sector wise trends a mixed bag: Naukri JobSpeak Dec'22
The hiring activity in Indian white collar professional segment showed resilience and long-term stability in Dec'22.
Naukri JobSpeak index emerged at 2890 in Dec'22 up from 2770 during Dec'21.
The momentum generated in the beginning of 2022 sustained into the second half of this year. In light of the worrying signs visible in global markets, December hiring activity in India ended up +4% compared to Dec'21.
A sector wise analysis comparing Dec'22 to first half of 2022 (Jan-Jun period) reveals a mixed trend. The growth in domestic economy driven sectors has offset the slowdown seen IT & BPO, resulting in stability at aggregate level.
Non Metro's continue to drive job growth. Demand for senior professionals continues showing double-digit growth.
Pawan Goyal, Chief Business Officer, Naukri.com said,
The Indian job market exhibited favorable hiring activity in 2022, with a 20%

increase in new job creation compared to the full year base of 2021. However, we do witness a correction in key sectors like IT and BPO towards latter

half of the year currently being offset by hiring activity uptick in Non-IT sectors like Insurance, Banking and Real Estate.

This reaffirms the multi-sectoral and balanced footprint of the Indian white-collar job market.

As we enter 2023, the positive trends observed in non-IT sectors and smaller cities, keep us watchful yet optimistic with respect to 2023.
Hiring Trends Across Industries
Compared to Dec'21 , stable growth was seen across multiple sectors.
But the mix shifted in the second half of 2022, with domestic-economy driven sectors recording stronger growths.
Dec'22 numbers when compared to the first half of 2022, showed a robust 51% growth in hiring activity for insurance sector.
Other sectors, which recorded an upward trend vs first half of 2022, include Oil (33%), Banking (24%), Real estate (21%), and Auto (12%).
However, IT & BPOs - sectors linked to global markets declined by 19% and 9% respectively in Dec'22 vs first half of the year, with start-up hiring impacted the most.
Hiring Trends Across Cities
Amongst non-metros, Ahmedabad led the list with 39% growth, followed by Vadodara at 29% and Jaipur at 16%.
Among the top-tier metro cities, Delhi/NCR and Mumbai led the charts with 12% growth in new jobs created compared to the monthly average of the first half of the year.
Similar trend was observed for Kolkata as well where new jobs created grew by 3%.
On the contrary, Chennai, Pune, Hyderabad, and Bengaluru, largely dependent on IT sector, showed a decline of -4%, -7%, -11%, -15% respectively.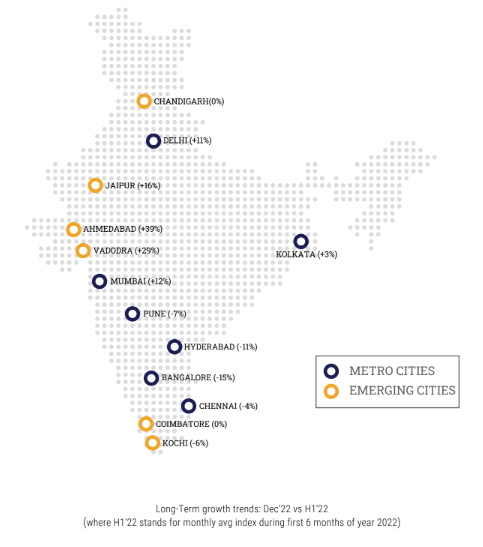 Hiring Trends Across Experience Levels
The long-term demand for professionals across levels was stable throughout the year.
However, the highlight was the massive demand surge for senior executives. Professionals having 16+ years reported 26% of growth.
The growth for jobs requiring 13-16 years of experience also rose by 15%. However, the hiring growth for fresher's and mid experience professionals remained flat.
Methodology
The Naukri JobSpeak is a monthly Index that calculates and records hiring activity based on the job listings on the Naukri.com website month on month.
The objective of Naukri JobSpeak is to measure the hiring activities in various industries, cities, functional areas, and experience levels.
The data is compiled from the website wherein jobs posted by clients on Naukri.com are considered.
Thus, the JobSpeak index includes jobs that might be for replacement hiring. July 2008 is taken to be the base with an index value of 1,000, and the subsequent monthly index is compared with the data for July 2008.
The jobs analyzed for the monthly index are qualified based on white-collar, urban, organized corporate sector jobs focusing on service industries.
The report shows hiring trends across industry sectors, geography, experience level, and functional areas.
More than 76,000 clients use Naukri.com, leading to the high reliability of data. The report does not cover gig employment, hyperlocal hiring, or campus placement.
Over a long period, the Naukri JobSpeak was impacted by the increase in the Naukri traffic share, internet penetration, Naukri pricing strategy, and job listing drives.
Conclusion
The hiring activity in Indian white collar professional segment showed resilience and long-term stability in December despite slowdowns in some key sectors. Naukri JobSpeak, country's premier job index, emerged at 2890 in Dec'22 up from 2770 during Dec'21.
Across industries, cities, and experience levels, domestic economy driven sectors offset dips in IT/BPO sectors linked to global markets, Non-Metro cities continue to outpace larger IT dependent markets, and th demand for senior professionals continues to grow, respectively.