Web developer salary in India is the talk of the hour! In this digital age, websites are the identity of any venture, be it a business, a news portal, or just an informative website.
From establishing brand awareness to selling products- an impressive, well-designed website is the key to success. Every website is the result of a web developer's skills and talent. Web developers curate and design websites, web applications and pages, and manage their appeal, look, technical developments, and performance.
No wonder it is one of the most lucrative and well-paid jobs in our country today.
With the increasing demand for web developers, it has emerged as one of the most popular career options today. Many young graduates are pursuing web development as a profession as it offers high-paying salaries.
But what does web development mean for you and why does this profile offer such high salaries? In this blog, we will try to answer all such questions and learn more about web developer salary trends in India.
Why does the web development industry have high salaries?
People often wonder why web developers are compensated so well? The answer is simple- It is the result of demand and supply.
With SaaS businesses booming, web application development is gaining popularity and more and more people seek expertise about the same, leading to the demand for the best in the industry.
The ability of web developers to give businesses a face virtually is one of the major reasons that they are highly paid.
Their job is complex as they are responsible for developing several web-based platforms that run and execute commands through backend coding and frontend operations.
The ability to design and build something so unique is no less than a magic spell and it is only fair that web developers are compensated well for their skills, knowledge, and hard work.
Who is a web developer?
We all use several web pages and applications every day, but have you ever stopped to wonder who builds them?
It is a web developer who manages the operations, design, and execution of these web-based platforms. Web developers use a client-server model to develop these applications.
Web developers are of 3 types :
Full-stack Developer
Back-end developer
Front-end developer
The back-end developers handle the servers and those working on front-end development are responsible for the User Interface (UI) and User Experience (UX) of the web application. As for full-stack developers, they are all-rounders and know all about front-end and back-end operations.
Web developers are the masterminds behind the programming that control the functioning of these websites and applications.
They focus on their technical aspects and are often involved in complex product development processes too. From developing one-page static websites to designing a hands-on, user-friendly web application, web developers do it all.
What qualifications does a web developer need?
Web development is something anyone with an interest in programming can ace. There is no formal list of qualifications to become a web developer but a basic understanding of web design and programming languages is crucial.
Here are the qualifications and skills you need to know to become a web developer:
A bachelor's degree in a subject like computer programming, maths or science or a related subject
Frontend languages like JavaScript, and Ajax
Backend programing languages such as C# or Java, PHP and Ruby
Knowledge of web animation techniques, frameworks and programming languages like Python, ASP, ASP.NET , HTML/XHTML, CSS
Experience with database systems such as SQL and Oracle
Aptitude for UI and UX development
Proficiency in using Photoshop, Illustrator, and other design software and the knack for visual design
What is the career path of a web developer?
The career trajectory of a web developer begins from web designing and further depends on whether they choose to become a front-end, back-end, or full-stack developer.
Here is a basic differentiation between the three:
| Back-end developer | Front-end developer | Full-stack developer |
| --- | --- | --- |
| These developers are responsible for building and managing web servers, applications, and pages to enable smooth operation and avoid escalations | They create user-friendly web pages and take care of the front-end functions and visual appeal. Their main focus is to solve problems faced by the users | Full-stack developers are well-versed with both front-end and back-end operations. They work on solving backend issues as well as manage the look and feel of the web page, i.e. the frontend, while resolving user queries |
| They learn programming languages like PHP, Python, Ruby, SQL, Oracle | They learn languages like HTML, CSS, JavaScript, Bootstrap, etc. | They learn all languages for both frontend and backend |
| Must have quick thinking, analytical mindset, logical reasoning, troubleshooting skills amongst others | Front-end developers must possess an eye for design, creativity, understanding of consumer's needs, and quick problem-solving skills | Full-stack developers must have the ability to multitask, come up with unique solutions and manage the web page or |
Now that we have understood which developer does what, let us take a look at the potential career roles that web developers can pursue for growth.
Senior web developer salaries
This is a step up from the web developer role as it is partially managerial and involves additional responsibilities and a more hands-on approach.
Senior web developers work closely with other teams like content, design, and HR to overlook all website-related operations and client communications.
In some cases, they are also required to train and manage new web developers in the team. The crucial responsibilities of a senior web developer include:
Determining device specifications for new websites and applications concerning the users
Identifying priority projects, setting deadlines, and making detailed reports
Creating wireframes to figure out the configuration
Instructing and managing junior web developers
The average salary of a Senior Web Developer in India is between ₹ 2.4 to 14 LPA.
Also see, Senior Web Developer Jobs.
Lead web developer salaries
From being a senior web developer, you can climb the ladder to become a lead web developer. The title is pretty self-explanatory.
A lead web developer leads projects, delegates tasks, and handles the workflow while managing junior web developers in the company to build, design and overlook the process of application development.
Some crucial skills required to become a lead web developer are:
Knowledge of all frontend and backend programming languages
Understanding of design and visual appeal
Coding proficiency
Leadership & Management skills
Technical problem solving and troubleshooting
Quick decision-making
Effective communication
Time management
The average salary of a Lead Web Developer in India is ₹ 11.9 Lacs and ranges between ₹ 3.8- 32 LPA.
Also see, Lead Web Developer Jobs.
Technical lead salaries
A technical lead is a high-ranking position where you will be responsible for managing people and closely supervising the technical aspect of web development.
Technical leads handle teams of front-end, back-end, and full-stack developers and work to resolve any backend escalations and user queries.
Since it is one of the senior positions in any company, it requires work experience of about 7-8 years to become a technical lead.
Here are some of the roles and responsibilities of a Technical Lead:
Manage and rectify errors in technical aspects of web development
Deliver high-quality and appealing web pages and applications
Lead teams of engineers, developers, and designers to ensure timely project completion
Mediate between upper management and team
Motivate the team to perform well
Maintain weekly task sheets and detailed reports
The average salary of a Technical Lead in India is ₹ 13.5 LPA and the range starts from ₹ 7.2 LPA.
Also see, Technical Lead Jobs.
UX architect salaries
User experience is everything when it comes to developing an application, website, or even a web page. Web developers understand this and are well equipped to resolve all user complaints making them the perfect fit for the role of a UX architect.
A User Experience (UX) architect's job is to design a structure for digital solutions and seamless flow of the website, apps, software, mobile, etc.
They are responsible for making sitemaps, prototypes, and wireframes through analysis, user interviews, and surveys.
A good UX architect puts together the ideas pitched by the team, clients, even users and effectively uses the feedback to find solutions, and make the best possible version of the product.
It is one of the most interesting roles on the career path of a web developer, especially for those working on front-end development as it matches their prior experience.
The role is as creative as analytical and is in close relation to consumer behavior for immersive digital interface experience.
With this in mind, let us look at some of the key responsibilities of a UX architect:
Market usability analysis
The development of an information architecture
User interface design
Enable a smooth and error-free user experience
Devising solutions to resolve user issues
The average salary of a UX Architect in India is between ₹ 9.7-35 LPA.
Also see, UX Architect Jobs.
Technical Architect salaries
One of the most unique higher management positions, technical architects specialize in system logistics.
They are responsible for innovating, designing, and establishing the structure of new technology systems. They also oversee the supervising program execution while coordinating with the product development team.
A good experience in web development along with knowledge of design patterns and technical development can equip you to become a technical architect.
To pursue this role, you need to have some managerial experience, a deep understanding of enterprise systems, and software integration.
Apart from this, in-depth knowledge of hardware and networking systems, expertise in programming languages, and operating systems is a must for a technical architect.
Technical architects lead the technical development of a company, which is why they are expected to have excellent communication, troubleshooting, people management, and leadership skills.
Some of the key responsibilities of a technical architect are:
Identifying the most suitable technical structure
Executing upgrades needed in the current technical system
Developing unique design ideas and structure
Coordinating with software developers to meet the software development needs
Assessing the current system and making changes if necessary
Training and equipping staff on new system procedures
The average salary of a Technical Architect in India is between ₹ 12-35.2 LPA.
Also see, Technical Architect Jobs.
CTO salaries
CTO is short for Chief Technical Officer. Those in this position are responsible for all technical operations in an organization. From conceptualization to the final execution, CTO offers guidance and direction in all technical aspects to ensure smooth completion of projects.
Web developers with a proven record of developing unique and escalation-free web applications can get hired as CTO with work experience of about 11-14 years.
A CTO's roles and responsibilities include:
Conceptualize, strategize and implement the technical operations
Manage team leads and senior engineers, designers, and developers to ensure smooth and timely project completion
Identify challenges and potential threats to avoid errors
Devise and implement unique and efficient strategies for each project
Establish KPIs and budgets
The average salary of a CTO in India is between ₹ 4-104.4 LPA.
Also see, CTO Jobs.
What is the role and job description of a web developer?
One of the most crucial things a web developer must have is some experience in web application planning and delivery experience.
The major responsibilities of this role include understanding the requirements well before development as delivering the result can be quite challenging if the web developer does not get a clear idea of the client's needs.
Apart from this, a web developer must have technical knowledge of programming languages, coding, and network systems.
Additionally, soft skills like empathy, communication skills, team management, and creativity go a long way in making your career as a web developer a successful one.
The job description of a web developer role looks something like this:
Proficient in coding
Experience in creating websites using standard HTML/CSS practices
Research software programs and maintain documentation
Optimize web pages for mobile applications
Collaborate with web designers and programmers to build the website
Clear communication with the team to develop and deploy the web application within the set time frame.
Ability to resolve server hosting and network connectivity issues
Develop and execute contingency plans
Take responsibility for managing and developing the website
May have to manage a team
What is the scope of working as a web developer?
With e-commerce booming, there is a constantly increasing demand for web developers and designers. The role offers growth opportunities to both freshers and experienced web developers with several job openings emerging in the private and public sectors.
According to a report by the Bureau of Labor Statistics ,
Employment of web developers and digital designers is projected to grow 8 percent from 2019 to 2029, much faster than the average for all occupations.
More and more companies are now moving to online offerings apart from their retail presence, which means a potential boom of job openings is expected in this field.
Since web developers have the power and skill to give a brand image to online businesses, business owners today are willing to invest in establishing an impressive web presence, thus making web development a crucial part of the e-commerce ecosystem.
What is the salary of a web developer?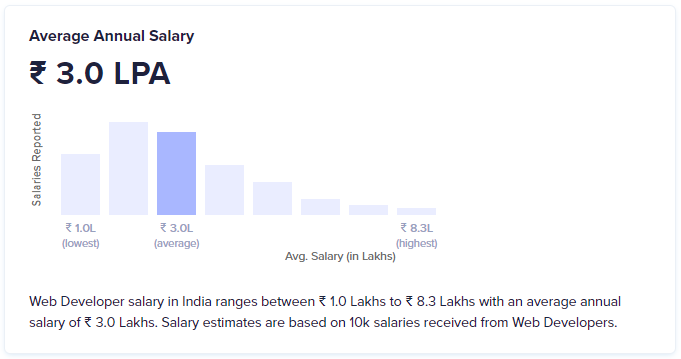 Source: AmbitionBox
According to AmbitionBox , the average salary of a web developer is 3.0 LPA. But the range is anywhere between 1L- 8.3 LPA.
Web developer salaries may vary due to multiple factors like location, skills, company, experience, and so on. Let's take a look at the salary of a web developer based on various factors.
What is the salary of a web developer based on location?
Location plays a major role in the salary structure of a job profile. Even though the national average salary of a web developer is around 3.0 LPA, the pay range varies from city to city.
Factors like cost of living, development of the IT sector in the city, etc drive this difference in salaries, which is why cities like New Delhi, Mumbai, and Bengaluru have higher pay ranges when compared to tier-2 cities like Jaipur and Indore.
Here are the salary insights of web developers in the 4 major metropolitan cities of India:
What is the salary of a web developer based on experience?
The years of experience you have in a field is a crucial deciding factor while finalizing your compensation. A web developer's salary too can vary, depending upon the years of experience.
To help you understand better, we have divided the experience levels into the following bands:
1. Average salary of a web developer for freshers is 1.8 LPA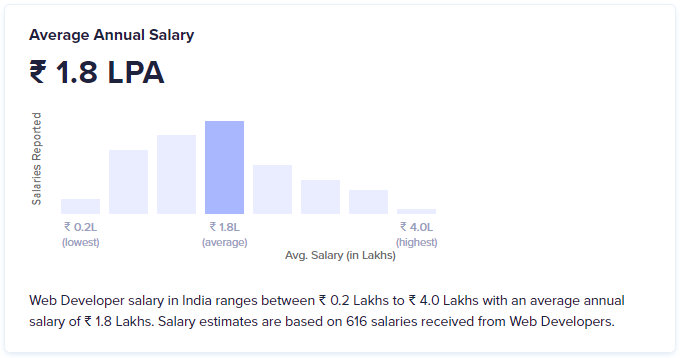 Source: AmbitionBox
2. Average salary of a web developer for entry-level experience (1-3 years) is INR 2.8LPA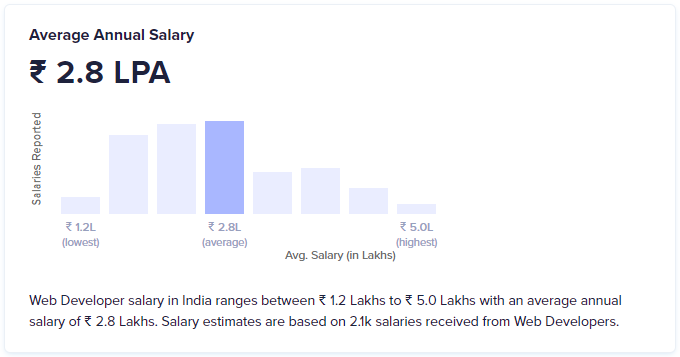 Source: AmbitionBox
3. Average salary of a web developer with mid-level experience (4-8 years) is INR 5.5 LPA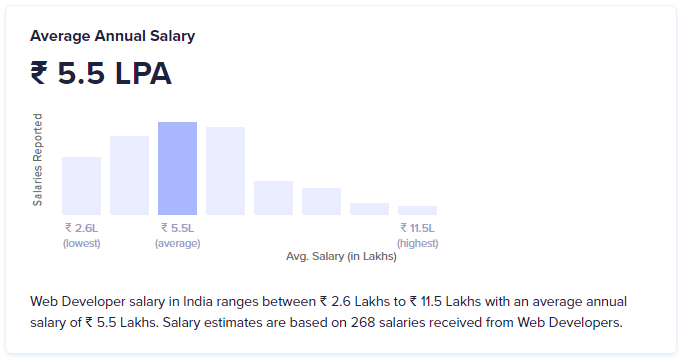 Source: AmbitionBox
4. Average salary of a web developer with senior-level experience (9+ years) is INR 6.6 LPA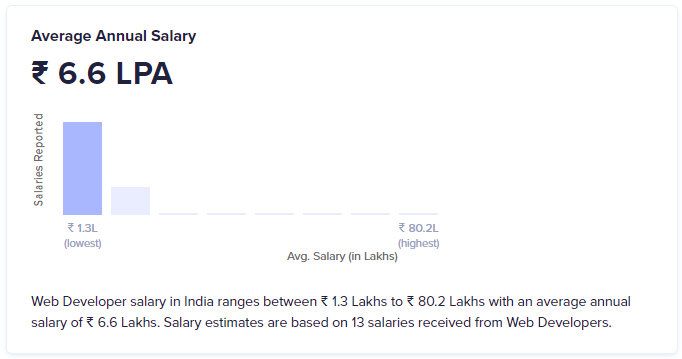 Source: AmbitionBox
What is the salary of a web developer based on the company?
All companies have a unique set of guidelines and policies, based on which the compensation for various job roles is decided.
How much a web developer is paid varies from company to company depending on their revenues, funding, and scale. Though IT- companies are likely to pay web developers better than non-IT companies.
Here is the list of a few popular companies along with the salaries they offer for the position of a web developer: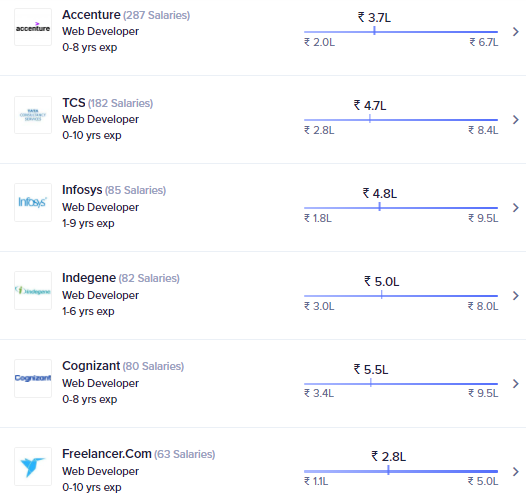 Source: AmbitionBox
Top paying companies
The compensation a company pays its employees depends on several factors like their turnover, quarterly revenues, market situation, etc. While some companies pay handsome compensation, others may offer lesser salaries.
However, most IT companies offer attractive career opportunities for web developer roles, but only a few exceptional ones get hired. Here is a list of some of the top-paying companies for web developers with their average salaries: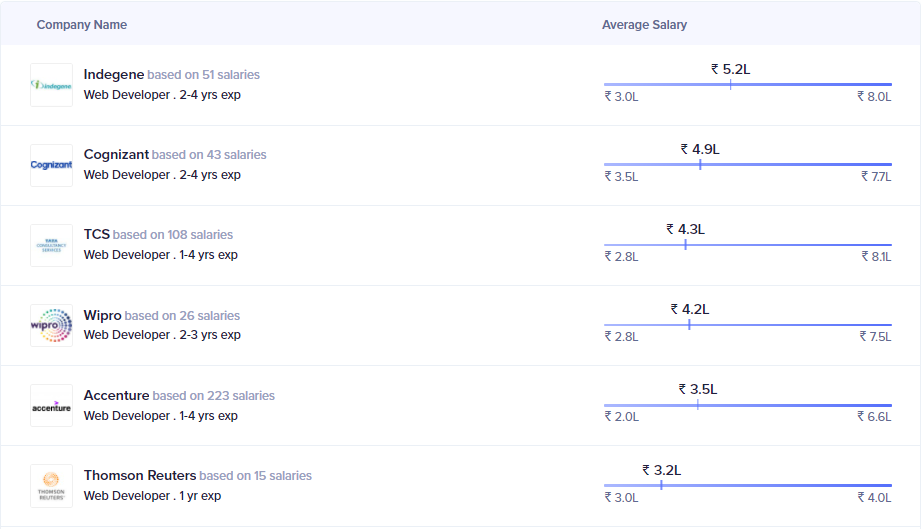 Source: AmbitionBox
Conclusion
Having read so much about web development, we have to conclude by saying that it is an incredibly lucrative career option and it is here to stay!
Web development is crucial to every business today and the prospects here are unlimited. Even though it is an entry-to-mid-level job profile, the prospects it offers are very attractive and there is a lot of room for growth.
Having explored all the aspects of web development, all you have to do now is make your choice and decide which role you want to pursue.
With web developer salary insights, make informed career choices and develop skills and experience to land your dream job.
Note: The compensation mentioned in this article is average salaries based on each category and is subject to change in the future.
All the best!