Modern age businesses are adapting innovative means to market their product & brands.
Competition being fierce, a concept of survival of the fittest has taken over the commercial markets.
While various forms of marketing are evolving constantly, digital marketing has made it to the top of every marketing pitch.
The reasons are clear. Over the past decade, the internet has users across the globe have grown two folds.
This has made communication easier between brands & consumers making it the strongest form of marketing.
However, for every digital marketing enthusiast, the question is, How to become a digital marketer? or how to start a career in digital marketing?
In this blog, we shall answer these fundamental questions of how to become a digital marketer & how to start a career in digital marketing?
What is Digital Marketing?
Digital marketing as the name suggests is simply a form of marketing wherein marketers use digital platforms to reach out to their target audience.
Digital platforms such as social media, email marketing, search engines, websites & other media channels are used to reach out to consumers for positive conversion.
This being much convenient, transparent & cost-effective, digital marketing evolved within a few years into one of the largest marketing arenas for brands.
How to Become a Digital Marketer?
Here are some key tips which you need to consider to start a career in digital marketing.
1. Digital Marketing Certification Course
A lot of online & offline platforms provide digital marketing certification courses.
These courses enable a job seeker to have an edge over other candidates while applying for jobs.
These courses offer various levels of digital marketing skills starting from beginner up to the expertise level.
Here are few websites which offer such courses:
2. Internship
Most young job seekers depend on internships to gain hands-on professional experience.
Similarly to gain practical exposure to the functioning of digital marketing firms, an internship plays a vital role.
Apply for an internship in a reputed firm & take a keen interest in the everyday working of the digital marketing team in general.
This would help you in understanding how to start your career in digital marketing in the right manner.
The learning would definitely be worth it!
3. Read the Right Content
Internet is full of content, however, an important point is what exactly to read?
Well, it's important to choose the right kind of content to read. Budding digital marketers should focus on reading blogs, articles, etc. which give them an insight into the happenings around the digital marketing field.
4. Attend Webinars About Digital Marketing
While the world is shifting to virtual webinars, being a part of the same is a must.
Register yourself for online digital marketing webinars to remain up to date about the happenings in the field of digital marketing.
Also, be aware of the modern-day digital marketing practices which marketers are following around the globe.
This shall not only help you think out of the box but also keep you a step ahead professionally.
How to Find a Digital Marketing Job Using Naukri?
Naukri.com has been the most trusted job posting platform for years.
Naukri.com has not only made job hunting convenient but also created an ecosystem for recruiters to reach out to candidates & vice versa in a much transparent manner.
Taking that into consideration, here are some important tips that will help you find digital marketing jobs on Naukri.com.
Create a profile on Naukri.com.
Write "Digital Marketing" in the "Search Jobs" Section & fill the location as desired.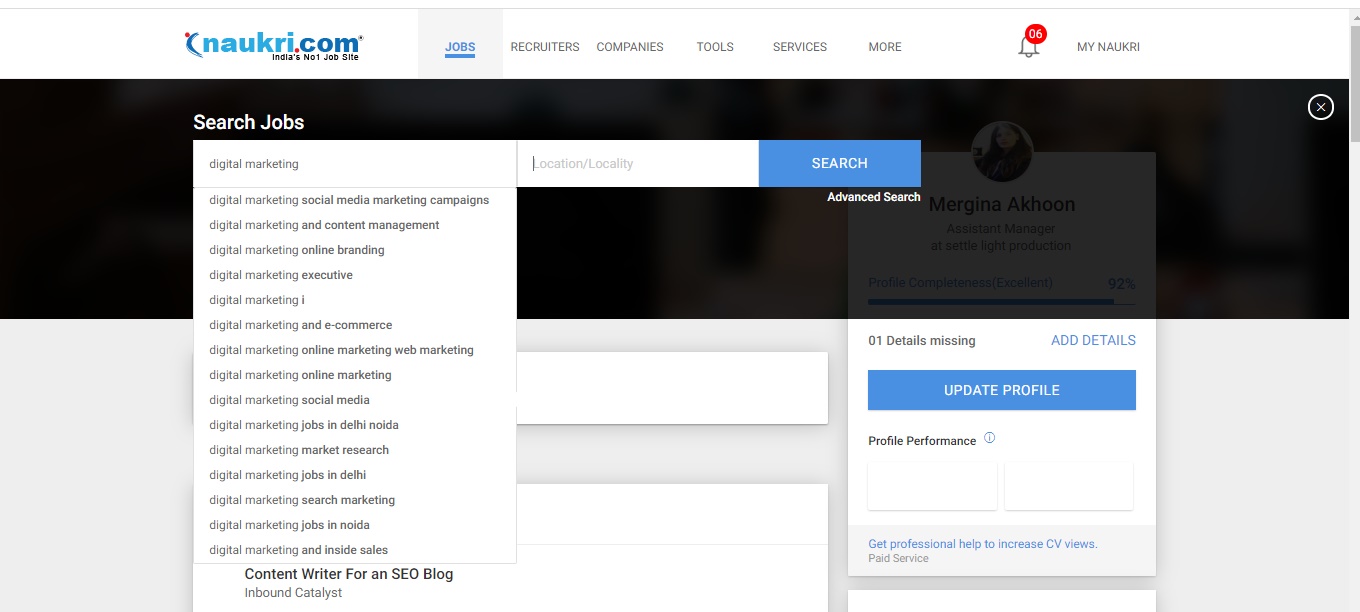 Click on Search.
While on the "Results Page", Set filters as desired on the left side of the page.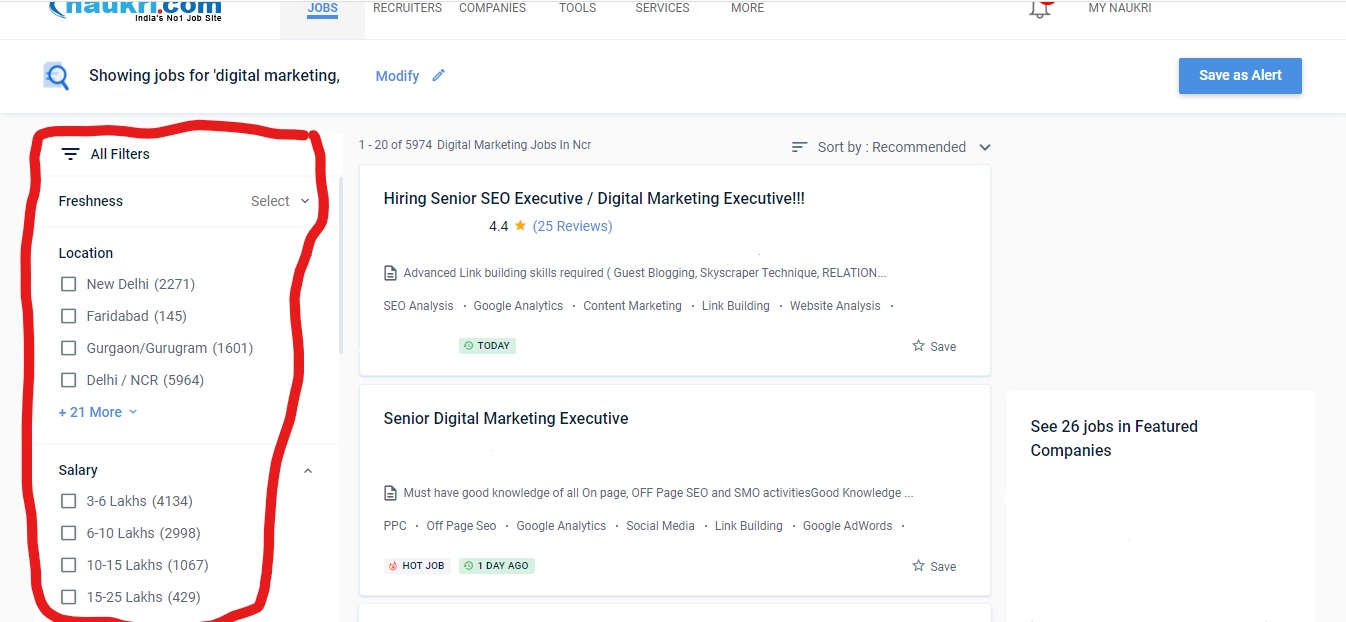 Select the company & apply for digital marketing jobs.
Digital marketing has seen exponential growth. As per a survey by various independent firms, as of 2020, the percentage of Digital Marketing Advertising Industry is growing day by day, now it 33.5% of entire jobs given sector and its value will exceed the INR 255 Billion in India only.
If you intend to become a digital marketer, this is the right time to step in & cement your career in the digital marketing field.
We wish you best of luck in your career.