Recovery is on horizon as the job market sees double digit growth in hiring activity in August '20 compared to July '20. Naukri JobSpeak, a monthly report on hiring activity in India reveals that hiring activity is moving on the path of recovery with 12% growth in August '20 versus last month.

The Naukri JobSpeak Index shifted from 1413 from August to 1263 in July '20. The M-O-M improvement clearly indicates that hiring activities are in accord with the unlock measures that are aimed at reviving the economic activity. However, at a Y-O-Y level, hiring is still down by 35% in August'20.
Referring to the report, Pawan Goyal, Chief Business Officer, Naukri.com said,
"It is encouraging to see the month on month progressive growth in hiring from the past three months as a result of the nation-wide unlocking. While the Pharma/Medical, IT and BPO/ITES sectors continue to spearhead hiring, it is encouraging to see other key sectors like Telecom, Retail and Real Estate signaling strong recovery in August'20.

We are hopeful that the recoveries will become more robust in the coming months."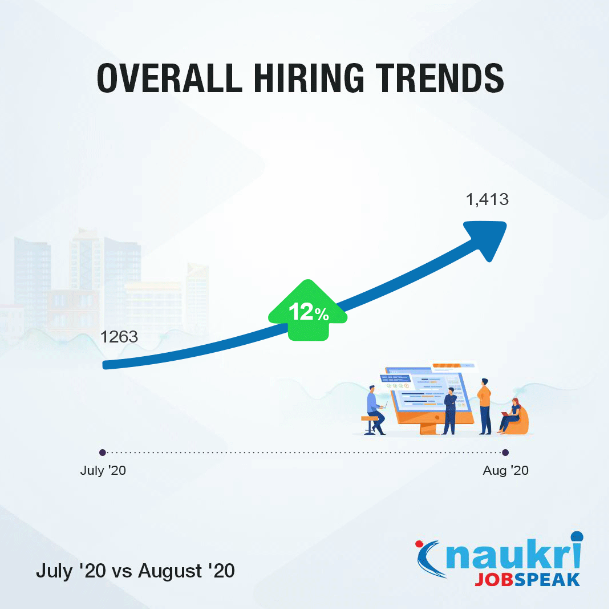 Here are the hiring trends that will help job seekers to understand how the job market is shaping up now across all the key Functional Areas, Industries, Cities, and Experience Levels.
Hiring trend across industries
Hiring in key industries such as Recruitment/Employment (19%), Auto (17%), BPO/ITES (16%) and IT-Software (14%) continues to improve, while FMCG (1%) and Hotels/Restaurant/Travel (2%) sectors were flat versus last month. Further, the Oil and Gas/Power sector remains severely impacted and declines by 10% even at a sequential level.
Adversely affected Industries such as Retail and Real Estate are seeing a growth in hiring in August '20 as compared to July '20. Legal, Pharma and IT-Hardware are some of the most impacted industries sequentially.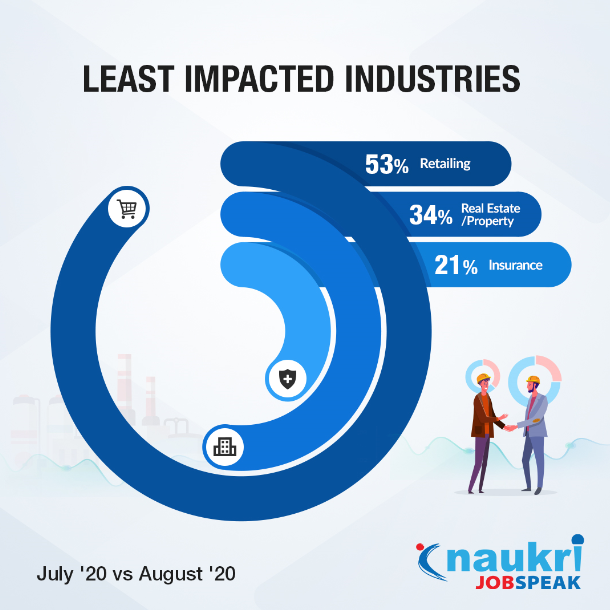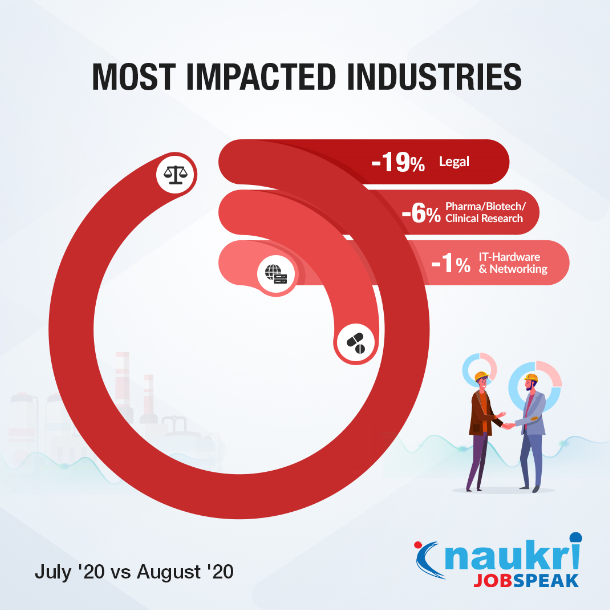 Hiring trend across cities
From a city perspective, there is sequential growth in hiring across all metro cities led by Kolkata (27%) and Bengaluru (22%). Tier 2 cities such as Chandigarh (8%) and Kochi (7%) continue to see growth in recruitment activities in August'20. However, Coimbatore saw a decline of 11% in sequential hiring.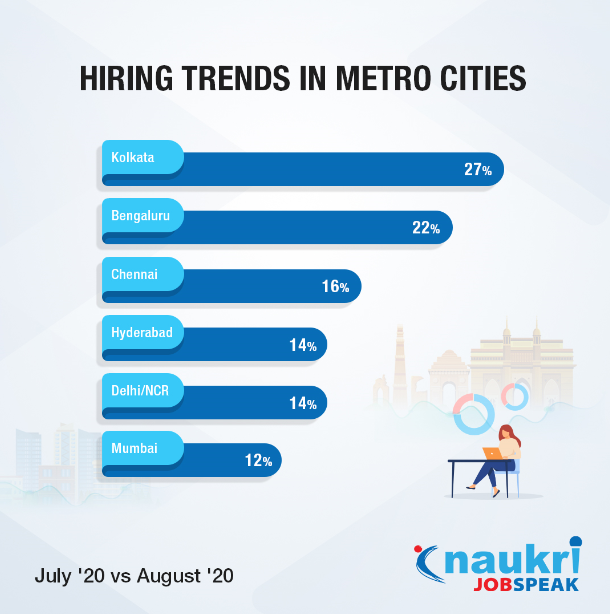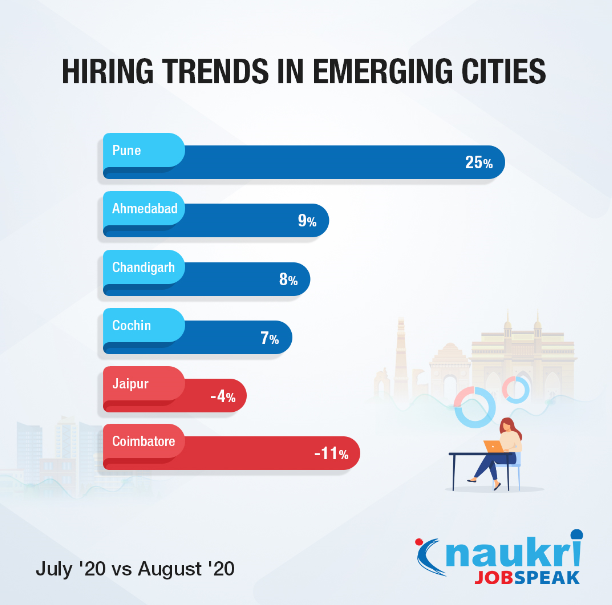 Hiring trend across experience level
Hiring across experience levels also grew by an average of 10% in August'20 as compared to July'20. This was led by a 14% increase in hiring for entry-level executives (0-3 yrs. exp.) and 13% growth in mid-management roles. Even the leadership hiring (>16 yrs. exp.) grew by 11% sequentially.
Hiring trend across functional areas
The demand for professionals in Marketing/Advertising (20%), ITES/BPO (19%), HR/ Administration (18%) and Pharma/Healthcare (15%) saw an uptick in M-O-M hiring. It is also encouraging to see hiring pick-up for roles in the Teaching/Education sector (14%) in August'20, which was significantly impacted in earlier months.
Some sectors still show flat demand for professionals such as Ticketing/Travel/Airlines (1%), IT-Hardware/Telecom (1%), and Hotels/Restaurants (1%).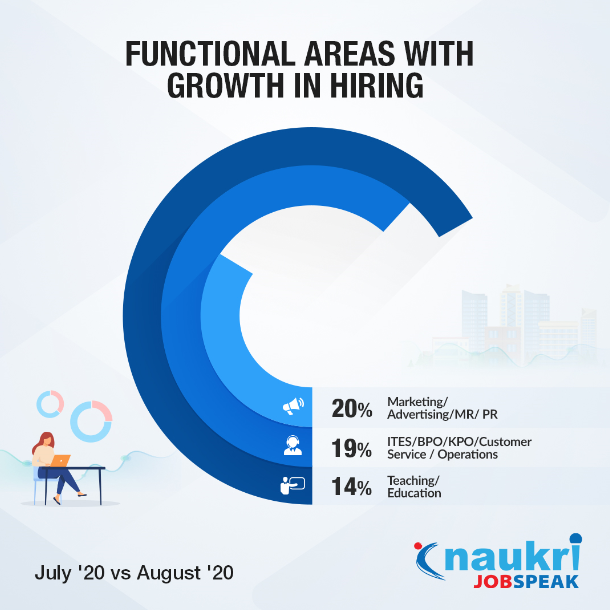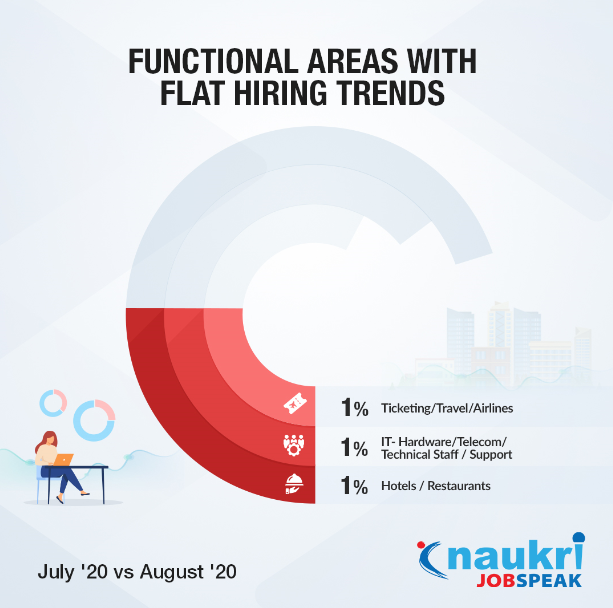 Y-O-Y Hiring Deepdive- August '20 Vs August '19
When we look at Y-O-Y developments, the overall hiring activity is still down by 35% in August '20 when compared to August '19. Hotel/Restaurant/Airlines/Travel (-80%) industry continues to be the most impacted sector, while Oil & Gas/Power (-59%), Retail (-54%) and Accounting/Taxation/Finance (-46%) sectors witnessed steep decline in hiring activity.
Talking about other industries, the Medical/Healthcare (-1%), Telecom (-9%), IT-Hardware (-25%), and BPO/ITES (-26%) sectors remained less impacted in hiring activity Y-O-Y.
Being at the forefront in battling the pandemic, the Pharma/Biotech (+15%) sector witnessed a positive demand for professionals. However, the demand for roles in the Banking/Insurance segment remains stable.
Given the intensity of the pandemic in metros, the hiring activity in metros declined more than the national average (38% vs 35%), where Mumbai (-44%), Chennai (-41%) and Delhi NCR (-40%) led the decline in hiring in metros. Emerging cities such as Jaipur (-23%), Vadodara (-23%) and Chandigarh (-15%) were least impacted.
Recruitment across the board declined at varied experience levels with the entry-level experience bands (0 to 3 yrs experience) witnessing the sharpest decline of 38%.
Stay informed with the latest hiring trends with the Naukri JobSpeak Report every month.
Keep yourself ahead of the competition with latest updates on companies hiring actively on Naukri.com. Check out our live company hiring tracker today.
All the best.