Cricket fever is everywhere and we at Naukri.com are no exception! With the men in blue sailing into the World Cup finals after 12 long years, our excitement knows no bounds.
We combined this excitement with what we do best and created a tool to tickle the curiosity of every hardcore cricket fan. If you are as crazy about cricket as we are, you are going to love this!
With Naukri's expertise and insights on professional journeys, we bring to you the Naukri Career Score, a tool that uses the 4 main parameters from our work life and relates them with Cricket stats to bring a whole new outlook to careers of our favorite cricketers.
What's the need for yet another stat?
Cricket stats like total runs or wickets, averages, and strike rates do not factor in a lot of context to gauge how good a player's career has been.
It's obvious that, Gautam Gambhir's 97 in the 2011 World Cup final is more valuable than, Shreyas Iyer's 128 vs. Netherlands. Similarly, in bowling, the wicket of an in-form top-order batter is way more valuable than the wicket of a tail ender.
And that's exactly what the Naukri Career Score does. We have taken all our expertise in understanding & growing careers and applied it to get an innovative and holistic way of looking at cricketers' careers!
As it stands…
Here are the lists of the top 15 Batters and Bowlers in 2023 as per Naukri Career Score.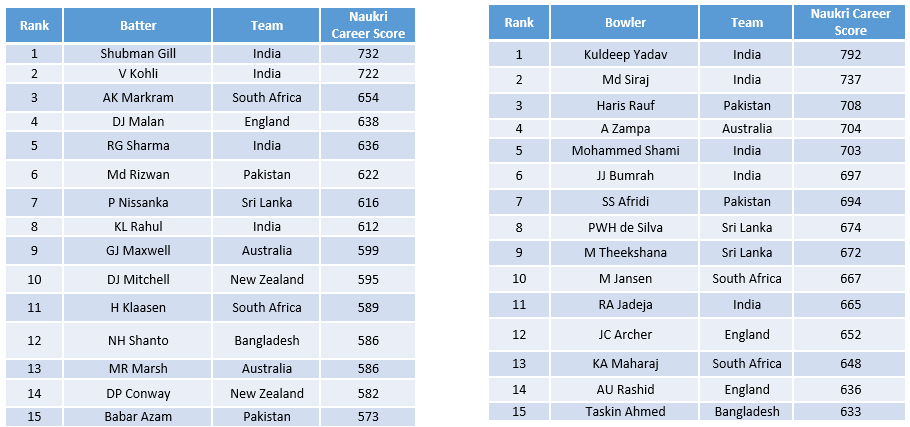 Find any surprises up there? Surely there are a few!
The current number 2 ranked ICC batter, Babar Azam doesn't even make the Top 10 of Naukri Career Score for 2023. On the other hand, India's rising star, Shubman Gill tops the batters list ahead of established stars like Kohli and Rohit Sharma.
But why is Babar rated relatively lower in the Naukri Career Score while traditional stats paint a different picture? And how is Shubman Gill already in the top 10 all-time list despite having such a short career?
If you are as crazy about cricket as we are, you are going to love this!
How is the Naukri Career Score calculated?
The Naukri Career Score is based on four parameters:
Situational Performance – This essentially tells us how well a batter or bowler performed in a match WITH the context of the opposition strength and match situation factored in.
Contribution to Victories – Because individual glory means nothing if it isn't helping your team win.
Longevity – Because getting selected to play at the highest level is in itself a testament to a cricketer's ability
Consistency- How consistent a player's performances have been through the course of his career
Interestingly, these are the same parameters that are used to evaluate white-collar professional careers too!
The Naukri Career Score lets us analyze cricketers' careers from a completely new lens. The results are interesting, insightful, and sometimes counter-intuitive.
Answering THE question
Now let's consider Babar Azam. He is the 2nd best batter in the ICC rankings at the moment. But in the Naukri Career Score rankings for 2023, he is way down at 15th position.
This is because when we consider the context of each performance, it's his Win Contribution that is dragging his overall career performance down.
Moreover, he is even surpassed by his colleagues Fakhar Zaman and Md Rizwan in Win Contribution. So maybe, Babar Azam only performs when Pakistan is in a comfortable position.
So, if you ever wondered about a dream combo of the Indian and Australian teams, wanted to figure out the list of top 15 batters and bowlers, how a player's performances have evolved throughout his career, how they perform against certain opponents, in various venues, the Naukri Career Score gives us a lot more insights!
Dinesh Kartik, Indian wicket-keeper-batsman and commentator approves of this approach. While discussing the performance of Kuldeep Yadav, he mentioned,
"I have quite enjoyed this Naukri.com Career Score because when you look at the stats in itself, it doesn't paint the right picture, but when you sub-divide it into certain categories as they have done with longevity and consistency it paints a picture of how good he has been over a period of time!"
Methodology of the Naukri Career Score
We explored the Naukri Career Score but how did we derive to these results and what are the parameters that define these numbers? Here's diving deep into the methodology of the tool
Naukri Situational Stats
The Naukri Career score analyzes ball-by-ball data from a total of 2422 matches over the past two decades and evaluates the cricketers on their Longevity, Situational Performance, Win Contribution, and Consistency.
Since different projects have different levels of importance, hard work, and career benefits, the simple number of projects, length of projects and awards do not show the full picture of a person's career.
Similarly, runs scored against a tough opponent bowler, or wickets taken in a pressure situation have a higher impact on the result of a match.
How does pressure vary in a Match?
Recall the India vs South Africa clash in Cape Town on 23 January 2023. After South Africa scored a total of 287, India fell short by just 5 runs. The Indian innings is a great example to illustrate how the pressure shifts every ball.
The graph reveals that the pressure rose gradually till the 43rd over as the wickets tumbled and the overs left reduced, along with the growth in the required run rate.
The partnership of Deepak Chahar and Jasprit Bumrah slowly turned things around for India as the pressure fell significantly. But Deepak Chahar's exit in the 48th over resulted in back-to-back wickets, and pressure surged again.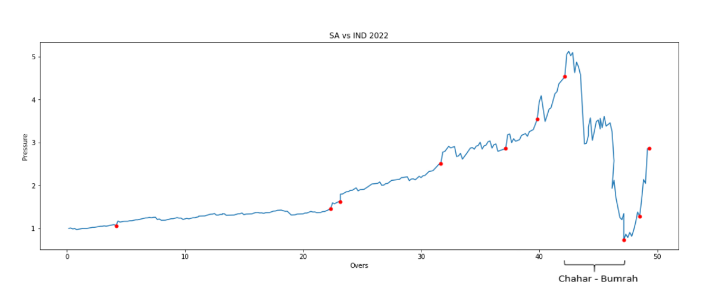 Situational Stats introduced in Naukri Career Score
Based on the match context, Naukri Career Score adjusts the runs scored and wickets taken to get situational stats.
The key situational stats:
· Situational Runs/Wickets
· Situational Average
· Situational Strike Rate
· Situational Economy and many more
What are the 4 Parameters of the Naukri Career Score?
The Naukri Career Score takes into account these 4 unique and impactful parameters:
1.  Situational Performance
2. Longevity
3. Win Contribution
4.  Consistency
Situational Performance
A person's performance in critical situations is very important for a project or a match. The Situational Performance parameter looks at the professional/cricketer's performance in different situations.
So, as a professional's performance near project deadline or in a challenging project would be more important, a cricketer's performance during critical match moments or against a tough opposition is given higher importance while computing her situational performance.
Among batters, it is probably not a surprise to see Virat Kohli leading the pack in terms of Situational Performance.
His ability to chase down totals and perform under pressure situations is the key here. Among currently active players, Rohit Sharma and Babar Azam are the next names in the illustrious list.
A deeper comparison between Virat and Babar's Situational Stats clearly explains why Virat is miles ahead of the rest.

How important has Ravindra Jadeja been to India over the last decade or so?
Even without his world-class fielding skills and ability to play crucial knocks at number 7, he can change the game with his bowling abilities as is evident from his Situational Performance in Naukri Career Score.
He sits in third position among active bowlers and is the best among Indians. Rashid Khan just pips him in Performance which can be attributed partially to his superior economy and strike rates.

Longevity
Longevity or experience measures how long a person has been active and maintained their relevance over time in her professional life or on the field.
The Naukri Career Score for Batters considers the number of innings, matches, and balls faced to decide the Longevity score of a batter.
Virat Kohli tops the all-time batters list (2002-23) for Longevity among currently active players, followed by the present Indian skipper Rohit Sharma. This depicts just how long they have been playing at the top level.

Among Indians, RA Jadeja sits at the top of the list, just behind Shakib Al Hasan.

Win Contribution
In any field, the team always comes first. Whether it's working diligently on a task, but unable to deliver it due to the performance of other team members or be it scoring a magnificent century but ending up on the losing side, the true value of her performance lies in the team's success.
The Win Contribution parameter assesses exactly this - how much a cricketer or a professional has contributed to the success and growth of her team or the organization.
The proportion of situational runs contributed and the situational strike rate relative to the rest of the team in winning causes are the two key components for computing the Win Contribution of a batter in the Naukri Career Score.
One of India's rising stars, Shubman Gill is enjoying a dream year. Massive scores at a brisk pace have led him to topple even the likes of Babar Azam and Kohli in the all-time list of Win Contributors among active batters. However, it will be interesting to see if Gill can hold the fort at the top over the years to come.

The Naukri Career Score for Bowlers considers attributes like situational wickets taken and the situational economy relative to the other bowlers in the team during winning causes.
South Africa's Keshav Maharaj is the best active bowler as per Win Contribution is concerned. India's Jasprit Bumrah is third o inn the list, just behind Rashid Khan. Even the situational stats suggest a neck-and-neck battle between Bumrah and Rashid Khan.

Consistency
Consistency measures how consistent a cricketer or a professional has been in delivering high-quality performances and results in their respective field over a period.
The frequency and variation of their performance is an integral part of this metric. A professional who maintains high standards throughout her work life has an edge over another who only performs well occasionally.
The Naukri Career Score for Batters considers the average and the variation in attributes like runs and strike rate over matches to compute the Consistency score of a batter.
Shubman Gill stands out as the most consistent among the currently active batters, followed by Kohli.

The Naukri Career Score for Bowlers considers average and the variation in attributes like wickets and economy over matches to compute the Consistency score of a bowler.
Among bowlers, Rashid Khan stands out as the most consistent bowler among active players, whereas Jasprit Bumrah and Axar Patel feature as the most consistent Indian bowlers.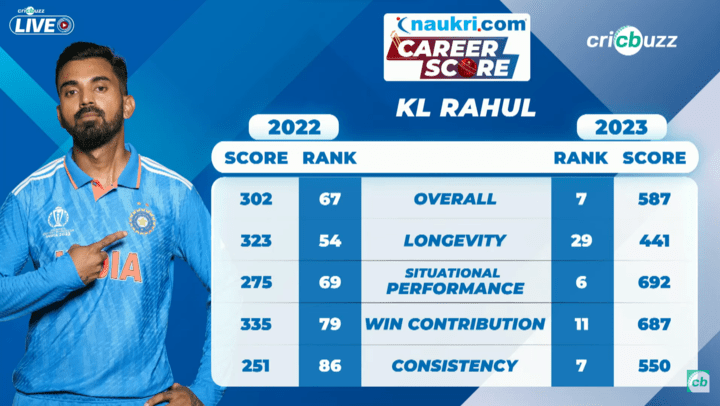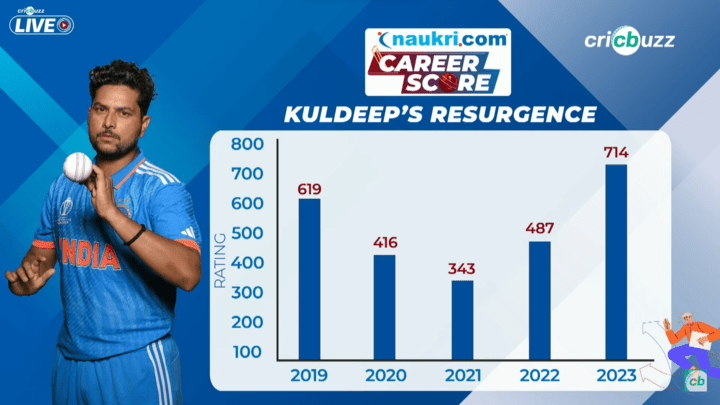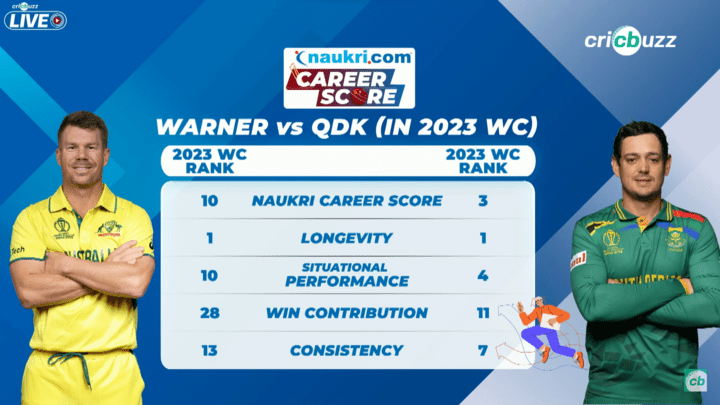 Catch Naukri Cricket Score in action!
For insights, things to watch out for, and more interesting takes by Naukri Career Score, check out the Naukri Twitter handle.
Also, catch Cricbuzz Live pre-match shows with Zaheer Khan, Michael Vaughan, Dinesh Kartik, etc.
Mohammed Shami, a class act, lets his performance do the talking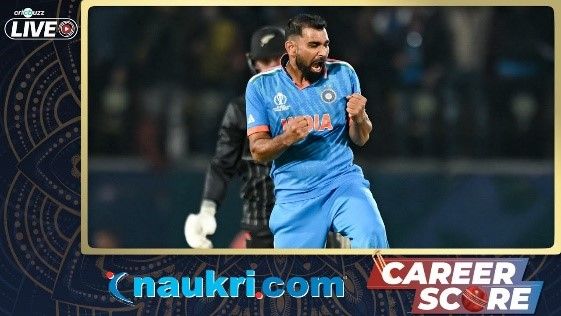 Virat Kohli has redefined the way an Indian cricketer is perceived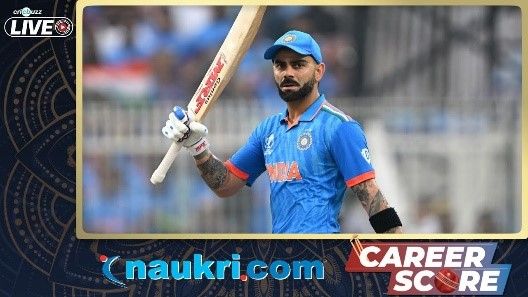 Shubman Gill has an air of confidence and a big future ahead for India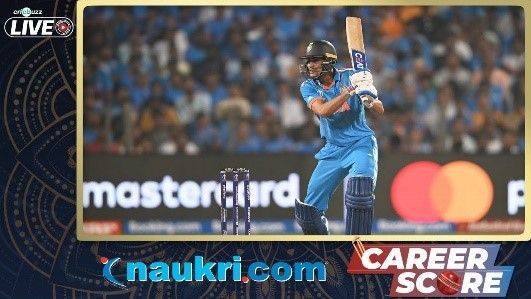 Siraj stepped up when Bumrah wasn't around, fantastic rise!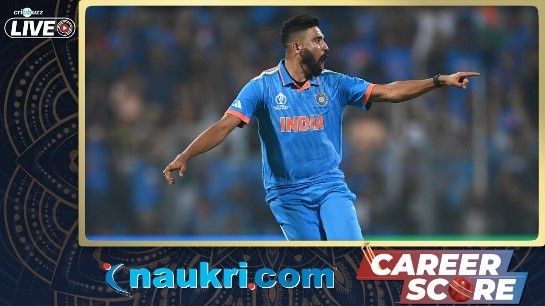 Rohit Sharma has walked the talk, enabling India to play freely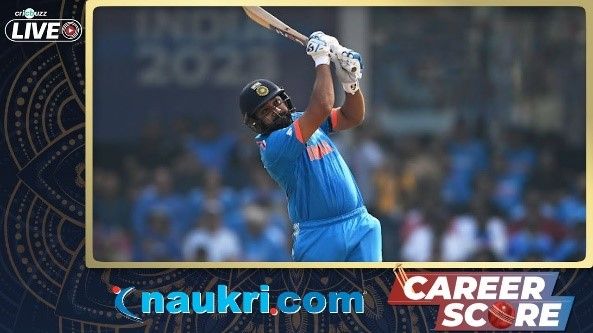 If you have made it so far and are interested in applying your skills in interesting problems like the above, explore data science careers at Info Edge here.