Want to know what is the salary range of a software engineer/developer in India?
Software engineering is one of the most popular job roles among the fresh graduates. Young people coming out of universities plan to land a well paying job as a Software Engineer/Developer.
One of the reasons why people want to pursue a profession in this field is because of the high salary it pays. The job of software engineer/developer is a high end, white collar job in the country.
Since most of our life revolves around gadgets and products that require a software engineer to run it, suffice to say that software engineers are highly important in today's world and also why they're paid so well.
So, do you think it's worth putting in the time and effort to become a software engineer/developer?
Let's take a look at why the software development industry is a good career option.
Why does the Software Development Industry have high salaries?
Software development industry has been booming since the world started adopting software solutions for business problems.
As of today, most of the businesses are run on software designed exclusively for resolving unique challenges.
Such software not only requires development but also requires daily maintenance which opens multiple job roles in software development.
However, since creating a software product is the most important and challenging task, the salaries for software developers/engineers are fairly high.
As businesses rely heavily on software solutions, it's fair that the people developing these solutions are paid well for their efforts.
Who is a software engineer/developer?
Wikipedia defines software engineer/developer as someone who applies the principles of software engineering into development, design, testing and evaluation of computer software.
In other words, software engineers/developers use programming languages and engineering principles to develop software products, games and run network systems. These things require knowing programming languages, understanding engineering and a knack for logic.
What qualifications does a software engineer need?
The basic or minimum requirement you need to be a software engineer/developer is:
A bachelor's degree in computer science or computer programming.
Knowledge of popular programming languages such as JAVA, Python, C++, etc.
What is the career path of a software engineer?
Software engineer/developer is the entry level role in the software industry. There's a great career path ahead of a software engineer, if he/she has the mind to innovate and a knack to solve problems with software solutions.
A typical career path of a software engineer/developer looks like this: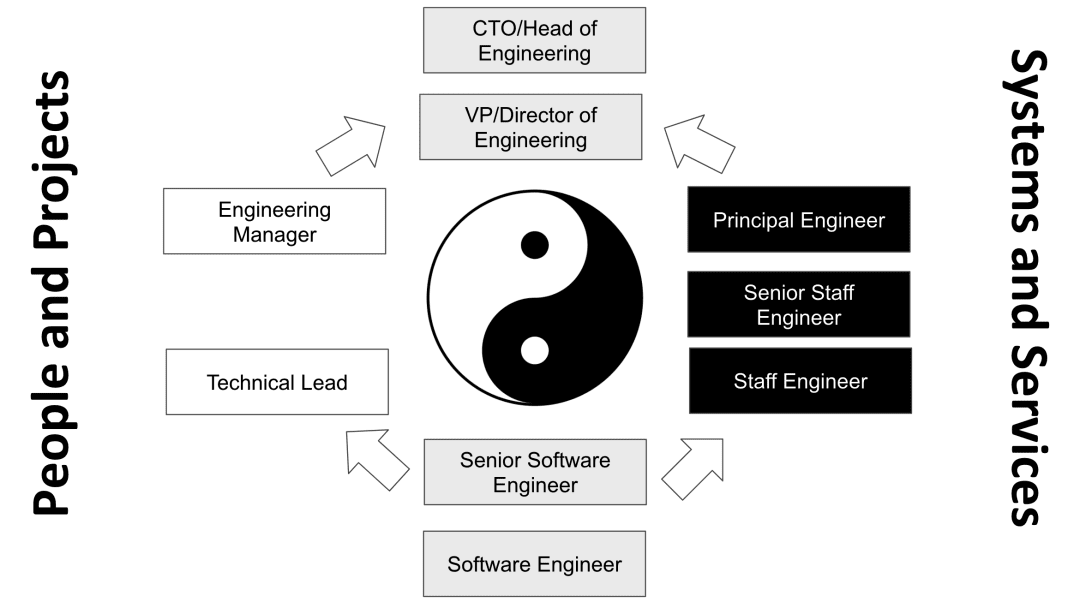 As shown in the chart above, a software engineer can take two paths to the top of the hierarchy:
People and projects
This path involves stepping up from the role of a traditional software engineer to senior software engineer and then moving towards managing people.
Technical Lead Salaries
This path involves stepping up from senior software engineer to a technical lead that involves people management and delegation.
A technical lead typically handles a team of software engineers, delegating tasks and organizing their workflow. Generally, the experience required to be a Technical Lead varies depending upon company policies. However, anywhere between 4-6 years of experience can be considered for the role.
Here are some of the roles and responsibilities of a Technical Lead:
Manage an entire project
Project analysis and rectification of errors
Developing the design structure post understanding project requirements
Mediator between team and management
Ensuring the team is performing all tasks and doing it well
Reporting weekly tasks and making detailed reports
The average salary of a Technical Lead in India is between 8.4 to 13.4 LPA.
Also see, Technical Lead Jobs
Engineering Manager Salaries
From a technical lead, one can then climb up to the role of an engineering manager. In this role, the person is more involved with people than systems.
An engineering manager is typically responsible for working with different departments, training new employees, budgeting projects and resolving technical discrepancies.
To become an Engineering Manager, a minimum of 8 years of experience is needed. However, it may be different as per specific company policies.
Here are some responsibilities of an Engineering Manager:
Overseeing multiple workforces
Managing and proposing project budgets
Researching and developing products
Instructing engineering teams on projects
Determining training and talent development requirement
Planning & executing strategies for efficient project completions
The average salary of an Engineering Manager in India is between 16.8 to 23 LPA.
Also see, Engineering Manager Jobs
CTO
Engineering managers can eventually step up to be CTOs in the future.
CTOs are the Chief Technical Officers who oversee the entire technical operation of the organization.
An ideal CTO should have atleast 13+ years of experience in technical management or as a senior software developer. But again, it may vary depending upon the company policies.
Their roles and responsibilities are:
Developing and strategizing the technical aspects of the company
Research new technologies and implement them into the company for better profits
Supervise the infrastructure of systems for better efficiency
Keeping track of KPIs and IT budgets
Making necessary improvements as per stakeholders' feedback
The average salary of a CTO in India is between 32 to 38 LPA.
Also see, CTO jobs
Systems and services
The other career path a software engineer can take is the path of systems and services, where the person is more involved with technology than management of people.
Stepping up again from software engineer to senior software engineer, one can fill in the shoes of a staff engineer.
Staff Engineer Salaries
Staff engineers are generally individual contributors who build, design and test products and systems.
Anyone who aspires to become a Staff Engineer requires a minimum of 4-5 years of experience for the role.
Here are some of the responsibilities Staff Engineers have:
Identifying areas that need optimization
Assessing efficiency of equipments, technologies and instruments
Participating in prototype development with engineering teams
Ensuring efficient designing, planning and development
Resolving structural design issues and enforcing quality control
The average salary of a Staff Engineer in India is between 20 to 24 LPA.
Also see, Staff Engineer jobs.
Similar to staff engineers, senior staff engineers do the same with added responsibilities. A role above the staff engineers is the principal engineer.
Principal Engineer Salaries
Principal engineer, also known as the Architect, is an engineer that oversees the entire design and build of a product, system or service. They generally are the visionaries who design products from scratch.
A Principal Engineer is generally someone who has at least an experience of 8+ years before they can be hired as a Principal Engineer.
Here are some of their responsibilities:
Maintenance of existing software
Overseeing technicalities of projects
Debugging, designing and coding software
Finding and recommending newer technologies that can boost productivity
Brainstorming ideas, discussing projects and resolving issues at the technical forefront
The average salary of a Principal Engineer in India is between 17 to 22 LPA.
Also see, Principal Engineer Jobs.
Principal engineers can later step up and become the CTO of a company.
What is the role and job description of a software engineer?
Software engineers/developers are in the trenches getting the work done for every product and company. They're responsible for developing, designing and building products and deploying codes to make everything work.
Responsibilities of a typical software engineer/developer looks something like:
Design, develop and analyse test automation suites.
Offer maintenance and support for existing platforms and systems.
Develop a processing platform with the help of various management technologies.
Testing software development in an agile environment.
Collaborate across departments with project managers, product managers, data scientists etc. to come up with solutions.
Work in a collaborative environment with other engineers to elevate technology.
What is the scope of working as a software engineer/developer?
The number of software engineers/developers is predicted to reach a number of 28.7 million worldwide by 2024 according to Statista. This will be an increase of 4.8 million from the year of 2019.
The reason for this prediction is the demand for software engineers in the world. In the year of 2019 itself over an estimated 1.92 billion people purchased goods and services online. This shows that the world of online business is only going to grow in the future years.
The more online businesses grow, the more the scope for software engineers/developers will be as software engineers are needed to design, develop and maintain online businesses.
Not only that, product companies, gaming businesses, etc. are growing exponentially, which opens multiple doors for a future software engineer.
What is the salary of a software engineer/developer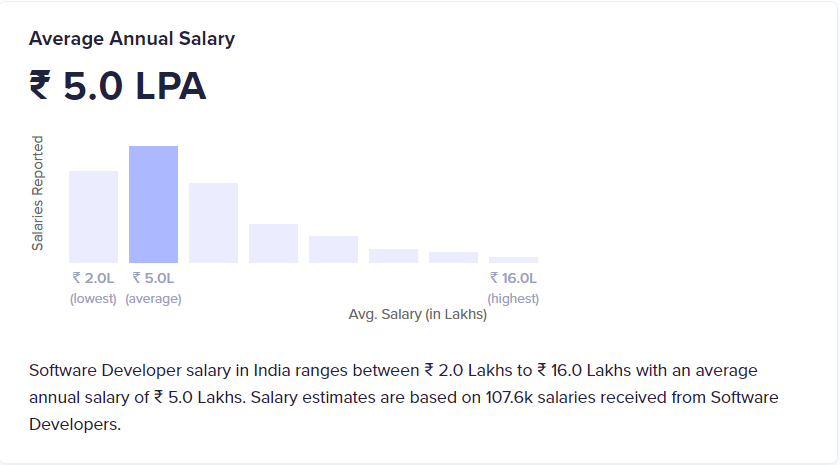 Source:AmbitionBox
According to AmbitionBox, the average salary of a software engineer is 5.8 LPA. But the range is anywhere between 3L-18L per annum.
There are multiple factors that affect the salary of a software engineer. It can vary depending upon the location, skills, company and so on.
So, let's take a look at the salary of a software engineer based on these factors.
What is the salary of a software engineer based on location?
The salary of a software engineer/developer may vary depending on the location. While the national average salary of a software developer is around 5.1 LPA. The average pay is different depending upon the different cities within the country.
Some cities may offer more than the national average, others may offer the same or even less.
Here are the salaries of a software engineer in the four major metropolitan cities of India:
The difference in average salaries in different cities generally rely on factors such as living cost and the establishment of the IT sector in that city.
So, if the cost of living is high in a city (for example Bangalore), then the salary of a software developer is likely to be higher than the rest of the country.
Also, the salary in a city which has an established IT sector is more likely to be much more than a city where IT is not yet established.
What is the salary of a software engineer/developer based on experience?
The salary of a software engineer can vary depending upon the years of experience one has. For the sake of simplicity, let's divide the experience levels in the following categories:
1. Average salary of a software engineer for entry level experience (1-3 years) is INR 4.2 LPA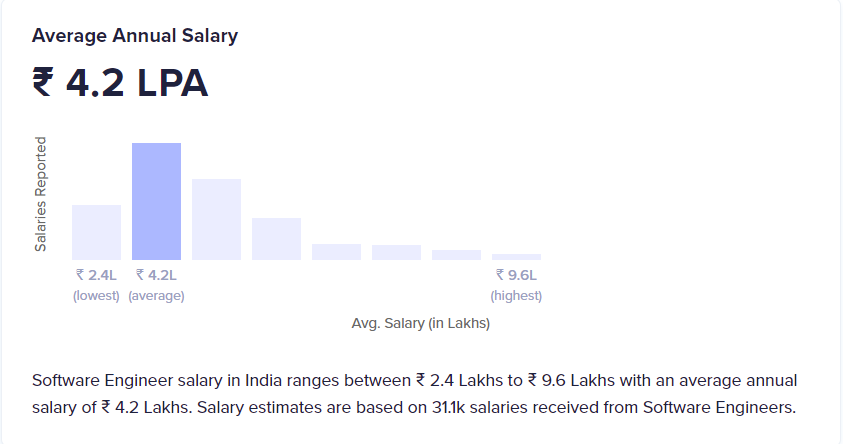 Source:AmbitionBox
2. Average salary of a software engineer/developer with mid level experience (4-8 years) is INR 7.3 LPA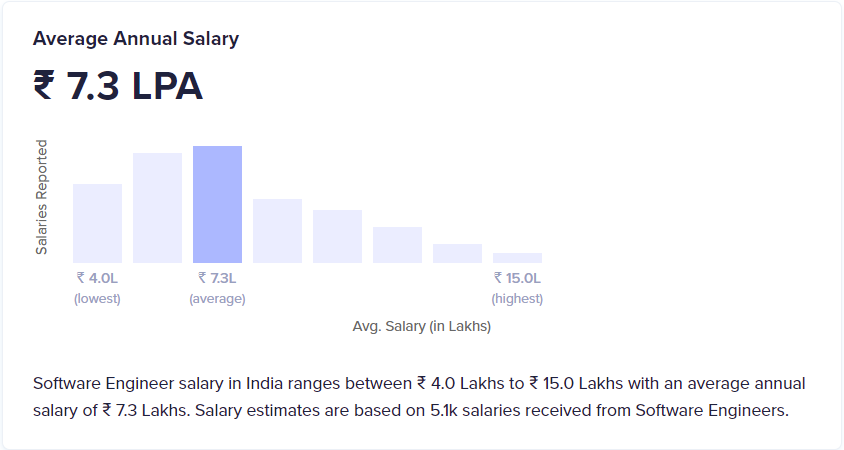 Source:AmbitionBox
3. Average salary of a software engineer with senior level experience (9+ years) is INR 15 LPA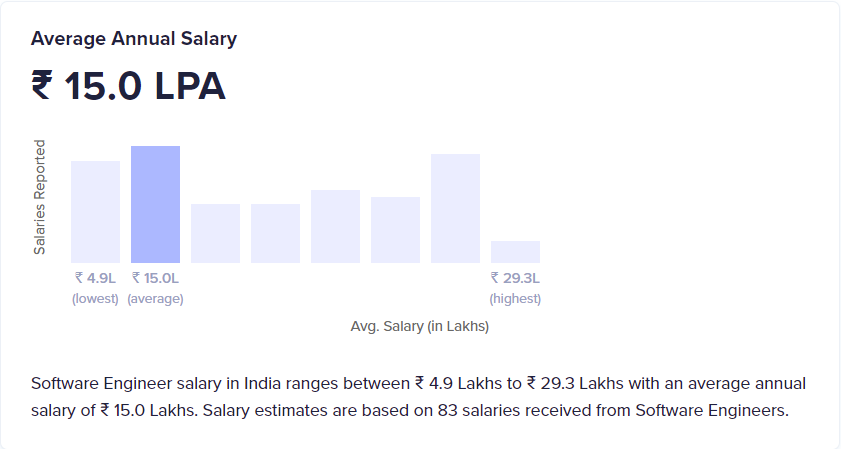 Source:AmbitionBox
What is the salary of a software engineer/developer based on the company?
While all companies have their own policies and guidelines to decide how much they would pay a software developer, there are certain numbers that are associated with certain companies in India.
There are certain companies which have the reputation of paying more than others to software developers and then there are companies who have exactly the opposite reputation.
For example, Infosys on an average pays a lot more to their software developers than Capgemini.
Following are some of the popular companies along with the salaries they offer for the position of software engineer/developer: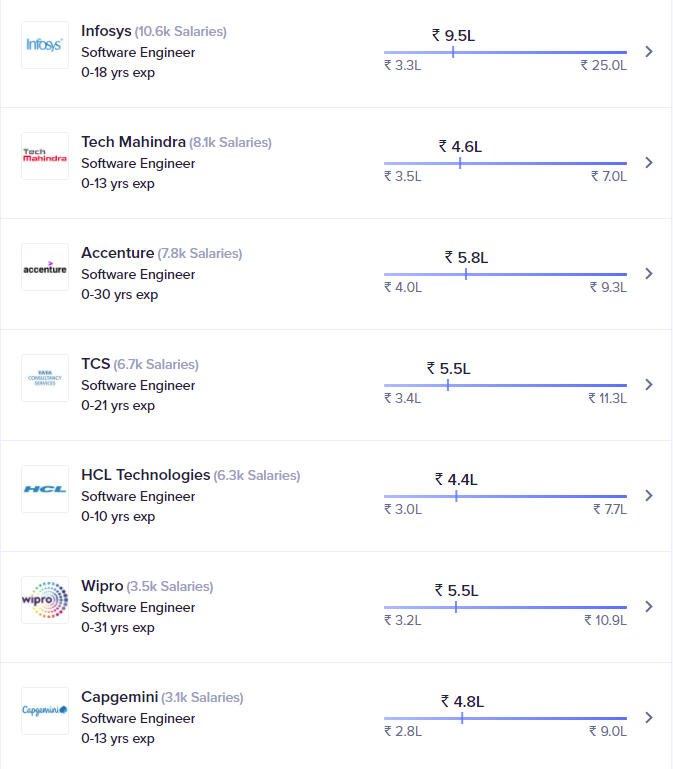 Source:AmbitionBox
Top paying companies for software engineers
While some companies pay more or less than others, there are always companies that are considered the top pay masters in their respective field.
There are certain companies that not only pay exceptionally well but also have a great reputation attached to their names. Working for such companies is always lucrative for any software developer or engineer.
But let's not forget that these top paying companies are very hard to get into and only hire the best talent in the country. So, if you want to earn the best in the industry, you have to be the best first, in order to impress these employers.
Here are some of the top paying companies for the position of a software engineer/developer along with average salaries:
Source:AmbitionBox
Conclusion
In conclusion, software engineer/developer is an in-demand role that offers a great compensation package. Salary of a software engineer will depend on the years of experience, your location, and the skills you have acquired.
This piece mentions each factor in detail and also shares the average salaries for each category. These salaries are average and may change in the future.