If you are looking for a job change, be prepared to face serious questions during interviews, my friend. Be sure about the fact that the question, "Why did you leave your last job?" shall top the list of important questions that the HR usually asks.
Indeed a guarantee from my end isn't the writing on the wall, but usually, even if we check job interview questions and answers sample questions on popular websites such as ambition box ,where professionals review the firms & share their interview experiences, this question holds a great deal of value.
While some of the people aren't too clear conceptually about how to answer the question in the first place, most of the people know exactly how to handle such a situation.
Nonetheless for both, here are a few interview sample answers to answer "Why did you leave your last job?"
Why did you leave your last job?
Sample answer #1
Indeed I have spent a lot of time in my previous firm, however, I feel that now at this stage of my career, all that it really comes down to is "growth". Unfortunately that is something which i could not lean upon in my previous firm.

I am a person who plans for the future & it was evident to me that my growth in my previous firm had started to be limited.
Why this answer shall work?
An universal answer to "Why did you leave your last job?" cannot be coined, however, professionals expects growth in their careers & for most that's the deciding factor.
However, if that career growth comes to a halt then in maximum cases, a job change becomes literally inevitable to make sure their career aspirations aren't flawed.
HR also knows about this aspect of professional career building, hence this specific answer has a stronger impact.
Also read: 60 Interview Questions Answered
Sample answer #2
To be honest, my colleague gave me the advice to apply in your firm, as the position you are hiring for suits my qualifications & skill set. Indeed for me, this is my chance to join a larger firm to expand horizons of my career.

I have learnt a lot from my previous firm & i shall always have high regard for my fellow colleagues in my previous firm, however, I feel it's time that I start applying for bigger roles & bigger firms.

I think I have all the essential skillset that I would gladly bring in to my new job & prove to be an asset in the global corporate culture.
Why would this answer work?
A survey by Economic times says, 90% of startup employees are willing to leave their jobs to switch to bigger firms. Every interviewer knows that aspiring for a career with a larger firm or a dream firm can be quite a powerful influencer for many professionals to change their jobs.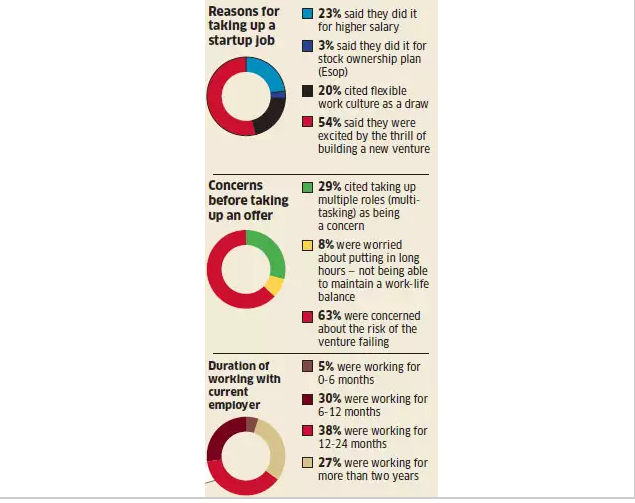 Being honest about your aspirations can prove to be quite a conversation starter & who knows maybe develop a rapport with your interviewer.
Sample Answer #3
Honestly speaking, the position which was offered to me during the time of joining & the responsibilities shared with me, kept on changing at a rapid pace, bringing me to a place wherein I used to hunch by job responsibilities which were not even a part of my core role.

I tried to talk to my supervisor about this, however, no resolution was put forward. Finally, I decided to join a new firm to make sure my work-life balance is well maintained & I can concentrate on my career in a more focused manner.
Why would this answer work?
With a startup culture on the boom, this is one of the common problems in modern-day workspaces. Indeed interviewers are well aware of this common work problem and thus have opinions about it.
Every individual has a specific skill set that may be apt for a particular job profile but may not fit in many other roles. Thus the stress starts reflecting in the work & productivity of an employee.
Tip: Make sure the additional responsibilities given to you are beyond your core skillset, we don't want interviewers thinking that you are a person who won't go the extra mile beyond their comfort zone.
Sample answer #4
I had a great time in my previous company, indeed the learning was immense, however, I could not be a person who could abide silently to certain ethics which according to me were completely unprofessional.

I tried sorting out these differences by bringing these practices into the notice of the HR, however, when I was convinced that my requests were falling on deaf ears, I decided to opt for a job change.
Also read: How To Write A Goodbye Mail On Your Last Working Day
Why would this answer work?
A thorough professional indeed has a certain set of principles that govern the way their career is shaped. Interviewers do understand that & respect your belief if right.
Tip: Make sure you can properly justify the wrong of the ethics which you disapprove of, else it can reflect very badly on your chances of getting a job.
Why do HRs ask the question "Why did you leave your last job"?
1) Reason
The interviewer needs to know the reason why you quit your last job. This helps the interviewer understand the mindset of the professional & assess with his/her understanding of the reason for leaving was legit.
2) To know the full background
Interviewers need to understand if your decision of job change was completely voluntary or if you were let go off by your employer.
This gives keen insights about your work ethics & if you have run into any disputes with your employer previously.
3) Terms with the employer
Asking why did you leave your last job? Gives an interviewer a general idea on what terms did the applicant leave his previous job?
If he/she is still in good terms with previous employer, it indeed gives an edge as it shows satisfaction on the professional front from both parties.
Tips to answer "Why did you leave your last job?"
1) Answer honestly
We are talking about a career here, indeed being honest about the reason for leaving your last job is the best way forward. Interviewers expect the same & any misinformation can lead to quite a problem in the future.
2) Build a rapport
Get to know your interviewer better. A little rapport increases your chances to put your point across in a better manner. Be at a position wherein you can put even your most complicated experiences in a systematic & clear manner.
3) Never talk bad about your previous employer
Make sure you never talk bad about your previous employer unless it's something extremely serious. Pulling down your previous employer's reputation in an interview can put you in a bad light.
Also read: Interview preparation tips before an interview
We promise that no matter how many times you answer "Why did you leave your last job?" over the years, this question is not going off the list of interviewers anytime soon.
The reason to understand the cause of leaving your last job has the potential to find you the right job. Believe that!
Best of luck!