Are you eyeing a job of your choice or a placement in the desired firm?
Well, if it is so, then Naukri.com is the place to be. Regarded as the No. 1 jobs platform in India, Naukri.com has helped millions of new job seekers to find desired jobs to kick start their career.
However, if you are new to Naukri, a barrage of questions would be pounding your mind, such as how to get shortlisted for a job interview, how to get your cv shortlisted, how to get more interview calls from Naukri, how to get a job through Naukri, etc,
Though every job seeker wants maximum visibility of recruiters & wants to get a job as soon as possible, cracking that Da Vinci Code isn't everyone's cup of tea.
However, in this blog, we would provide you 3 important yet effective ways to find a job in Naukri as soon as possible.
So even if you have been on Naukri for a while or just created your profile, whatever may be the case, this blog will make your job search easier.
Why Naukri.com?
Naukri is a flagship brand of InfoEdge India Pvt Ltd.
Naukri.com has a gigantic network of over 70 million registered job seekers.
How Naukri works is simple. Naukri.com is simply a job posting platform wherein jobseekers & recruiters can connect to fill in a professional need.
While job seekers can apply for various job openings depending on their preferences, recruiters can choose from a gigantic database to shortlist suitable candidates as per job requirements.
Recruiters can get in touch with the right talent with ease through Naukri.
Top Things to Do To Find a Job on Naukri?
Here are 3 top & effective things to do if you are new to Naukri.
Step 1: Complete Profile:
Providing complete information to the recruiter is of paramount importance.
While you apply for jobs on Naukri, the algorithm works in such a manner that incomplete profiles are not visible to recruiters.
This hampers the whole job searching process as profiles with incomplete information cannot apply for jobs.
Also Read: Profile Summary On Naukri: Examples For Popular Job Roles
Fill in details about your work experience, educational background & complete all necessary sections of your Naukri profile.
A complete profile is quite handy when it comes to applying for jobs on Naukri.
Recruiters in most cases shortlist candidates who have a complete Naukri profile.
Why is that, you ask?
Well, that's simply because most recruiters are on a war footing to find the right candidate.
Rather than wasting time reaching out to each candidate individually, it's much more convenient to analyze all the information from the candidates' profiles.
This gives a recruiter a clear & convenient understanding if the candidate fits within the job description or not.
Reaching out to candidates with a complete profile is easy as contact details are in place for recruiters to contact on, while in incomplete profiles contacting the candidate even if he/she is being shortlisted is the hardest task.
Step 2: Set Recommendation Preferences
Naukri.com has a huge database of jobseekers & recruiters, who work together to fill in a professional vacuum.
However, it's important as a job seeker that jobs visible to you are of your interest rather than random jobs wasting your time.
How does that happen?
Naukri works on a pattern wherein it sends you relevant jobs based on your previous job applications or your set preferences.
For example, if you have previously applied for content-related jobs in Bangalore, Naukri shall find relevant content jobs for you around that particular location & send relevant jobs notifications.
Here is how you can use filters to find relevant jobs.
Under the "Search Job" tab on top of your profile, type the field in which you are looking for a job & also add the location of interest.

On the "Results Page", use the filters on the left side of the screen to modify or narrow your search depending on your preference.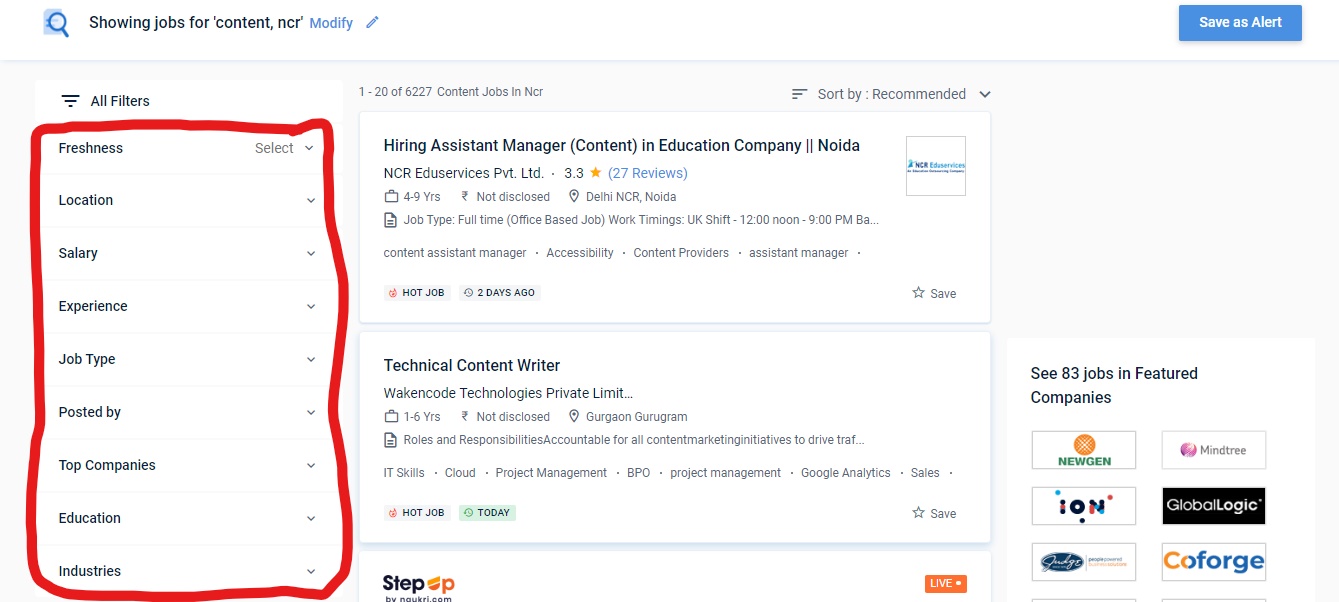 Naukri also sends you recommended jobs notifications. This option can be set as follows:
Under "MyNaukri" tab on the right side, click on " Recommended Jobs".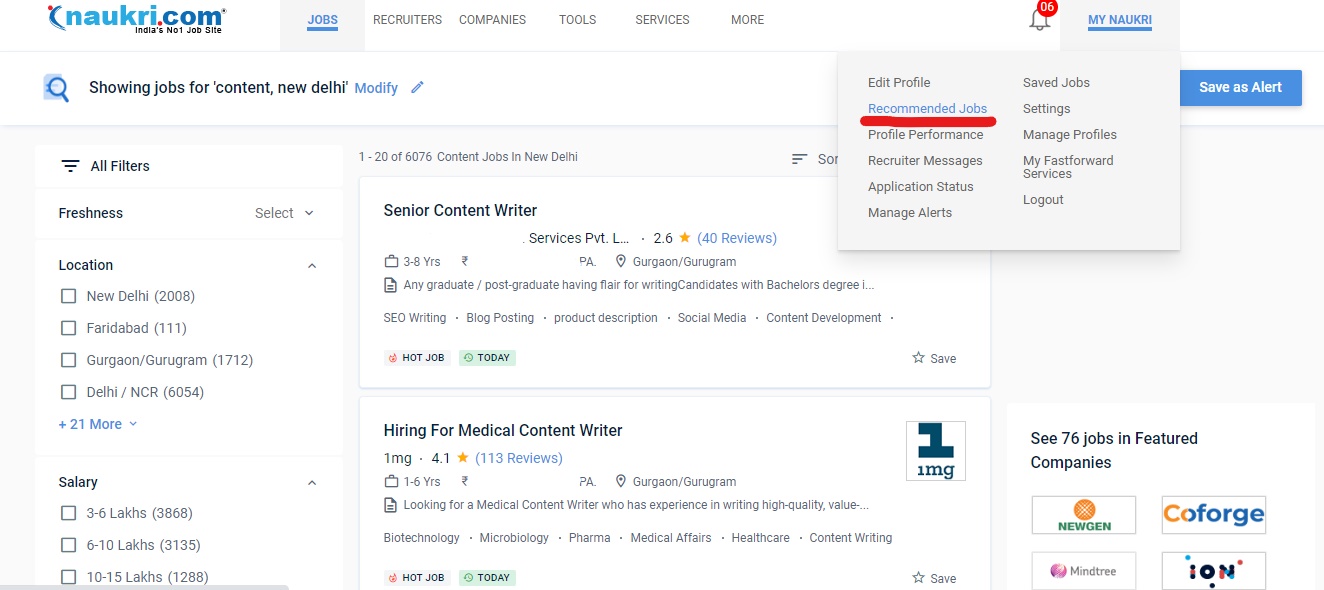 On the following page, click on " Add your preferred job role" on the right side of the page.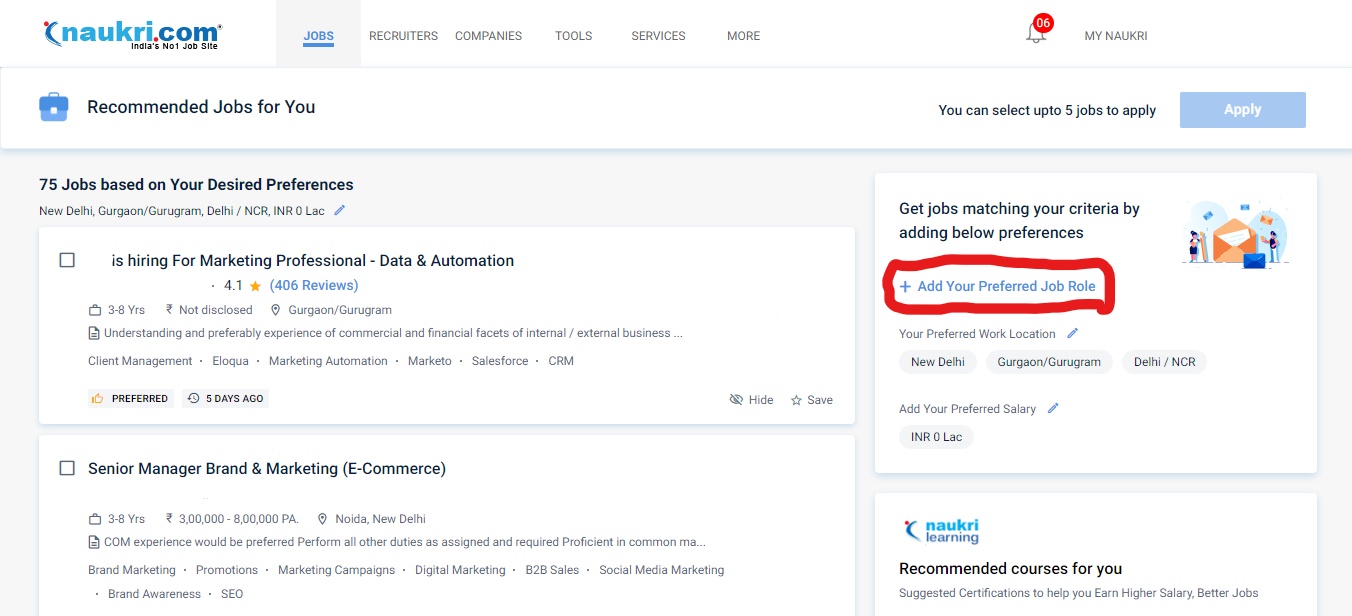 On the next page, Under "Manage your job preferences" fill in the desired details such as job roles (Max 3), Preferred salary etc.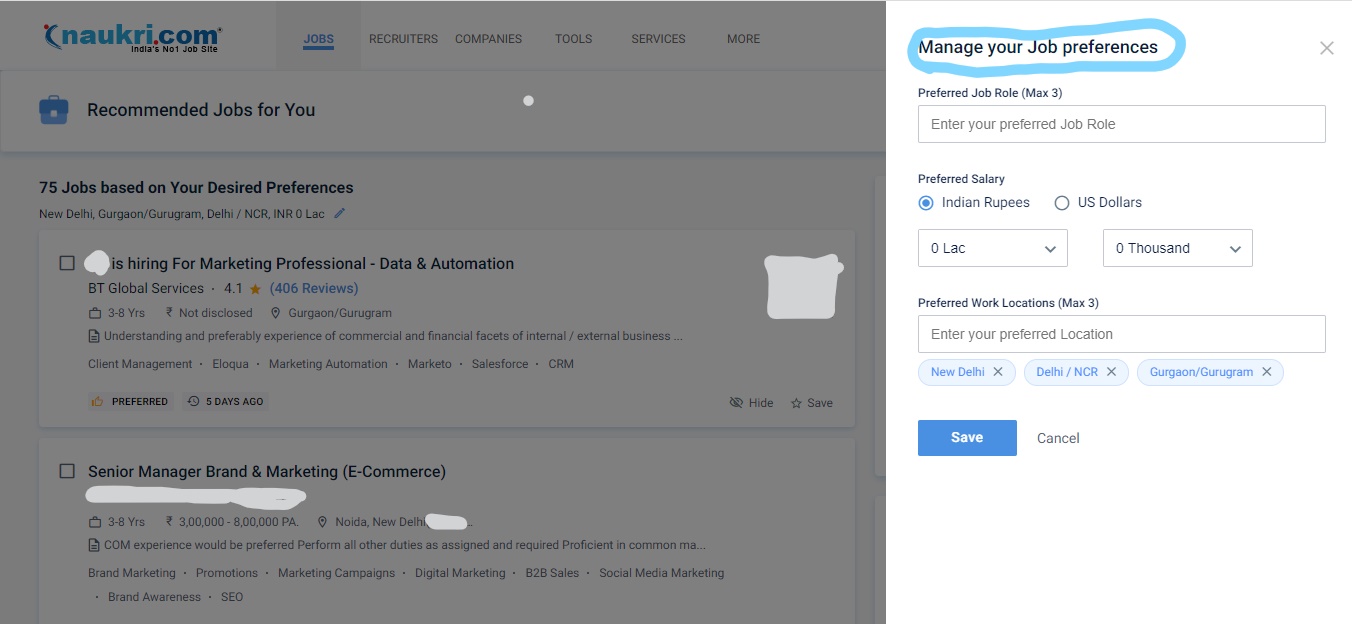 Step 3: Download Naukri App
The third step to finding a job on Naukri is to download the Naukri mobile app.
The most important aspect of finding the desired job is being constantly up to date about job openings across companies in your field.
Imagine finding out that a job opening in your desired firm was filled in because you did not know that the firm was hiring.
So that something like that doesn't happen, the Naukri app comes into the picture.
The app ensures that push notifications about relevant job openings are sent to you regularly.
Editing your profile to updating your resume all can be done in mere minutes on the Naukri app.
You can update, modify or apply for jobs on this app from any place at any time.
Naukri has acted as a bridge between millions of job seekers & recruiters reach out to each other for each others benefit.
However, having an edge over others while applying for jobs is a must, following the above mentioned pointers shall surely help you find your desired job on Naukri platform.
The professional world seems to be here, it's important you be here too.
Best of luck!