The COVID-19 pandemic has brought about a new normal for all of us. We have accepted wearing masks, using sanitizers, restricted traveling, remote working, and a lot of such changes.
To support people in their fight to stay safe during these tough times and live life with a little normalcy, various companies have extended support to make the lives of their employees and society a little easier.
Today, we will take a look at companies that supported their workforce through the pandemic and emerged as great employers and best places to work. Here are some COVID-19 related employee care initiatives by top companies in India.
Also read: COVID-19 Employee Care Initiatives by Top Companies in India
Zomato, one of India's top food aggregator companies, launched several initiatives to offer help to their employees, delivery partners, restaurant partners, customers, and the underprivileged who have been impacted during the pandemic.
The company shifted to remote working and has tried to help its employees and other stakeholders in the best way possible.
Keeping the health of their customers and delivery partners in mind, Zomato introduced contactless delivery to deliver safe and hygienic food without any risk of transmission. They have also disabled cash-on-delivery on their app due to the same.
And that's not it! Zomato encourages their delivery partners to wear face masks and sanitize before each delivery, and shares their body temperature and last sanitized status with the customers.
To make life easy, Zomato also stepped into grocery delivery to ensure everyone in the country has access to ration from the safety of their homes.
Furthermore, to support delivery partners in such dire times, Zomato raised money for the Rider Relief Fund to help those whose earnings had dropped due to fewer orders.
They also offered COVID-19 insurance to those affected that covered hospitalization, and the lost earnings.
To help the underprivileged community, Zomato set up a feeding foundation to provide food security, to be able to save people who are dying from hunger and also distributed ration kits to daily wage communities with an aim to distribute 1 million kits for the same.
Zomato also joined hands with Apollo hospitals to deliver food to people in isolation wards in quarantine facilities.
This is what a Zomato employee said about the company:
See Zomato jobs here!
Shapoorji Pallonji is an Indian conglomerate that operates in real estate, construction, textiles, biotechnology, engineered goods, home appliances,publications, power.
During the pandemic, they extended massive support to their employees by ensuring good lodging, transport, food, medical and hygiene facilities for a workforce of 1.1 lac people.
In a letter addressed to its employees, the SP Group Chairman Shapoor P Mistry said,
We have worker camps at most of our project sites, with good living conditions as per our standards, providing lodging, boarding, transport, medical and hygiene facilities, recreation, daily briefings and communication, regular sanitization and hospital tie-ups, among others.
They ensured there was adequate food supply, medical assistance, and water for everyone. A company that follows People First ideology, the SP group also took the responsibility of workers across their construction sites by providing them with ration and sanitization kits.
During the lockdown, the Shapoorji Pallonji group offered shelter and care to 80,000 migrant workers and distributed meals and ration to 5 million people. For precaution's sake, the company provided the labor camp with sanitizers, face masks, and medical support.
Here is a review of Shapoorji Pallonji by one of the employees,

See Shapoorji Pallonji jobs here!
Wipro Ltd. is one of the companies that have made a significant contribution to this fight against the COVID-19 pandemic.
The company shifted its operations to work from home and set up a COVID-19 help desk to facilitate medical care for all its employees, creating an environment of trust and security for them.
The IT giant along with the Azim Premji Foundation committed Rs. 1125 crore to tackle the global humanitarian crisis in the early days of the pandemic, followed by an additional contribution of Rs. 1000 crore.
Additionally, Wipro also set up a five-story COVID-19 hospital on its facility in Hinjewadi, Pune campus. Despite the lack of experience in the healthcare sector, the firm was able t0 facilitate the hospital with 450 beds- out of which 150 were oxygenated, 10 beds had ventilators, and ICU beds in just a year with 15 doctors and 70 nurses.
This is what a Wipro employee had to say about the company: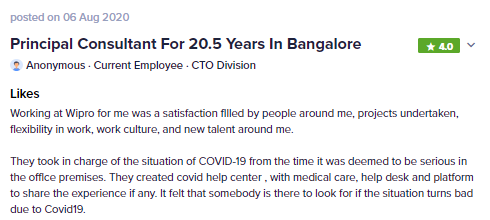 See Wipro jobs here!
Infosys, like many large organizations, understood the seriousness of the crisis and put their best foot forward to help their employees and society.
The company took several sanitary measures like installing thermal scanners, sanitization of the workplace, and work from home to ensure the safety of 240,000 employees associated with them.
They also provided a centralized helpline number to help their employees resolve queries around COVID-19.
Infosys also set up COVID-19 care facilities for its employees across 10 cities in India. The company partnered with 172 hospitals in 34 cities to facilitate COVID-19 vaccines for them and their family members.
Not only this, Infosys stood out in their ways of charity as they offered assistance to almost 100 different trusts, NGOs, hospitals, and the government in more than one way.
Infosys foundation donated Rs. 120 Crore towards COVID-19 relief in India, has provided 2.4 million meals, and has touched more than a million people's lives with their assistance.
They also extended help to the frontline warriors and purchased millions of face shields, gloves, and masks for medical professionals, police officers, and others.
To help those in the low-income group, Infosys partnered with Narayana Health to open a 100-room quarantine facility for COVID-19 patients in Bangalore.
Here's a review of Infosys by an employee: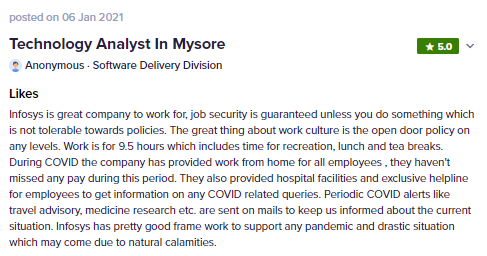 See Infosys jobs here!
One of the first companies to take preventive measures, Mercedes Benz implemented sanitary precautions before the COVID-19 outbreak was even official.
The automobile giant gave video conferences precedence over physical gatherings and even held town halls remotely. They also ensured that their employees who had traveled to different COVID-affected regions opt for work from home and go into self-isolation for 14 days.
As the situation worsened, Mercedes-Benz transitioned from being a physically functional workplace to a remote setup. They also introduced "Learning from home", an initiative to upskill employees with leadership, digital learning, personal development skills, etc.
The employees here still seem to be working from home in the majority.
In the current situation, this is what the General Manager, HR, Mercedes-Benz India had to say,
It is our strong belief that tough times don't last forever, but tough people do!

With that state of mind and with the spirit of restlessness for tomorrow in all of us, we are confident that we will overcome this crisis together.
Here's a Mercedes Benz review by an employee:

See Mercedes-Benz jobs here!
Conclusion
Times have been tough, and the scale of this global pandemic was beyond everyone's anticipation. But with two waves behind us, life seems to be getting back to normal.
While the future seems uncertain for now, one thing is for sure- we are not alone in this fight against COVID-19! With such companies and their philanthropist ideologies, we can trust them to have our backs and to provide the support needed to get everyone back on their feet.
All the best!